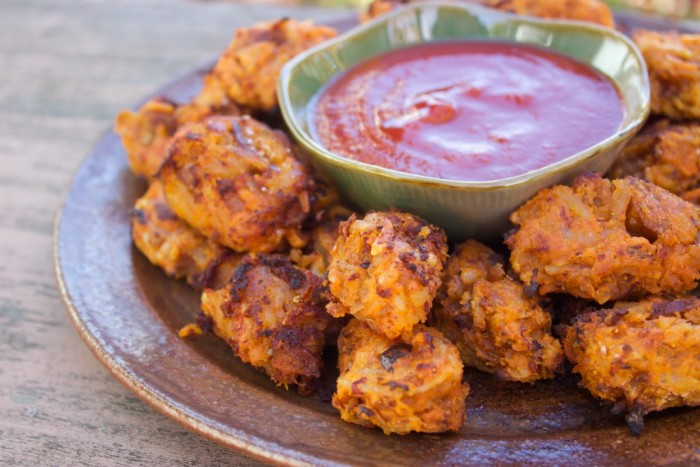 Raise your hand if you don't love tater tots. Thought so. While flavors are seemingly endless in a cafeteria-nostalgic kind of way, taking these childhood favorites in a Spanish direction and using sweet potatoes as a base, these are sure to be adult-approved as well. Studded with olives, almonds and chorizo, try them out at your next get-together. The recipe calls for the tots to be fried, but you can also bake at 450 degrees until golden brown, 12-15 minutes.
Ingredients
1

large

sweet potato, scrubbed well, unpeeled and cut into large chunks

1

large

russet potato, scrubbed well, unpeeled and cut into large chunks

2

pre-cooked or dried chorizo links, cut into a small dice

1/4

cup

pitted olives, roughly chopped

1/4

cup

slivered almonds

1

teaspoon

smoked paprika

kosher salt, to taste

canola or vegetable oil, for frying
Directions
Bring a large pot of water to boil and add a pinch of salt.
Add the chunks of sweet and regular potatoes and reduce the heat to a gentle boil.
Cook until still firm, but slightly starting to cook a little, about 5 minutes.
Drain and set aside to cool.
Using the grater attachment of a food processor or a box grater, shred the potatoes.
In a large bowl, gently combine the shredded potatoes with the chorizo, olives, almonds, paprika and salt, to taste.
Add one inch of canola oil in a wide skillet or pot and heat until it reaches a temperature of 340 degrees.
While the oil is heating, shape the tots using your hands into small little logs or rounds (can be done ahead of time and frozen, if desired).
Fry the tots without crowding the pan, turning after a couple of minutes to make sure they are not burning. If they are starting to burn, adjust the heat accordingly.
Cook until crispy and golden, 4-6 minutes total.
Drain on paper towels and immediately season with a pinch of salt. Repeat until all of the tots are fried.
Find more deep-fried bites on Food Republic: