Little Paris Kitchen's Oeufs En Meurette Recipe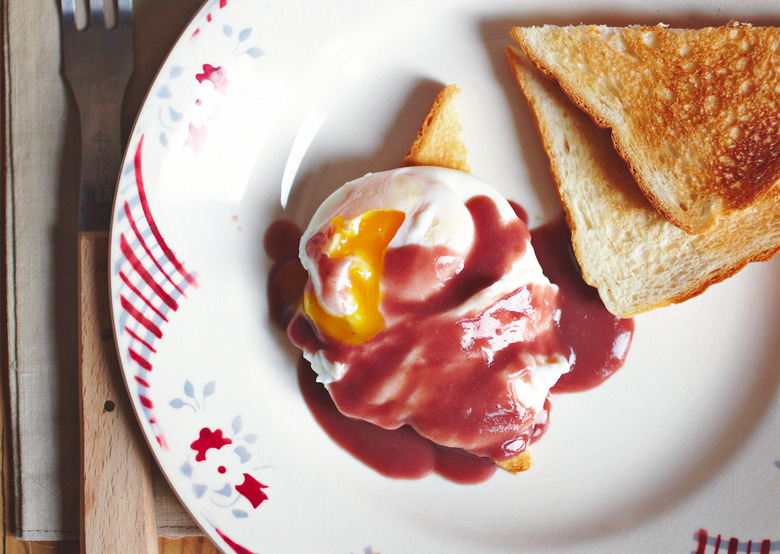 Photo: David Loftus
We may receive a commission on purchases made from links.
There's nothing like simple French food cooked in a tiny Paris kitchen, which is why we're loving cooking our way through Rachel Khoo's aptly named Little Paris Kitchen. Just because the French don't "do brunch" like we do doesn't mean a great weekend breakfast can't get a little fancy.
This is a pretty classy way to serve a humble poached egg for an indulgent brunch or starter for lunch. Both the sauce and the eggs can be prepared a day in advance.
Little Paris Kitchen's Oeufs En Meurette Recipe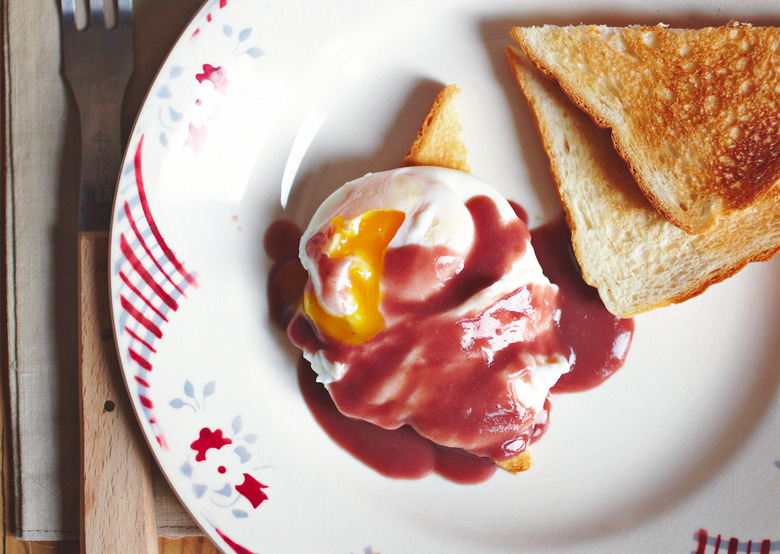 Ingredients
4 fresh eggs
a couple drops of vinegar
toast for serving
1 onion
1 stalk celery
1 carrot
2 tablespoons lardons or cubes of smoked bacon
2 tablespoons butter
1/4 cup all purpose flour
2 cups veal or beef stock
1 tablespoon tomato paste
3/4 cup red wine
1 bouquet garni (thyme
Directions
Fry the vegetables and lardons on medium heat until golden.
Remove them from the pan with a slotted spoon, then add the butter.
Melt over a medium heat, sprinkle in the flour, and stir constantly until it turns an almost Coca-Cola color.
Turn the heat down to low and slowly pour in the warm stock, whisking energetically.
Add the tomato paste and wine and whisk until the paste has dissolved.
Pop the fried vegetables and lardons back into the pan, add the bouquet garni, and simmer gently for 15 minutes.
Pour the sauce through a sieve and taste for seasoning, then pour into a clean pan and gently heat through.
Meanwhile, pour water into a deep, wide frying pan until about 3 1/4 inches deep and bring to a boil.
Crack each egg into a ramekin or cup and add a drop of vinegar.
Whisk the boiling water vigorously before quickly slipping in the eggs one after the other.
Turn the heat down and simmer for 3-4 minutes or until the yolks are just set and slightly soft.
Remove the eggs from the water with a slotted spoon and serve on hot toast, with the sauce poured over and around.
For a fiery sauce, add 10 cracked black peppercorns.
The key to successful poaching is to use the freshest eggs possible. Old eggs will have ragged, feathery whites, whereas the white on a fresh egg will hold together.
To make in advance, put the poached eggs into a bowl of ice-cold water and pour the sauce into an airtight container. Keep both in the fridge. Reheat the sauce before serving, and warm the eggs through by lowering them into boiling water with a slotted spoon. Simmer for 30 seconds.
Turkish-Style Poached Eggs Recipe
Truffle Poached Eggs & Toast Recipe
Tepita-Style Migas Recipe