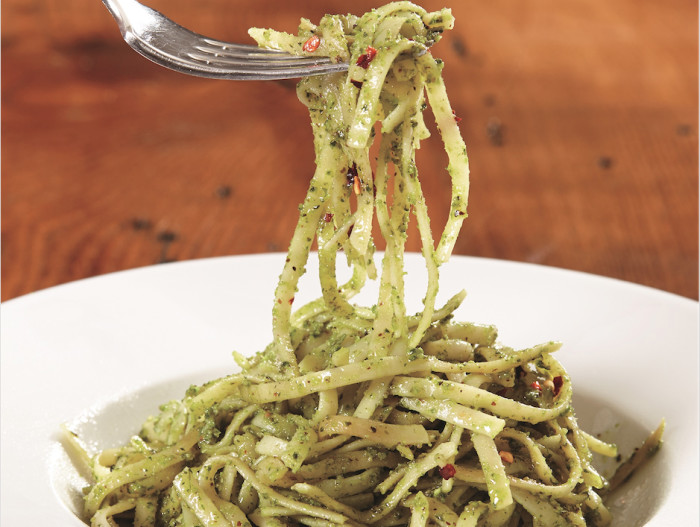 World-renowned chef Jacques Pépin is a culinary authority, TV host and cookbook author many, many times over. His recent cookbook companion to his final PBS series, Jacques Pépin Heart & Soul, is filled with the simple comfort food he's discovered over his long and storied career, the kind he loves to cook with friends and family. 
While vacationing with Gloria and her mother, Julia, in Puerto Rico, where Julia was born, I spotted a small restaurant that looked inviting. A young woman who was the chef came out to talk to me, and we went there for dinner. She had cilantro pesto on her menu. Gloria and I loved it, and I have since made my version of the dish many times when cilantro and chives come up in my garden.
Reprinted with permission from Jacques Pépin Heart & Soul in the Kitchen
Ingredients
4

garlic cloves, crushed

3

cups (lightly packed)

fresh cilantro leaves

1 1/4

cups

sliced (1-inch) fresh chives

2/3

cup

water

1 1/4

teaspoons

salt

1 1/4

teaspoons

freshly ground black pepper

1/2

cup

hazelnuts, toasted in a 350-degree oven for 10 to 12 minutes, skin left on, or pecans

1/2

cup

extra-virgin olive oil

1

pound

linguine, preferably imported

1/2

cup

grated Parmesan cheese

hot pepper flakes, for serving (optional)
Directions
For the pesto and linguine
Put the garlic, cilantro, chives, water, salt, and pepper in a blender (a blender makes a smoother pesto than a food processor) and blend for about 30 seconds, until pureed. (You may have to the push the mixture down into the blender a few times.) Add the nuts and all but 1 tablespoon of the oil and process until you have a beautiful green puree. (Makes about 2 cups.)

Transfer the pesto to a bowl and pour the remaining 1 tablespoon olive oil over the top; this coating will prevent discoloration. Refrigerate until ready to use. (The pesto will keep for a couple of days.)

At cooking time, bring 4 quarts salted water to a boil in a large pot. Add the linguine, stir well, and cook for about 10 minutes, until al dente (or to your taste).

Scoop out 1 cup of the pasta cooking liquid and drain the pasta. Return the pasta to the pot and add the reserved water, the pesto, and ¼ cup of the Parmesan cheese. Mix well.

Divide the pasta among four hot plates. Serve with the remaining ¼ cup cheese and, if desired, pepper flakes.