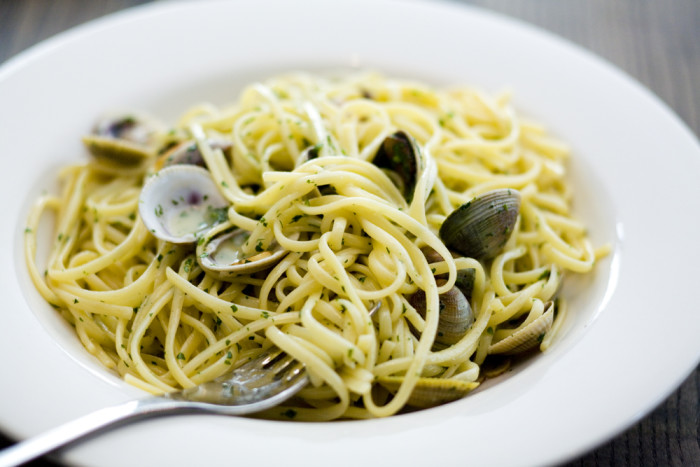 Linguine con vongole is one of those rare Italian pasta dishes whose simplicity outweighs the lack of cream, heavy cuts of pork or need for obscure-sounding artisan pastas. Owing to the shellfish and fresh herbs, this linguine is light, delicious and satisfying in any season. It's great to make for a quick weeknight dinner or hungry crowd in a pinch. Feel free to add more red pepper flakes for a spicier kick.
Ingredients
2

tablespoons

olive oil

4

cloves

garlic, thinly sliced

3

pounds

cockles, soaked in salt water and scrubbed

1

cup

dry white wine

1

teaspoon

red pepper flakes

1/4

cup

unsalted butter

2

tablespoons

chopped parsley

1

pound

linguini

kosher salt
Directions
Bring one gallon of water to boil. Add 2 tablespoons salt. Add pasta and cook 10 to 12 minutes.
Meanwhile heat olive oil in a large sauté pan over medium heat. Add garlic and cook one minute.
Add cockles and white wine. Cook covered until cockles open, about 5 minutes. Discard any cockles that do not open.
Remove cover, Add red pepper flakes, butter and parsley. Drain pasta and toss with cockles.
Season to taste with salt and pepper and serve.