Light, Bright: Lemon Spring Peas With Seared Scallops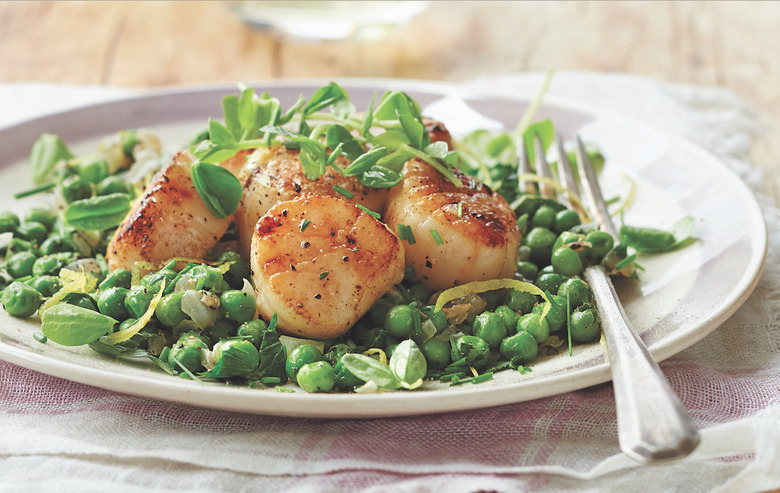 We may receive a commission on purchases made from links.
While the American South may be acclaimed masters of all things meat, there's no excuse for passing on the produce. From picnic sides and pickles to fresh garden salads, soups and desserts, the fruit and vegetable bounty of the South is beautifully represented in The Southern Vegetable Book, a new collection from author, writer and TV personality Rebecca Lang.
Scallops are incredibly quick to cook but really need a skillet that's large enough to give each of them plenty of breathing room to sear. To ensure a golden crust on each scallop, wipe the skillet between batches. The moisture left from the first batch will keep the second one from searing properly. If you can find pea shoots at the farmers' market, this is a perfect time to show them off as a garnish.
Light, Bright: Lemon Spring Peas With Seared Scallops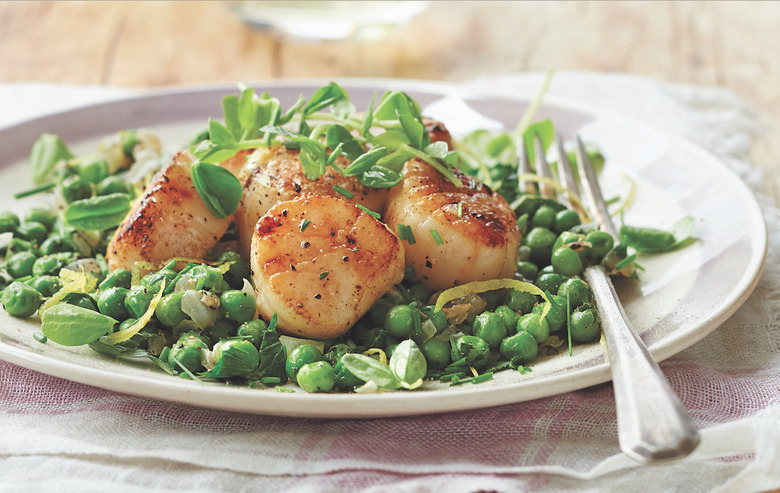 Ingredients
2 cups fresh green peas
2 tablespoons unsalted butter
1 cup diced Vidalia onion
1 garlic clove
zest of 1 lemon
1 tablespoon chopped fresh chives
1 tablespoon chopped fresh flat-leaf parsley
1/2 teaspoon table salt
1/4 teaspoon freshly ground black pepper
2 pounds sea scallops
1/4 cup olive oil
Garnish: fresh chives
Directions
Bring a large pot of water to a boil. Blanch peas 2 minutes or until just tender. Plunge peas into ice water to stop the cooking process; drain.
Heat 1 tablespoon butter in a large skillet over medium heat. Add onion and garlic, and cook for 4 to 5 minutes or until softened. Reduce heat to medium-low. Add peas, lemon zest, and next 4 ingredients, and stir to incorporate. Cook, covered, for 5 minutes. Stir in remaining 1 tablespoon butter. Keep warm.
Pat scallops dry with a paper towel. Heat a large cast-iron skillet over medium-high heat. Once hot, add 2 tablespoons olive oil. Working in batches, carefully add scallops to pan and cook 3 minutes on each side or until deeply browned. Before cooking second batch, carefully wipe out skillet with paper towels. Repeat with remaining 2 tablespoons olive oil and second batch of scallops. Serve scallops immediately with peas.