Lentil-Bulgur Meatballs Recipe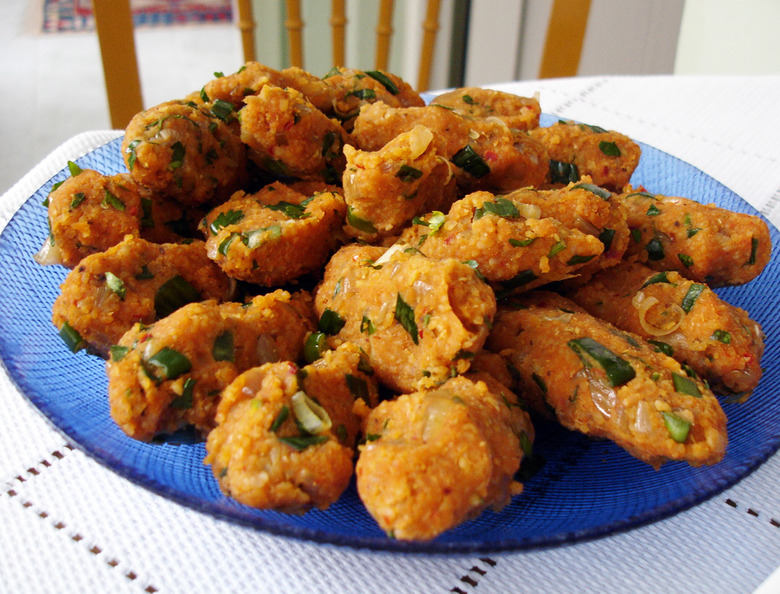 Mark our words: bulgur is the new quinoa. Over the last few years, quinoa has shot to popularity due to its numerous health benefits, but we think it's time to make way for another superfood: bulgur. Bulgur is a whole grain made from several different types of cracked wheat. Compared with white rice, bulgur has more fiber and protein, a lower glycemic index and higher levels of several vitamins and minerals. It also has half the amount of calories in quinoa. Basically, the stuff is magical.
While your consumption of bulgur may be limited to tabbouleh, in Turkey, it is common to see bulgur served instead of rice, or stuffed into various veggies. Another common way of eating bulgur is in the form of meat(less) meatballs known as mercimek koftesi. Don't roll your eyes yet! These hearty bites rival any traditional meatball, but instead contain no saturated fat and are vegan and vegetarian-friendly. Give them a try and you won't be disappointed.
Lentil-Bulgur Meatballs Recipe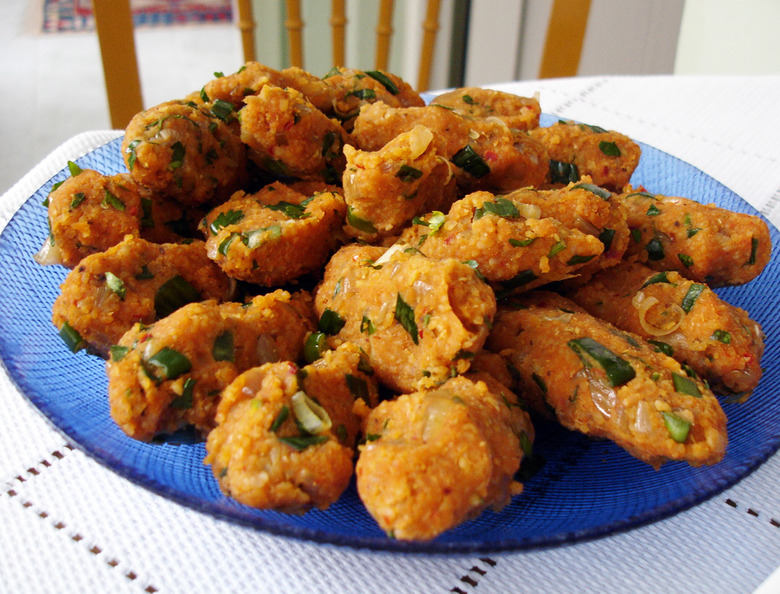 Ingredients
1 cup bulgur
1 cup red lentils
1 onion finely chopped
1/2 cup olive oil
1 tablespoon tomato paste
1 tablespoon cumin
1/4 cup parsley
1/3 cup chopped green onions
red pepper flakes
Directions
Bring the red lentils to a simmer in 2 1/2 cups of water on low heat.
After most of the water has evaporated, (but there's still a little left), add the bulgur. Stir and continue to cook until all the water has evaporated. Cover the pot with a lid and set aside.
In another medium-sized pot, sauté the onion in the olive oil until translucent, about 8-10 minutes.
Add the tomato paste and cumin and stir well.
Add in the lentil and bulgur mixture. Cook on low heat, stirring occasionally, until the mixture becomes doughy and starts to come away from the sides of the pot, about 10 minutes. Remove from heat and cover the pot with the lid. Set aside until the mixture has cooled.
Once the mixture has cooled, add the parsley and green onion and mix till well-incorporated.
Shape the mixture into meatballs using your hands. Traditionally, they are oval-shaped rather than round (as seen in the photo).
Sprinkle the lemon juice on top of the meatballs, and if using pepper flakes sprinkle those on top as well.
Serve at room temperature with lemon wedges.