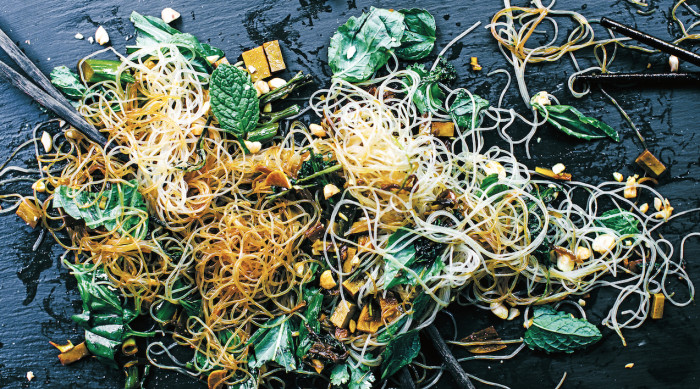 Vegetarian cuisine has never looked better! Produce-based cuisine is having a major moment in fine dining restaurants and casual eateries alike. Chef and cookbook author Hetty McKinnon has a new collection of recipes out that let the greenery shine, no meat necessary. This flavor-packed lemongrass tofu with Asian greens will be a Meatless Monday go-to recipe. 
I have a strong affection for lemongrass and not only because of its tropical, citrus scent and its potent medicinal qualities. Lemongrass also reminds me of the suburban Sydney house where I grew up. We always had lemongrass growing in our backyard and later, when we lived in Surry Hills, my mother supplied lemongrass cuttings that grew robustly in our community verge garden. This salad is full of lemongrass goodness and fond memories.
Ingredients
21

ounces

firm tofu, cut into 1-inch cubes

1/2

pound

mung bean vermicelli, soaked in warm water for 10 minutes

2-3

tablespoons

vegetable oil

1

small onion, halved and finely sliced

1

pound

mixed Asian greens (bok choy, choy sum and Chinese broccoli), cut into 2-inch pieces

2

cups

Asian herb leaves (Thai basil, cilantro, green onion, Vietnamese mint or shiso leaves), finely sliced

1-2

tablespoons

extra-virgin olive oil

1/2

cup

roasted peanuts, roughly chopped

Sea salt and white pepper
Lemongrass Marinade
4

lemongrass stalks, white parts only, very finely chopped

1

garlic clove, very finely chopped

3

tablespoons

kecap manis (Indonesian sweet soy sauce)

1

tablespoon

soy sauce

1/2

teaspoon

red chili flakes

1

teaspoon

ground turmeric

1

teaspoon

superfine sugar

pinch

sea salt

Option: For gluten free, use tamari in place of soy sauce
Directions
For the marinade
Combine all the ingredients in a bowl and whisk together. The marinade can be made the day before and kept in the fridge until ready to use.
For the tofu
Add the tofu cubes to the marinade, turning to coat evenly, and leave to marinate in the fridge for at least 30 minutes.

When ready to cook, put the vermicelli in a large bowl, and soak in warm water for 10 minutes. Drain, return to the bowl, and season with a big pinch of salt, then pour over enough boiling water to cover and leave for 10–20 seconds to soften fully. Drain immediately and rinse under cold water.

In a large frying pan, heat the vegetable oil and add the onion. Stir-fry the onion for 3–4 minutes until soft, then remove from the pan and set aside. Add the tofu to the pan along with the marinade and cook, moving the tofu pieces around with chopsticks or tongs, until golden brown all over. Return the onion to the pan along with the Asian greens and stir-fry for a further 1–2 minutes, until the greens are wilted.

Combine the tofu and greens with the mung bean vermicelli and herbs and drizzle over the olive oil. Toss together well, season with salt and white pepper, and scatter over the peanuts to serve.