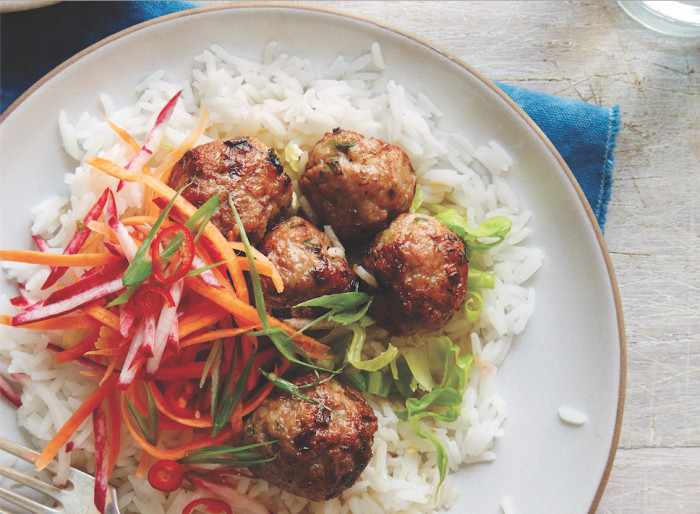 The best gluten-free cookbooks don't mess around with xantham gum and tapioca starch, because the best gluten-free food comes from nature that way. Join author Samantha Seneviratne on a recipe journey through additive-free, wheatless meals — you won't miss the gluten a bit. These lemongrass pork meatballs are an aromatic addition to your dinner table. 

Tips: A lemongrass stalk adds flavor to stocks, soups, and curries. For this recipe, use only the bottom 4 inches: cut off the bottom, peel off and discard any dry outer layers to get to the tender bulb, trim it to 4 inches, and proceed with the recipe.

It's best to wear gloves when working with hot chiles as their oily residue can stick to your fingers long after you've finished the task.
Ingredients
Meatballs
1

lemongrass bulb, bottom and tough outer layers removed, finely minced

4

teaspoons

minced peeled fresh ginger

2

garlic cloves, minced

3

scallions, trimmed

2

teaspoons

cornstarch

1/2

teaspoon

dark brown sugar or palm sugar

2

tablespoons

fish sauce

1

pound

ground pork

2

teaspoons

peanut oil
Sauce
1

cup

distilled white vinegar

1/2

cup

packed light or dark brown sugar

2

garlic cloves, minced

2

small fresh red chilies, such as Thai bird, thinly sliced (seeds and ribs removed for less heat)

2

tablespoons

fresh lime juice (from 2 limes)

2

teaspoons

fish sauce

Coconut rice, for serving

Grated carrots, radishes and lettuce, for serving
Directions
For the meatballs and sauce
Make the meatballs: Using a mortar and pestle, smash the lemongrass, ginger, and garlic together to make a paste. Mince 2 whole scallions plus the white part of one more, thinly slice the remaining green part and set it aside for garnish.

In a large bowl, toss together the lemongrass paste, minced scallions, cornstarch, and brown sugar. Add the fish sauce and the pork. Use your hands to gently combine the mixture without mixing it too much.

Form the pork mixture into about twenty 1-inch balls and set them on a plate. Refrigerate for at least 15 minutes.

Meanwhile, make the sauce: In a small saucepan, heat the vinegar and brown sugar, stirring occasionally, until the sugar has dissolved. Stir in the garlic. Let the mixture simmer until reduced by about half, 8 to 10 minutes. Add the chilies, lime juice, and fish sauce and remove from the heat. Let the sauce cool to room temperature.

Heat 1 teaspoon of the peanut oil in a 10-inch nonstick skillet over medium-high heat. Add half of the meatballs and cook, turning them often, until they are no longer pink in the center, 4 to 6 minutes. Transfer to a platter. Wipe the skillet out and repeat with the remaining oil and meatballs.

Sprinkle the meatballs with the scallion greens. Serve with coconut rice, carrots, radishes, lettuce, and the sauce.