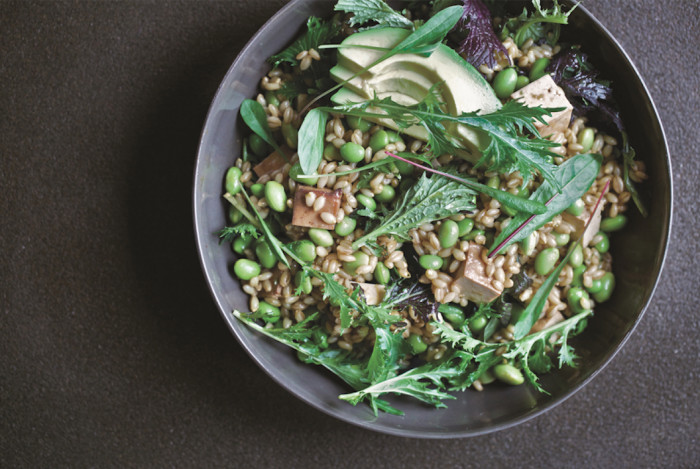 Celebrity chef and fitness guru Candice Kumai's latest book, Clean Green Eats, is your guide to enjoying whole foods like you never have before. Supercharge the rice bowl concept with hulled barley and protein-packed tofu and edamame. If that sounds like it needs avocado, you're absolutely right. 
The distinctive flavors of lemon, sesame oil, soy sauce, and oregano combine beautifully in this perfectly balanced "power lunch." I love to use fiber-rich barley as a base for hearty lunch bowls — it has such a great texture and is really filling. Add tofu, edamame, and — my favorite — avocado, and you have a totally satisfying meat-free meal.
Note: Hulled barley is barley in its most natural state, which means it needs to cook for quite a bit longer than pearl barley — 1 to 1½ hours longer. Pearl barley has the hull removed and is therefore less tough. Adjust your cooking time based on the variety you choose.
Reprinted with permission from Clean Green Eats
Ingredients
4

cups

cooked pearl or hulled barley

1 1/2

cups

shelled, organic edamame

2

cup

wild baby arugula

2

blocks

savory, baked, organic tofu (firm or extra-firm), cut into 3/4-inch cubes

1

ripe avocado, halved and thinly sliced
Lemon tamari dressing
4

tablespoons

low-sodium tamari soy sauce

2

tablespoons

toasted sesame oil

juice of 1 lemon

1

tablespoon

dried oregano

1

teaspoon

finely grated lemon zest (optional)
Directions
For the bowl
In a large bowl, whisk together the tamari soy sauce, sesame oil, lemon juice, oregano, and lemon zest until well combined. Add slightly cooled cooked barley to the bowl and toss to coat.

Add the shelled edamame and arugula and toss gently to combine.

To serve, divide the barley salad among four bowls and top with tofu and avocado slices.