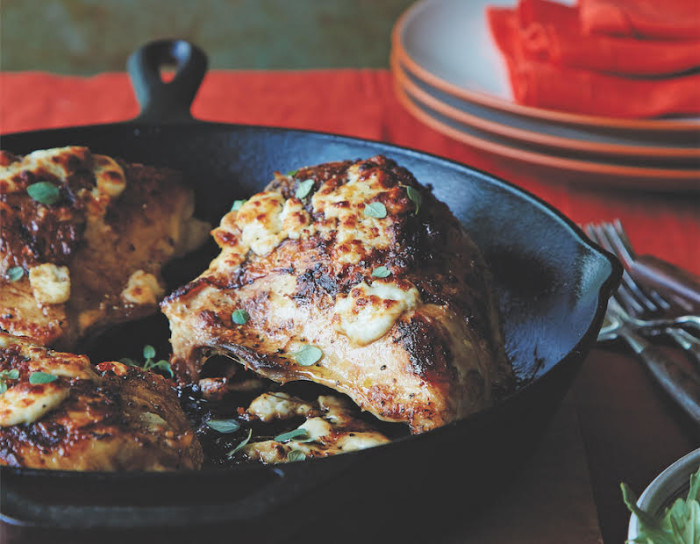 Nashville-based musician and food writer Matt Moore is the quintessential Southern gentleman. His newest cookbook, A Southern Gentleman's Kitchen, is a fresh take on a classic concept. With 150 distinctly Southern recipes from the tried-and-true to the modern, it's a must-have for any gent's (or lady's) culinary library. 
My sister Ashley and I were fanatics for feta cheese — a by-product of Mama's nightly Greek salads — so this dish, inspired by one of my Uncle Al's, was always a useful way to get us out of the same ole chicken dinner routine. Roasting chicken breasts with the skin on and bone in yields a moist, delicious result every time. The keys to success are using a heavy-bottomed cast-iron pan and allowing the heat to crisp up the skin without moving the chicken about during the searing process.
Reprinted with permission from Southern Living, A Southern Gentleman's Kitchen
Ingredients
2

lemons

8

garlic cloves

1/2

cup

extra-virgin olive oil

1/4

cup

loosely packed chopped fresh oregano

1 1/2

teaspoons

kosher salt

3

teaspoons

freshly ground black pepper

4

skin-on bone-in chicken breasts

1

(4-ounce)

package crumbled feta cheese

Garnish: fresh oregano leaves
Directions
Cut lemons in half. Squeeze juice from lemons into a measuring cup to equal ¼ cup. Smash garlic using flat side of a knife. Combine lemon juice, garlic, oil, and next 3 ingredients in a large zip-top plastic freezer bag; add chicken, turning to coat. Seal bag and chill 4-24 hours.
Preheat oven to 400° Fahrenheit. Place a 12-inch cast-iron skillet over medium-high heat 2 minutes or until hot. Remove chicken from marinade, discarding marinade. Cook chicken, skin-side down, 3 minutes (to ensure even searing on the skin, do not disturb chicken).
Turn chicken over, and transfer skillet to oven. Bake at 400° for 25-30 minutes or until a meat thermometer inserted in thickest portion of breast registers 165°. Remove skillet from oven.
Preheat broiler with oven rack 3 inches from heat. Sprinkle chicken with feta. Broil chicken in skillet 2 minutes or until cheese just begins to melt and is lightly browned. Transfer chicken to a platter, and serve immediately.
More chicken recipes on Food Republic: