A Show-Stopping Lemon Lavender Blackberry Cake Recipe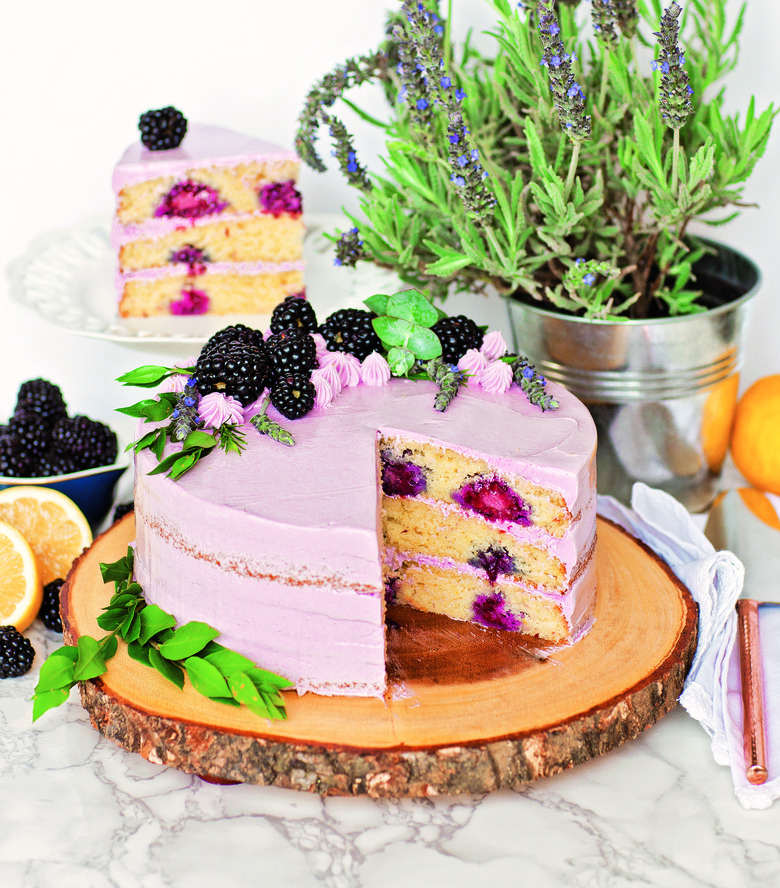 We may receive a commission on purchases made from links.
Not only does this lemon lavender blackberry cake smell and taste amazing, it looks like something out of your favorite baking show. Make it yourself, Instagram it and then dig in!
I always associate the scent and flavor of lavender with the French countryside. For this cake, I combined several flavors to create an unforgettable cake! The tender and lemony almond cake is dotted with fresh blackberries, all frosted with a lavender French buttercream. This buttercream is different than traditional buttercreams—velvety smooth, not too sweet and perfect for this cake. Garnish the top with fresh lavender and blackberries for a showstopping presentation.
A Show-Stopping Lemon Lavender Blackberry Cake Recipe
Prepare to get mesmerized, as this lemon lavender blackberry cake not only tastes great, but looks like something out of your favorite baking show.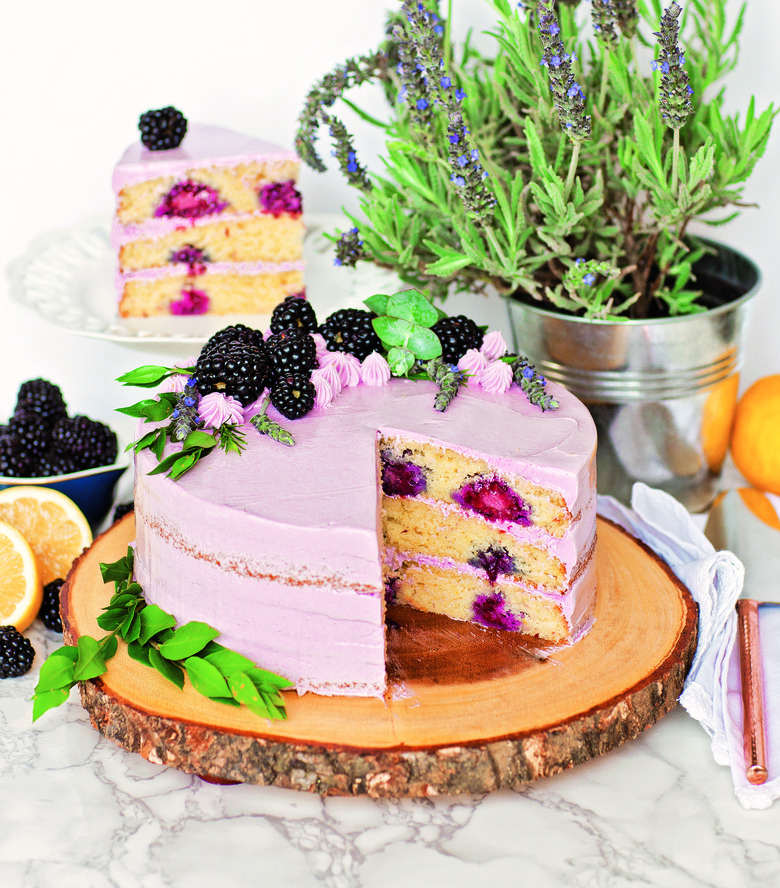 Ingredients
3/4 cup unsalted butter
1 cup sugar
4 large eggs
1 teaspoon vanilla extract
Zest from 1 lemon
1 cup milk
1 1/2 cups all-purpose flour
3/4 cup fine almond flour
4 teaspoons baking powder
1/4 teaspoon salt
1 cup fresh blackberries
1 tablespoon cornstarch
5 large egg yolks
1/3 cup water
1 cup sugar
1 tablespoon corn syrup
2 cups unsalted butter
1/4 teaspoon lavender oil
10 to 15 drops purple gel food coloring
Blackberries and lavender flowers
Directions
Preheat the oven to 350°F (177°C). Line three 8-inch (20-cm) cake rounds with parchment paper and grease the sides.
In a large mixing bowl, cream together the butter and sugar for 2 to 3 minutes, until fluffy. Add the egg yolks, vanilla and lemon zest. Mix again until smooth, then pour in the milk.
In a separate bowl, combine all the dry ingredients: flour, almond flour, baking powder and salt. Sift the dry ingredients into the cake batter and fold gently just until mixed.
In a separate bowl, whisk the egg whites on high speed for 2 to 3 minutes, until medium peaks form. Fold the egg whites into the batter gently until well combined.
Divide the cake batter evenly among the three cake pans. Toss the fresh blackberries in the cornstarch, then add 6 to 8 berries into each pan, spacing them equally apart. Bake the layers for 25 minutes, then remove them from the oven and cool completely on a wire rack.
Next, prepare the buttercream. Place the egg yolks into a stand mixer bowl and whisk on high speed for 7 to 8 minutes, until they are thick and pale and ribbon off the whisk.
Combine the water, sugar and corn syrup in a small saucepan and attach a candy thermometer to the side. Cook the syrup over medium heat until it reaches 238°F (114°C), about 7 to 8 minutes. To test the syrup for readiness, dip a spoon into the syrup, then into ice water. The syrup should set up immediately into a soft ball.
Once the syrup is ready, remove from the heat, and with the mixer running on medium speed, pour the hot syrup into the egg yolks. Once all the syrup is added, turn the mixer up to high speed and whisk until the egg yolks are doubled in size and reach medium peak stage, about 7 to 9 minutes; it should be cooled and just lukewarm to the touch.
Begin adding the butter slowly, about 1 tablespoon (15 g) at a time, mixing well after each addition. As more butter is added, the cream will thicken and hold its shape. Add the lavender oil and purple food coloring last.
Once the cake layers have cooled, spread a generous amount of buttercream between each layer. Smooth the buttercream over the top and sides. Garnish the top with blackberries and lavender flowers, or as desired.