Power Food: Lemon And Herb Quinoa Dolmades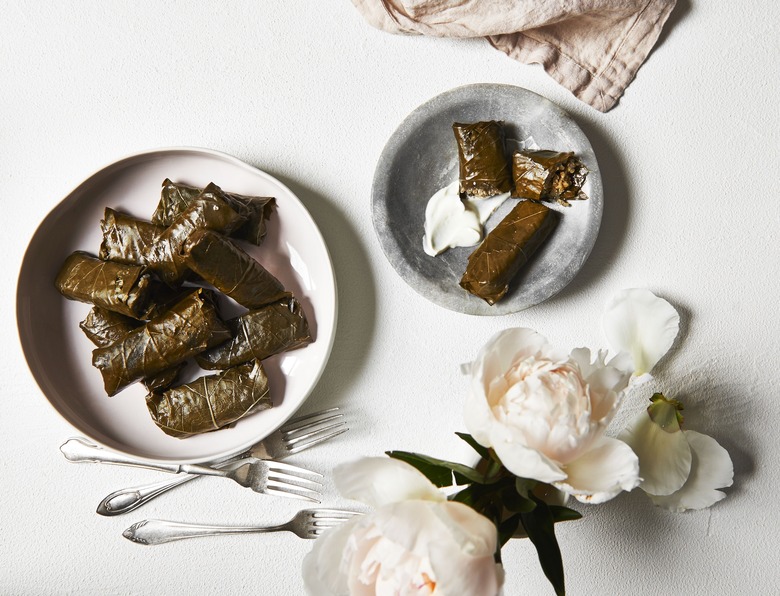 We may receive a commission on purchases made from links.
You are what you eat, and if you eat from Carla Oates' new cookbook, you'll be beautiful inside and out. Focusing on vegetarian and vegan cuisine and dedicating to improving overall gut health, this is one book for you. These lemon and herb quinoa dolmades are the stuffed grape leaves of your dreams. 
This take on traditional Greek parcels of goodness is delicious as it is, although the herby, lemony flavor of the vine leaves also works well with the addition of lamb mince, marinated peppers, zucchini (courgettes) or eggplants (aubergines). Vine leaves are a staple in a Mediterranean diet and are nutritive and anti-inflammatory.
Power Food: Lemon And Herb Quinoa Dolmades
Dedicated to improving overall gut health? This is one book for you. These lemon and herb quinoa dolmades are the stuffed grape leaves of your dreams.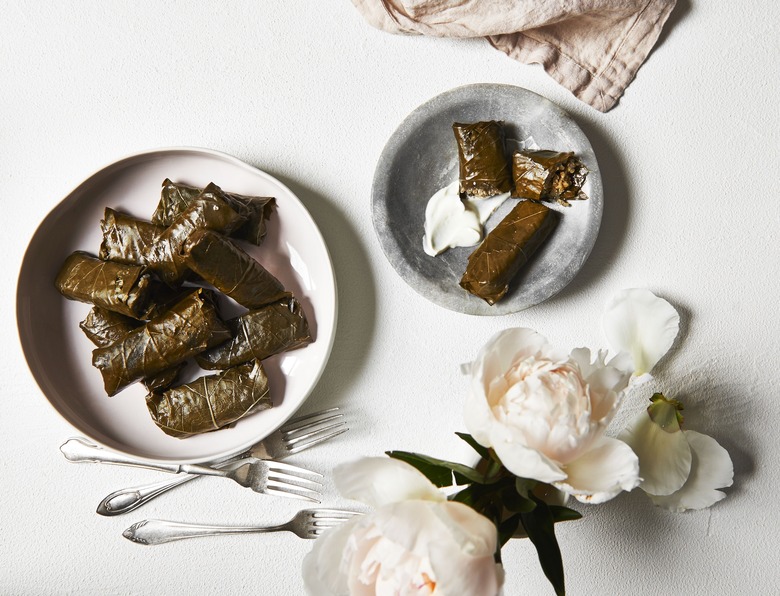 Ingredients
30-40 vine leaves
1/3 cup olive oil
4 French shallots
2 cloves garlic
1 cup quinoa
1 large handful dill
1 small handful flat-leaf (Italian) parsley
1 small handful mint leaves
1/2 spiced preserved lemon
1 tablespoon currants
1/4 teaspoon ground cinnamon
Himalayan salt and freshly ground black pepper
3 cups chicken bone broth or vegetable broth
1/3 cup freshly squeezed lemon juice
natural yogurt
Directions
If using fresh vine leaves, blanch them in boiling water for 30 seconds and then refresh in cold water. If using leaves preserved in brine, soak them in warm water for 10 minutes.
Drain and separate the vine leaves. Gently pat dry, setting aside any torn ones.
Heat half of the oil in a medium saucepan over medium–low heat. Cook the shallots and garlic until softened. Add the quinoa, dill, parsley, mint, preserved lemon, currants and cinnamon and stir to coat. Remove from the heat. Season with salt and pepper.
Spread the vine leaves out flat, onto a clean kitchen surface, smooth-side down, with the stems facing you. Trim the stems and place tablespoonfuls of the mixture at the base of the leaves. Fold the sides in and roll up into little logs. Don't roll too tightly, as the quinoa needs room to swell when cooked.
Line a large wide-based saucepan with any torn and any remaining vine leaves; alternatively you can use baking paper. Pack the dolmades in tightly together, so they don't unravel.
Combine the broth, lemon juice and remaining oil in a medium bowl or jug. Pour over the dolmades. Cover with a heatproof plate, to keep them submerged. Bring the liquid just to a simmer. Cover and gently simmer for 20–30 minutes, until the quinoa is tender and most of the liquid has been absorbed. Leave in the pan to cool to room temperature.
Serve at room temperature or chilled, with natural yoghurt for dipping.