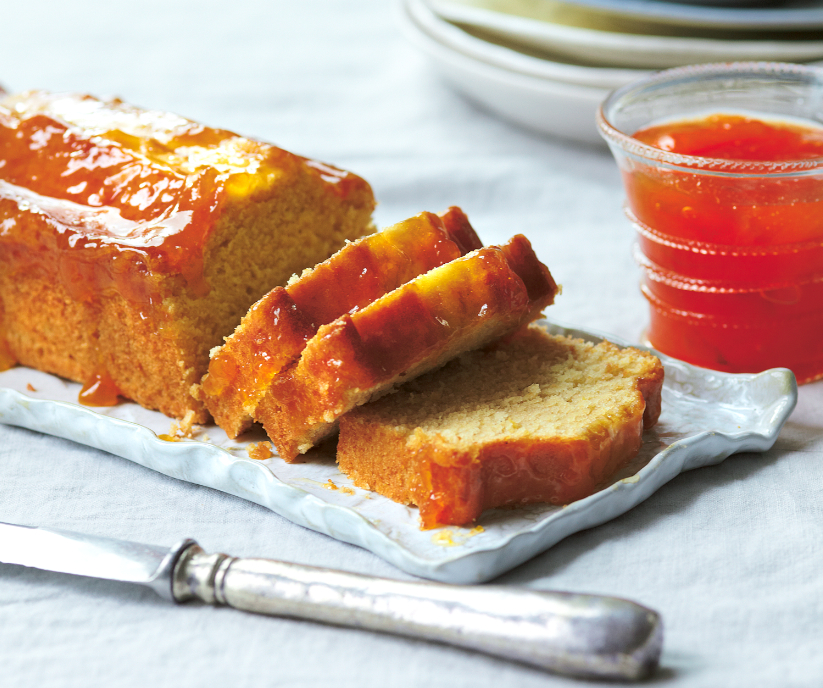 Food stylist Amber Rose, called "Britain's most glamorous baker" has every dessert-worthy occasion covered with her new book, Love Bake Nourish. Experiment with heritage flours, seasonal fruits and the lighter side of sweet fare with Rose's expertly tested recipes. This lemon drizzle cake is as simple to make as it is easy to eat. Maybe too easy.
I have not met a man on this Earth who does not love lemon drizzle loaf. I wanted to come up with a recipe every bit as appealing as the classic cake, but without the refined white sugar that fills and covers it. I have tested this one out on a few unsuspecting men and they were all thrilled with the result. Using a large, full-flavored lemon makes all the difference in this recipe—Amalfi lemons are in a league of their own, but since they are not always easily obtained, at least ensure that you use a large unwaxed lemon.
Ingredients
9

tablespoons

unsalted butter, softened

1 3/4

cups

white spelt flour, sifted

2

large

free-range eggs

1 1/2

teaspoons

baking powder

pinch of

salt

1/2

cup

maple syrup

grated zest of 1 unwaxed lemon

4

tablespoons

milk, to glaze

5

heaping tablespoons

sugar-free apricot jam

squeeze of

lemon juice
Directions
Preheat the oven to 350°F.
Grease and flour a 5 x 9 inch loaf pan.
In a large mixing bowl, cream the butter until pale and fluffy with an electric mixer.
Add 2-3 tablespoons of the flour and beat in the eggs, one at a time.
Continue to beat until you have a light, fluffy mixture (if it looks as if it's curdling, add another tablespoon of flour).
Add the remaining flour, the baking powder, salt, maple syrup and the lemon zest, and fold in very gently using a metal spoon or spatula.
Lastly add enough of the milk to get a good dropping consistency.
Scrape the mixture into the prepared pan and bake in the oven for about 30 minutes, or until the center springs back to the touch.
Remove from the oven and leave to cool in the pan for about 10 minutes before turning out onto a wire rack to cool completely.
Place the apricot jam and the lemon juice in a small saucepan, bring to a boil, turn down the heat, and simmer for a minute or so.
Strain if you wish to make a smoother drizzle sauce. Brush the jam liberally over the top of the loaf.
Find more lemon desserts on Food Republic: