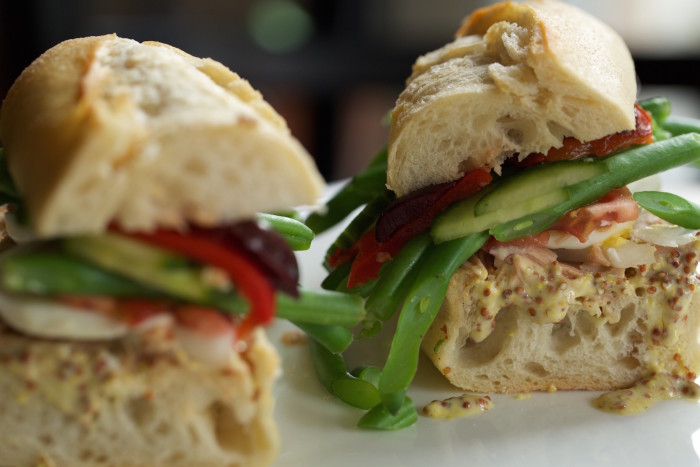 Nobody eats the leftover green beans after Thanksgiving, and let me tell you why: They're either properly cooked or overcooked by the time they get to the table. If you reheat them, they'll turn to mush. The solution: Don't reheat them! Let them come to room temperature (it'll take about half an hour), then stick 'em in your leftovers sandwich. This isn't your typical leftovers sandwich in that we're leaving pretty much all the other prepared food for other (equally delicious) leftovers sandwiches. The pan bagnat is a French-Mediterranean baguette sandwich that stars tuna, hard-boiled eggs, roasted red peppers, olives, cucumbers, tomatoes and any riff on a vinaigrette. Crisp (or at least moderately crisp) green beans, no matter how they're prepared, are a great addition.
And hey — things you may have left over from a big holiday meal: a baguette, assorted olives, salad fixins, such as tomatoes, cucumbers and vinaigrette, an egg or two and, somewhere in your pantry, a can of tuna. I accidentally got myself addicted to the fancy oil-packed stuff in a jar, so I'm using that, but any good tuna will do the trick (or you can omit it altogether to keep it vegetarian). This is exactly the kind of respect leftover green beans have been waiting for.
Ingredients
1

long

baguette, sliced lengthwise

6

ounces

oil-packed or canned tuna, flaked into large chunks

2

hard-boiled eggs, sliced into even rounds

1

large

ripe tomato, thinly sliced

4

ounces

leftover green beans, at room temperature

1/2

English cucumber, thinly sliced

1/2

small

red onion, thinly sliced

2

large halves (fillets)

roasted red peppers, sliced into strips

1

small handful

mixed pitted olives (such as kalamata, Niçoise, stuffed green), coarsely chopped
Dijonnaise spread
1

heaping tablespoon

mayonnaise

1

teaspoon each

Dijon and whole-grain mustard

1

teaspoon

red wine vinegar

1

tablespoon

chives, finely chopped

freshly ground black pepper
Directions
For the Dijonnaise spread
Mix together all spread ingredients and set aside until ready to assemble the sandwich. You can also use any other vinaigrette or nice acidic salad dressing you like.
For the sandwich
Spread the bottom half of the baguette with a generous amount of Dijonnaise.

Layer on, in the following order: tuna, sliced eggs, tomato, green beans, cucumber, red onion, roasted red pepper, olives.

Place the other half of the baguette on top and press down firmly.

Slice into two or four sections and serve. These can be wrapped in foil and refrigerated for up to a day beforehand.