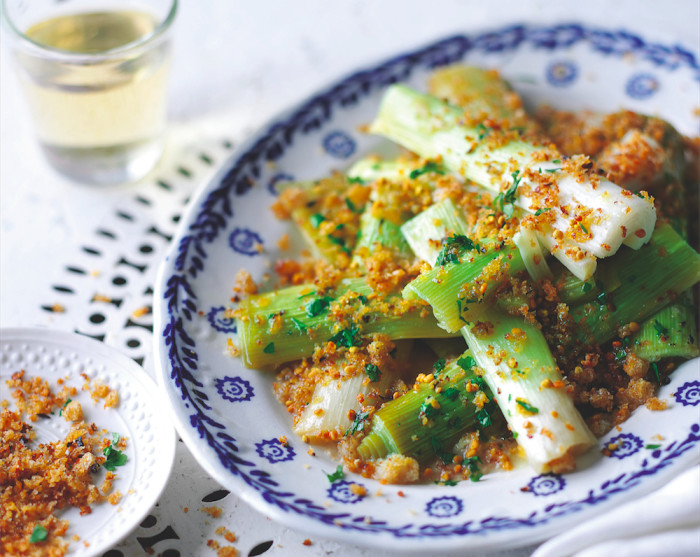 London-based writer and cookbook author Hattie Ellis' new book, Honey, sweeps the globe to find the best recipes starring sweet, natural honey. From sweet to savory, appetizer to dessert, if you're a fan of this versatile sweetener, she has a recipe for you. Enhance these delicious seasonal leeks with two kinds of bee product for a standout vegetarian dish that needs nothing else.
Leeks absorb the sweetness of honey and the sweet tartness of cider to make a side dish that is good enough to take center stage. The leeks cook slowly in their own juices, the flavors enhanced by just a small amount of honey. Then the dish gets another layer of bee-magic with a scattering of crisp spicy breadcrumbs enriched with pollen. You don't need to make the breadcrumbs; the leeks are good without them, but they look and taste great. With some soft goat cheese or feta scattered over the top, these leeks make a good vegetarian supper. Otherwise, I love them alongside lamb, pork or fish.
Ingredients
4

leeks, trimmed and cleaned

1 1/2

tablespoons

unsalted butter

2

big cloves

garlic, finely chopped

1

teaspoon

honey (medium or dark is best)

3

- 4 tablespoons

dry cider

sea salt and freshly ground black pepper
Spicy Bread Crumbs
1 1/2

tablespoons

unsalted butter

1/2

tablespoon

olive oil

4

tablespoons

fresh breadcrumbs

1

small clove

garlic, finely chopped

pinch of

chili flakes

1/4

teaspoon

orange zest, finely grated

1

tablespoon

fresh parsley, finely chopped

2

teaspoons

pollen
Directions
Lay the leeks on a chopping board and cut in half lengthways.
Then cut across the middle of each half, so each leek produces 4 long, chunky semi-circular pieces.
Put the leeks, cut-side down, into a large, heavy-bottomed pan.
Dot with the butter and scatter over the chopped garlic.
Drizzle over the honey, pour in the cider and season with salt and pepper.
Scrunch up a piece of parchment paper slightly bigger than the diameter of the pan and wet it under the tap.
Put the paper over the leeks, pushing it down the edges so they are well covered.
Put a lid on the pan. Bring just to a boil and immediately turn down the heat.
Leave to cook very slowly. The leeks will be tender after 30 minutes but are best left for 1 hour or more.
Check occasionally that the bottom isn't burning and add a little more cider or water if necessary; it shouldn't be if the heat is very gentle.
While the leeks are cooking, prepare the breadcrumbs.
Melt the butter with the oil in a frying pan over a low heat.
Add the breadcrumbs, garlic, chili and orange zest and season with salt and pepper.
Fry gently for 2 minutes, until beginning to crisp and brown, stirring often, adding the parsley after 1 minute.
Turn off the heat and put to one side.
When the leeks are cooked, put them in a serving dish and scatter over the breadcrumbs.
Sprinkle the pollen over just before serving.
Find more leeks on Food Republic: