Lebanese Kibbeh With Lemon Tahini Recipe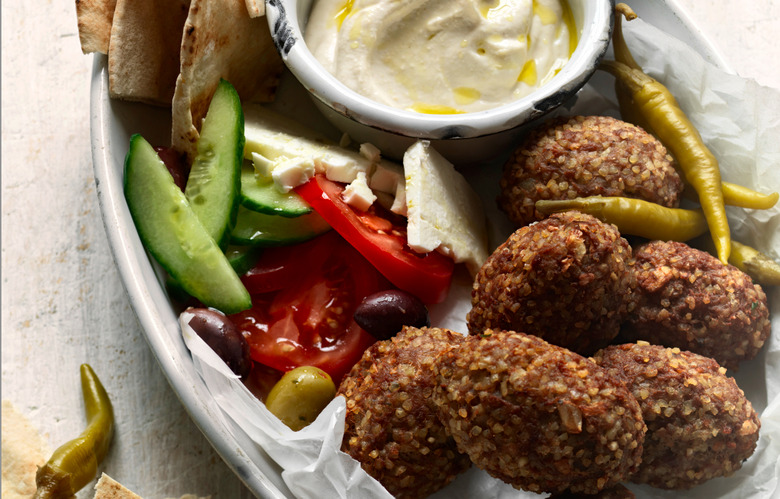 Photo: Jonathan Gregson
We may receive a commission on purchases made from links.
Culinary authority Ghillie James' new book, Amazing Grains, is full of sweet and savory recipes for any meal of the day. Learning how to work with a variety of grains — and there are a lot — will expand your cooking repertoire without breaking the bank. Make these meaty Middle Eastern bites as an appetizer or main course.
The Arabic word kubbah means ball, and these crispy morsels of ground meat with bulgur and onion are a classic in Levantine cuisine. The paste is stuffed and then usually shaped into mini torpedoes (a role commonly given to a prospective bride in Lebanon and Syria). They are then fried or grilled and served with salad and a tahini or yogurt dip. Known around the Middle East variously as kobeiba, cubbeh, bulgar koftesi or kubba, they can be made bigger or smaller depending on whether you want to serve them as a nibble, an appetizer or as a main course. I like to eat the kibbeh with crunchy leaves, flatbreads and a Greek-style salad. And I prefer them made with beef but they are most commonly made with lamb or even goat; it's best to use non-lean, good-quality meat. You can prepare the kibbeh earlier in the day and keep in the fridge.
Lebanese Kibbeh With Lemon Tahini Recipe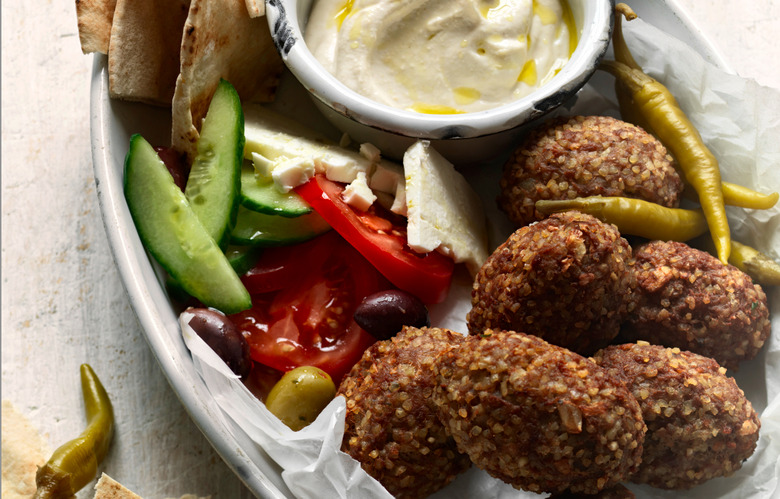 Ingredients
1/2 cup bulgur wheat
14 ounces ground beef or lamb
1/2 onion
2 good pinches all spice
1/2 teaspoon cumin
1 tablespoon Greek yogurt
sunflower or peanut oil
1 tablespoon olive oil
1 small onion finely chopped
2 tablespoons pine nuts
1 clove garlic
a good pinch cayenne
pepper
2 good pinches cinnamon
a good pinch all spice
1 tablespoon golden raisins
4 1/2 ounces ground beef or lamb
sea salt and fresh ground black pepper
1 heaping tablespoon chopped cilantro leaves
4 teaspoons tahini paste
4 tablespoons Greek yogurt
1 small lemon squeezed
4 tablespoons olive oil
3 tablespoons water
1 large clove garlic
Directions
Rinse the bulgur wheat three times, then transfer to a bowl and pour over 1/2 cup boiling water. Cover and leave while you prepare the stuffing.
For the stuffing, heat the oil in a pan and cook the onion gently for 8 minutes or until soft.
Add the pine nuts and stir over medium-high heat for a minute or so before adding the garlic, spices, golden raisins and lamb and stir-frying until the lamb has browned.
Season and turn off the heat, then stir in the cilantro leaves. Drain the bulgur wheat thoroughly and transfer to a bowl.
In a processor, pulse the remaining meat, onion, and spices together with some more seasoning until combined.
Mix into the bulgur, using your hands, as if you are kneading dough.
Stir in a tablespoonful of Greek yogurt and season generously.
Take a golf ball-sized amount of the bulgur mix in your wet hands and flatten into your palm.
Place a teaspoon or so of the stuffing mixture into the center and then, with a little more bulgur mix, enclose the stuffing and form into a small lemon shape. Place onto a plate while you make about 12–14 more.
Chill for 20 minutes, or longer if you want to make them in advance.
When you are ready to cook the kibbeh, heat 1-2 inches or so of oil in a deep frying pan. When sizzling hot but not smoking hot, add half the kibbeh and fry for 7-10 minutes or until they are deep brown all over.
Drain on paper towels. Keep warm in the oven while you fry the next batch.
The Meatball Shop's Mortadella Meatballs Recipe
Lentil-Bulgur Meatballs Recipe
Chicken Meatballs With Spinach-Walnut Pesto Recipe