Learn How To Make Oven-Roasted Za'atar Vegetable Chips With This Recipe And Video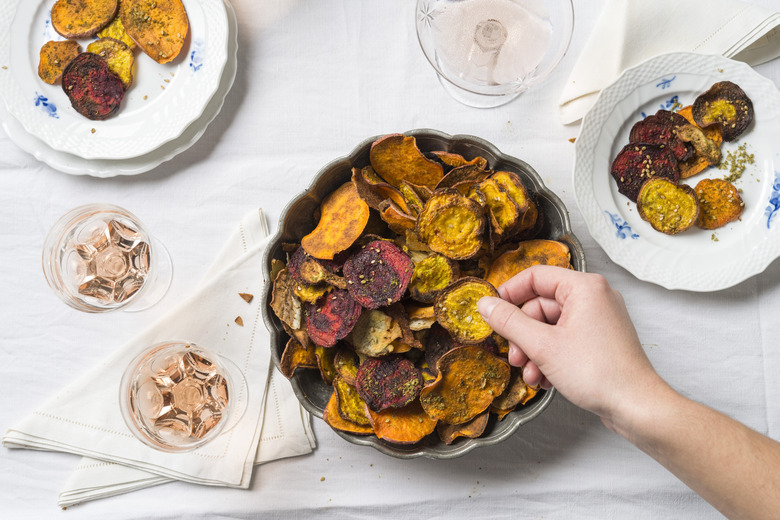 Photo: Evan Sung, stylist: Kaitlyn DuRoss
We may receive a commission on purchases made from links.
This recipe is part of Crispianity: a column devoted to all foods crispy and crunchy, two of the most underappreciated attributes of a great dish. Author Adeena Sussman is a food writer and recipe developer, pairing here with her photographer friend Evan Sung. Sussman's most recent cookbook, coauthored with Lee Brian Schrager, is Fried and True: More Than 50 Recipes for America's Best Fried Chicken and Sides.
A few years ago, a food-stylist friend introduced me to the Kyocera ceramic adjustable mandolin slicer. Light, cheap, compact and easy to clean, it has an adjustable little baton on the back that allows you to slice in four levels of thickness with a tiny twist (true, it doesn't make julienne slices, but there's another model for that). Most importantly, it makes quick work of producing the wafer-thin slices required to achieve these crisp, healthy, flavorful chips.
I used my favorite blend of seasonal root vegetables, but feel free to mix and match to your liking. Though many oven-baked chips call for tossing the vegetables in oil, I really like the control I get from spraying the oil directly on the veggies. I season them with za'atar (also often spelled zahtar), the Middle Eastern spice blend I shake onto everything from roast chicken to hummus to grilled pineapple. A blend of hyssop, sumac, oregano and other spices (plus sesame seeds and salt), za'atar adds an acidic tinge and an earthy, herbal depth to anything it touches. Find it at better supermarkets or online.
Learn the easy technique in the spiced-up video below:
Learn How To Make Oven-Roasted Za'atar Vegetable Chips With This Recipe And Video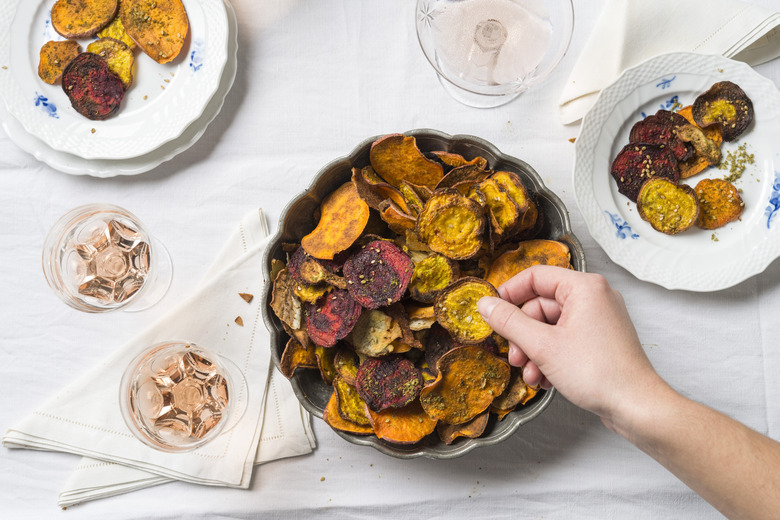 Ingredients
2 medium sweet potatoes
3 large sunchokes (also known as Jerusalem artichokes)
2 medium yellow beets
2 medium purple beets
Olive oil spray (I like 365 Whole Foods brand)
Sea salt and za'atar
Directions
Preheat the oven to 400°F.
Spray a bunch of baking sheets lightly with olive oil cooking spray.
Using a mandolin slicer or a very sharp knife, slice the vegetables, pat them dry with paper towels, and keep them in separate piles (you don't want your red beets wreaking havoc on all of the other players in this game).
Arrange the vegetables on the prepared baking sheets in single layers, coat them them lightly with the olive oil spray, and generously sprinkle the top with salt and za'atar.
Bake until crispy, 10-13 minutes, rotating the baking sheets if needed (the sunchokes require a little less time, the beets a little more, so turn on that oven light and pay attention), until chips darken in spots and appear dried.
Remove from the oven and allow chips to cool and crisp up more, returning some chips to the oven if necessary.
How To Make Lemon Kale Chips
Zucchini Chips With Gorgonzola Cheese Recipe
Za'atar-Dusted Pita Chips Recipe