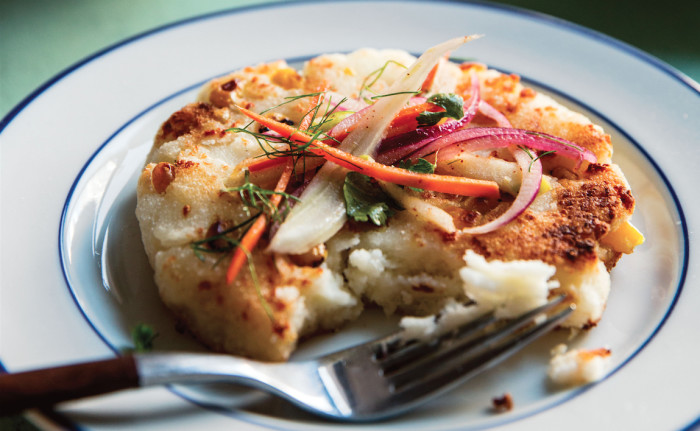 If you love, cherish and season your cast-iron skillet like it's a member of the family, we have a new cookbook for your library. Food writer and cookbook author Charlotte Druckman's latest collection of recipes all take place on the searing-hot surface of a heavy iron pan. These cheese arepas with slaw are a savory, melty treat you'll make again and again. 

These arepas are based on a recipe for the Colombian-style ones, which are distinguished from their Venezuelan counterparts by their flatter, larger shape and the fact that they can be made with yellow — as opposed to white — corn. This, I learned from Maricel E. Presilla's encyclopedic cookbook Gran Cocina Latina, where I discovered arepas de queso asadas, or grilled corn and cheese arepas.

When Ms. Presilla makes them at home, she chars them under the broiler. I created a similar effect without a grill or an oven (which is where the "lazy" comes from — and where it stops). For textural contrast, I incorporate seared corn kernels into the batter. Then I work at least two types of cheese into the dough. The cool crunch of the lime-splashed slaw makes the corn-flecked arepas seem even warmer, softer and gooier by comparison. It's worth the extra effort.
Ingredients
6

tablespoons (3/4 stick)

unsalted butter, melted plus 1 1/2 teaspoons for the pan

1

cup

frozen or fresh sweet corn kernels, thawed and gently patted dry, if frozen

2

cups

masarepa (precooked corn flour for arepas), preferably Harina P.A.N.

1

tablespoon

sugar

2

cups

warm water

1

pound

soft cheese, such as queso blanco or queso fresco, or a combination (2 2/3 to 3 packed cups)

1/3

pound

aged cow's-milk cheese, such as cotija or Pecorino Romano, grated (about 1 1/3 cups)

1

teaspoon

salt, plus more to taste

3

tablespoons

corn oil

Slaw, for garnish (recipe follows)

Your preferred hot sauce, for serving (optional)
Slaw (makes about 2 1/2 cups)
1/2

cup

sliced jicama, cut into 1/8-inch matchsticks

1/2

cup

sliced apple, cut into 1/8-inch matchsticks

1/2

cup

sliced carrot, cut into 1/8-inch matchsticks

1/2

cup

fennel, thinly sliced horizontally, then coarsely chopped to resemble cabbage slaw

1/4

cup

thinly sliced red onion

3

tablespoons

fresh lime juice

1

tablespoon

cider vinegar

2

teaspoons

honey

1

teaspoon

chili powder

2

tablespoons

extra-virgin olive oil

1/4

teaspoon

salt

1/4

cup

coarsely chopped fresh cilantro, for serving
Directions
For the slaw
In a medium bowl, toss the jicama, apple, carrot, fennel, and onion together so all the ingredients are evenly dispersed.

In a small bowl, whisk together the lime juice, vinegar, and honey until the honey has dissolved. Add the chili powder and whisk to combine. Slowly stream the olive oil into the bowl and continue to whisk so the dressing emulsifies. Season the dressing with the salt.

Add the dressing to the vegetables, using your hands or a spoon to toss or stir to ensure the vegetables are evenly coated. Mix in the cilantro. You can serve the slaw right away, but it will improve if you leave it in the fridge to marinate for a couple of hours.
For the arepas
Preheat a 10-inch cast-iron skillet on the stovetop, gradually raising the heat from low to medium-high. When the pan is hot, add the 1½ teaspoons butter and let it melt, tilting to coat. Add the corn and cook for about 8 minutes, stirring from time to time to avoid sticking, until both sides are burnt. Transfer the charred corn to a small bowl and set aside to cool.

In a large bowl, combine the corn flour and sugar. Gradually add the water, incorporating it into the dry ingredients with your fingers. Work in 3 tablespoons of the melted butter, kneading the mixture to form a soft dough. Knead in the cheeses, 1 cup at a time. If the dough seems too dry, add 1 to 1½ tablespoons more water. Taste for seasoning and, if necessary, add the salt to taste, ¼ teaspoon at a time. Keep kneading the dough until it's supple, smooth, and lump-free. It will feel like a cross between lukewarm mashed potatoes and Play-Doh.

When the dough is just about right, quickly and gently knead the corn kernels into it and shape it into a compact sphere, working in any remnants that may have stuck to the base of your bowl. Line the bowl with a piece of plastic wrap. Return the dough to the bowl and cover with a damp kitchen towel. Set aside for at least 15 minutes.

Preheat the cast-iron skillet on the stovetop, gradually raising the heat from low to medium-high, so it gets very hot. Meanwhile, shape the dough: Divide it into 12 portions of about ½ cup (or 5 ounces) each and place them under a kitchen towel. Working with one at a time and keeping the others covered, roll one piece of dough into a ball, then flatten it into a circle about 3 inches wide and ½ inch thick. Set the finished disc on a plate and cover with a damp kitchen towel. Repeat with the remaining dough, separating the discs with wax paper and keeping them covered as you work.

Combine the remaining 3 tablespoons melted butter and the corn oil in a small bowl. Add 1½ teaspoons of the butter-oil mixture to the hot skillet and tilt the pan to coat. Place 4 of the arepas in the pan. Every couple of minutes, rotate them in place, then after 5 minutes, shift them clockwise in the pan, adding 1½ teaspoons more of the butter-oil mixture to the skillet to prevent burning or sticking. At the 10-minute mark, flip the arepas with a spatula and add another 1½ teaspoons of the butter-oil mixture to the pan.

Cook the arepas for 8 to 9 minutes more, rotating them in place every couple of minutes and shifting them all together, clockwise, after 4 minutes as above, adding another 1½ teaspoons of the butter-oil mixture to the pan. When finished, the exterior of the arepas should be crisp and solid, and the inside should be cooked through with a soft consistency comparable to cheesy grits. Repeat with the remaining arepas, cooking them in batches of 4 at a time.

Eat the arepas immediately while they're hot, or keep them warm on a large plate, covered with aluminum foil, while you cook the rest. Top each with a heaping spoonful of slaw, a pinch of salt, and, if you wish, a few drops of your favorite hot sauce.