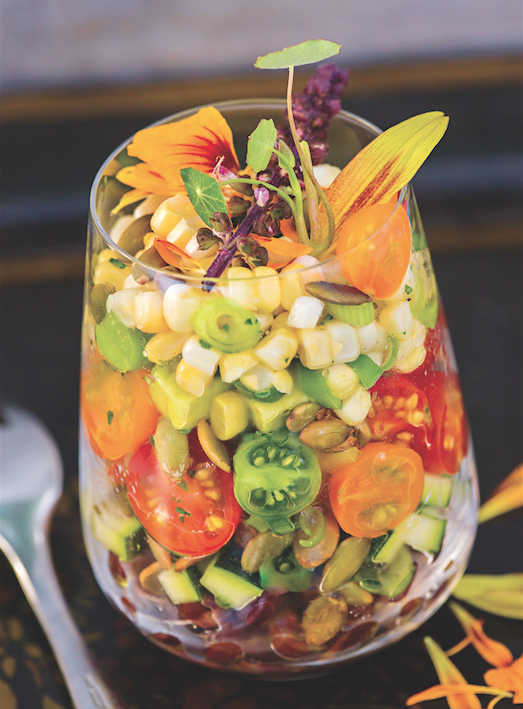 Keep it simple and green with food writer and cookbook author Susie Middleton's new recipe collection. If you're angling to adapt a more plant-based diet, there's no better path to healthy living than a reliable cookbook filled with delicious, attractive vegetable dishes developed by a pro. Try this black bean salad with zucchini, corn and avocado for a fresh, colorful first course or light lunch. 
I know the ingredient list is long, but there's no cooking involved here. It's actually fun to layer all those ingredients in glasses — and they look so jaunty when you're finished. You can plan to make these little salads when friends are coming over (assemble them up to an hour ahead), or you can just always toss everything together in one bowl as a quick weeknight alternative. Either way, it's one tasty bean salad, partly because the dressing features one of my favorite pantry ingredients: crystallized ginger. If you don't have crystallized ginger, use fresh ginger and a bit of sugar.
Ingredients
Dressing
5

tablespoon

olive oil

2

tablespoons plus 2 teaspoons

fresh lemon juice

1

tablespoon plus 1 teaspoon

finely chopped crystallized ginger, or 2 teaspoons fresh ginger plus 1 teaspoon sugar

1

teaspoon

minced fresh garlic

1

teaspoon

honey

1/2

teaspoon

freshly grated lemon zest

1/2 to 1

teaspoon

seeded and minced fresh serrano or jalapeño pepper

Pinch

kosher salt
Salads
1

15-ounce can

black beans, drained and rinsed

1

cup

diced zucchini (about 4 ounces)

1 1/2

cups

halved or quartered red and yellow cherry tomatoes (depending on size)

1

medium-large ripe-but-firm avocado, cut into 1/2-inch dice (about 1 cup)

1 1/4

cups

fresh raw corn kernels (from about 2 large ears)

kosher salt

1/3

cup

coarsely chopped fresh herbs (any combination of basil, mint, cilantro, parsely, chives, Thai basil, etc.)

1/3

cup

sliced scallions (light and dark green parts)

1/3

cup

toasted sliced almonds, toasted pepitas, or toasted pine nuts

6

fresh herb sprigs or edible flowers (optional)
Directions
For the salads
Place 6 water or wine tumblers, "old-fashioned" cocktail glasses, or other wide and relatively short glasses (about 8 to 10 ounces) on your work surface. (Alternatively, choose a 6- to 8-cup deep glass bowl, preferably straight sided.)

Make the dressing: In a small bowl, whisk together the olive oil, lemon juice, crystallized ginger, garlic, honey, lemon zest, serrano pepper and salt.

Put the black beans, zucchini, cherry tomatoes, avocados, and corn each in a separate small bowl. Toss each with 2 to 3 teaspoons of the dressing and a good pinch of salt.

Assemble the salads: Spoon the beans into the bottoms the glasses, distributing the entire amount evenly among the glasses. Sprinkle the beans with a small bit of the chopped herbs, a few scallions, and some of the nuts. Spoon the zucchini into the glasses, distributing the entire amount evenly. Sprinkle the zucchini with small amounts of herbs, scallions, and nuts. Continue layering on cherry tomatoes, the avocado, and the corn, sprinkling each layer with herbs, scallions, and nuts as you go. Spoon any remaining dressing over the salads.

Garnish each glass with an herb sprig or edible flower (if using). Let the salads sit a few minutes for the flavors to mingle and serve at room temperature.