Lamb, Orange And Chile Kebabs Recipe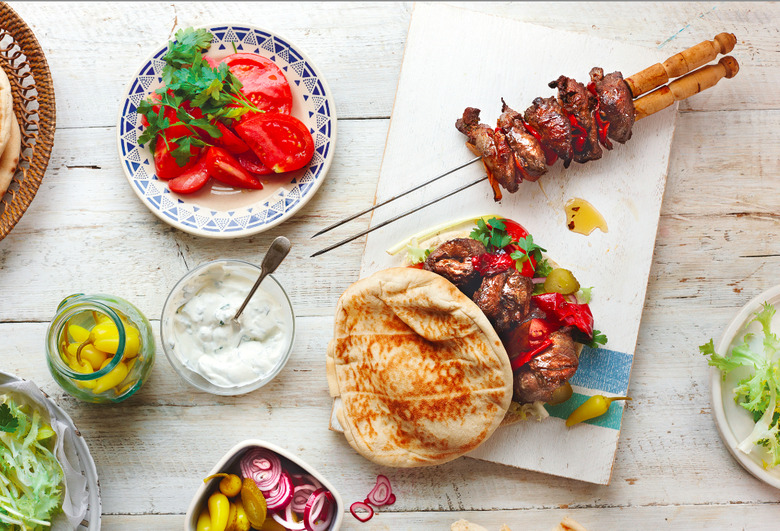 We may receive a commission on purchases made from links.
World-renowned chef and author Maria Elia's new Greek cookbook, Smashing Plates, was inspired by the cuisine at her father's tavern in Cyprus. Greek pub food. Sound like a winning formula? We combed through this page-turner and came up with a few recipes to share. Fire up the grill for these spicy, citrus-marinated lamb kebabs. 
Lamb is usually associated with lemon in Greek cooking, but I thought it would make a change to use orange and chile instead to impart a great flavor and visual appeal to the lamb. Serve with a mint yogurt or tahini sauce, pita bread, salad and pickles. You will need to start this the day before.
Lamb, Orange And Chile Kebabs Recipe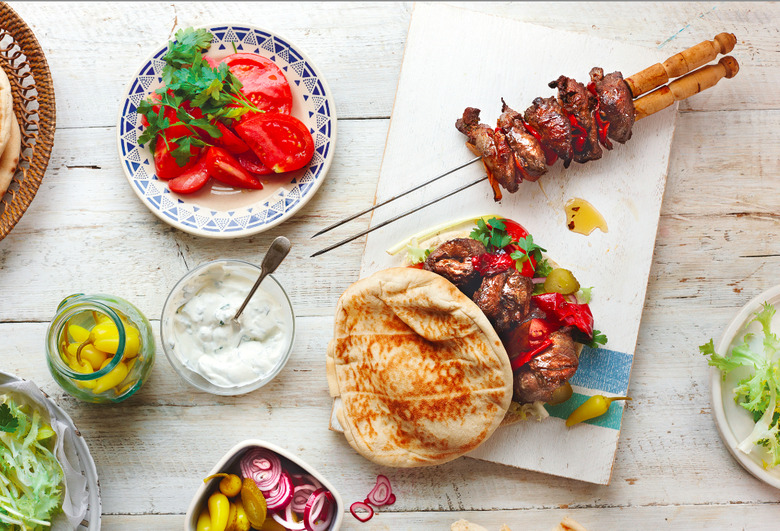 Ingredients
2 1/4 pounds boneless lamb shoulder
1/2 cup olive oil
4 cloves garlic
2 bay leaves
2 1/2 teaspoons ground cinnamon
1 teaspoon ground allspice
1 large orange
2 red chilies
sea salt
freshly ground black pepper
honey
Directions
You will need four 12-inch metal skewers or two double-pronged skewers.
Cut the lamb into roughly 2 1/2-inch pieces and place in a non-reactive bowl.
Add the oil, crushed garlic and salt, bay leaves, cinnamon and allspice and toss evenly to coat.
Strip the zest from the orange using a vegetable peeler, cutting away any white pith.
Add to the lamb, along with the chilies.
Cut the orange in half and squeeze the juice over the lamb, and toss everything together.
Cover and refrigerate overnight.
Remove the lamb from the fridge, season with salt and pepper, and mix well.
Cut the orange peel and chiles into pieces.
Thread a piece of lamb onto two skewers, leaving a 3/4-inch distance between each skewer (two skewers will stop the meat from spinning), and follow with a piece of orange peel and a piece of chile.
Repeat until all the lamb has been threaded onto the skewers.
Let the lamb come up to room temperature before cooking.
Preheat a grill pan or outdoor grill to low heat and cook the lamb, turning occasionally, for about 30 minutes or until cooked to your liking.
(You could, of course, sear the lamb on a grill pan or outdoor grill and finish in a preheated oven at 350°F for 15–20 minutes.)
Set aside, drizzled with honey and covered with foil, to rest for 15 minutes before serving.
Boulud Sud's Aaron Chambers On How To Make Lamb Kebabs
Seekh Kebabs Recipe
Fish Tikka Kebab Recipe