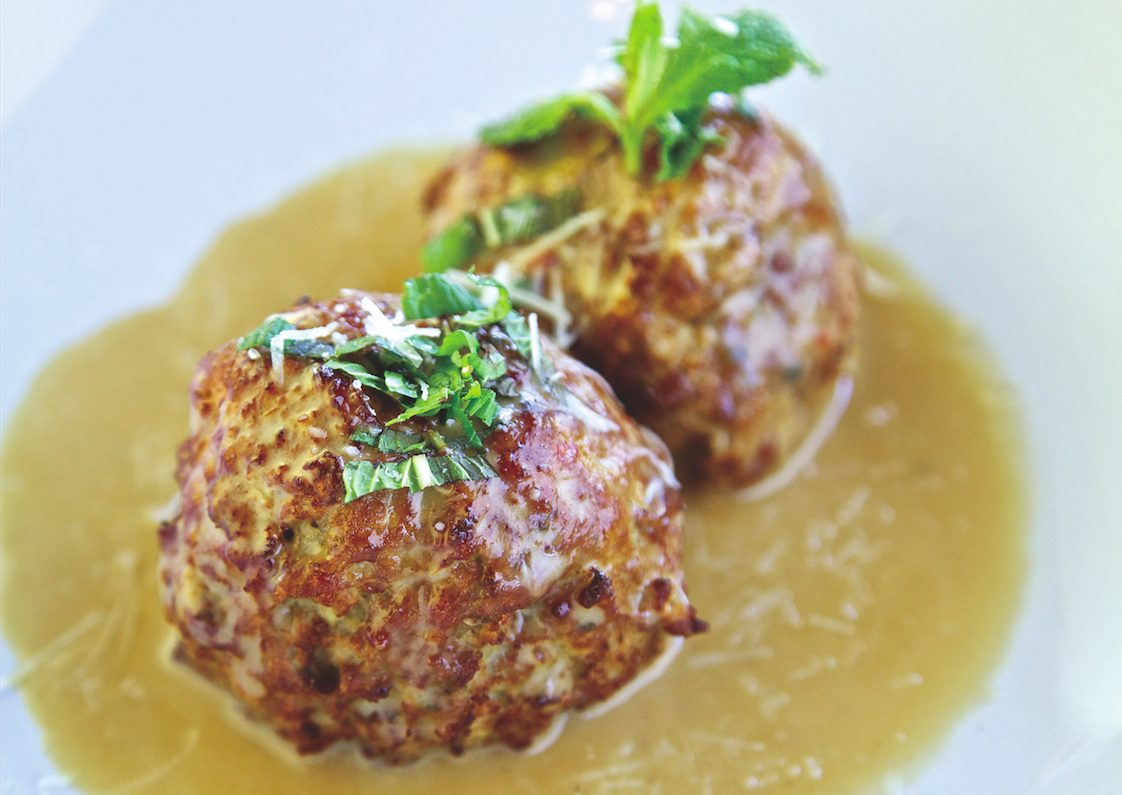 New York City may be a renowned global food hub. But just north of the Tri-State Area lies the rich, verdant Hudson Valley — home to wonderful farms, cheese producers and craft distilleries (plus restaurants that use the local products to their full potential). A new cookbook, Hudson Valley Chef's Table, is a compilation of recipes from beloved restaurants from Westchester to Columbia counties.
This rich lamb meatball recipe comes from chef Mike Abruzese at Polpettina in Eastchester, NY. Did we mention the Hudson Valley has some of the best foie gras on earth?
Ingredients
For the foie gras sauce
3

tablespoons

extra-virgin olive oil

3

shallots

sliced

3

cloves

garlic, chopped

1

pound

Hudson Valley foie gras (Grade B or C is fine), cut into 1-inch cubes

1

cup

cream sherry

3

cups

heavy cream

sea salt, to taste

freshly ground black pepper, to taste
For the meatballs
1

pound

ground lamb

2

slices

good white bread, trimmed of crust and torn or chopped

2

tablespoons

mint, chopped

1/4

cup

parsley, chopped

3

cloves

garlic, chopped

1

teaspoon

sea salt

1/2

teaspoon

freshly ground black pepper

1/2

teaspoon

smoked paprika

1/2

cup

extra-virgin olive oil

1/4

cup

shaved pecorino
Directions
For the sauce:
In a saucepan over low heat, heat the olive oil and then add the shallots and garlic, sautéing them until translucent.
Raise the heat to medium-high and toss in the foie gras. Sauté the pieces until they're nicely caramelized (be very careful not to burn the foie gras).
When the foie is nicely caramelized, pour in the sherry and cook the mixture, scraping up the brown bits, until the liquid is reduced to a syrup consistency.
Add the heavy cream and simmer until the sauce is reduced by half. When reduced, transfer mixture to a blender (ideally, a Vitamix) and blend the sauce until it is very smooth.
Pass the sauce through a fine mesh strainer and season with salt and pepper to taste. Set aside.
For the meatballs:
In a medium-size bowl mix the ground lamb with the egg, bread, 1 tablespoon of the mint, parsley, garlic, salt, pepper and smoked paprika.
Shape the mixture into 1-inch-diameter balls. In a very large skillet (preferably cast-iron), heat the olive oil.
Add the meatballs and fry them over medium-high heat until they're thoroughly browned and cooked, approximately 4 minutes.
Blot the meatballs on a paper towel-lined plate.
Serve with warm foie gras sauce, the remaining mint, and shaved pecorino.
More fancy-pants meatballs on Food Republic: