Lamb And Grape Leaf Tarts Recipe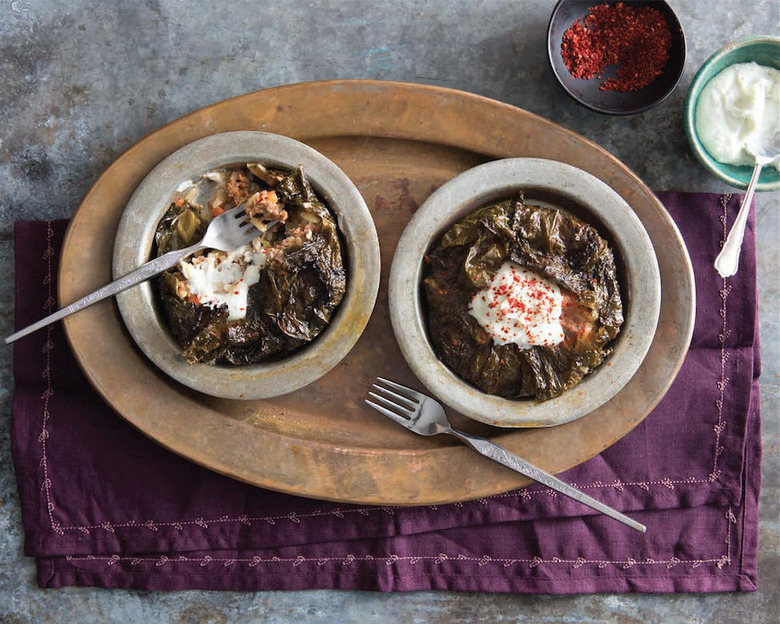 We may receive a commission on purchases made from links.
It's time for lamb And grape leaf tarts! Some of the best sweet and savory pastries in the world hail from the Middle East, so join James Beard Award–winning chef-bakers Ana Sortun and Maura Kilpatrick on their journey through Turkey and beyond. Their new cookbook, Soframiz, is packed with the very best, breadiest baked goods this side of the Euphrates.
These lamb and grape leaf tarts were inspired by a traditional Greek yogurt and semolina custard that is baked in grape leaves. It is a version of dolma, which means "stuffed" in both Turkish and Greek and is often associated with grape leaves that are stuffed with rice and rolled like short cigars. I love this version because the grape leaves get crispy and a little caramelized, a nice combination with the briny flavor of the leaves.
Cook's Note: You can bake these tarts ahead of time and just before serving, crisp them up in a nonstick pan using a teaspoon or so of olive oil.
Lamb And Grape Leaf Tarts Recipe
James Beard Award-winning Ana Sortun and Maura Kilpatrick have a Middle Eastern baking cookbook out! Make lamb and grape leaf tarts for a savory snack.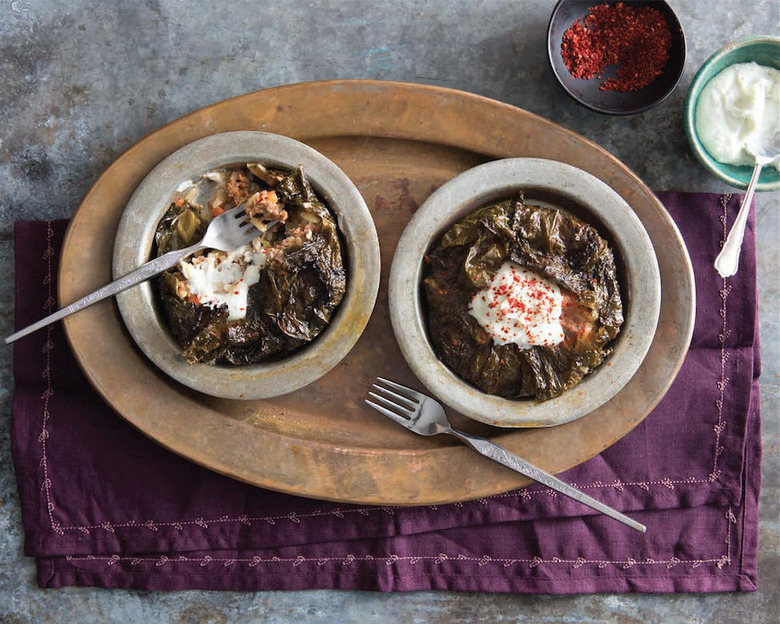 Ingredients
1 cup finely chopped leek
1/3 cup finely chopped carrot (about 1 small carrot)
1/4 cup plus 1 tablespoon extra-virgin olive oil, plus more as needed
3 cloves garlic
3/4 cup cooked orzo
1 pound ground lamb
3/4 teaspoon kosher salt
1/2 teaspoon freshly ground black pepper
1 tablespoon tomato paste
1 1/2 teaspoons ground cumin
Grated zest of 1 orange
1 tablespoon dried oregano, or 1 teaspoon chopped fresh rosemary
1 teaspoon Maras pepper, plus more to serve
2 tablespoons chopped fresh flat-leaf parsley leaves
Juice of 1/2 orange
1 tablespoon honey
1 cup crumbled sheep's or goat's milk feta
3 tablespoons hot or just-boiled water
1 tablespoon coarsely chopped jalapeño or pickled pepperoncini
Directions
Preheat the oven to 400°F. Lightly grease four 4-inch tart pans or 6 cups in a muffin tin with olive oil.
Bring a pot of water to a boil, add the grape leaves, and cook for 1 minute. Drain and set aside to cool.
When the grape leaves are cool enough to handle, use a paring knife or a pair of scissors to cut off the remaining stem.
Sweat the leek and carrot in a small sauté pan over medium-low heat in 1 tablespoon olive oil until the vegetables have softened without browning, 5 minutes. Stir in the garlic and cook for 1 more minute. Transfer to a mixing bowl and set aside to cool.
Stir in the orzo, ground lamb, salt, pepper, tomato paste, cumin, orange zest, dried oregano, Maras pepper, and parsley. Use your hands to get everything incorporated.
In a small bowl, combine the orange juice, honey, and the remaining 4 tablespoons of olive oil. Brush one side of the grape leaves with the honey mixture and lay three leaves, brushed side down, into the tart pans, overlapping them a little so that some of the leaves hang over the pan by about 2 inches. Fill with about 1 cup of the meat mixture and fold the leaves over to cover the top. Press the pie into the tart pan so that it molds to the pan. Repeat with the remaining three pies. If you are using a muffin tin, use 2 leaves per pie and divide the lamb mixture into six pies instead of four.
Brush the tops with the remaining honey mixture.
Bake until the grape leaves are crispy on the top and the meat is cooked through, 12 to 15 minutes.
Meanwhile, combine the feta, hot water, and jalapeño or pickled peppers in a blender and blend until very smooth and creamy. Scrape into a small serving bowl and set aside.
Remove the tarts by inverting each onto a plate. Top each serving with a tablespoon of spicy feta sauce.