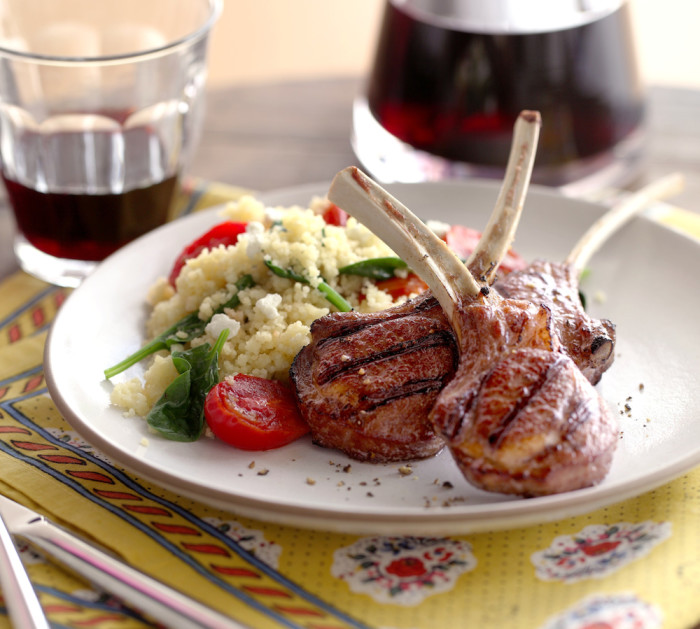 There's nothing like hearty lamb chops on a chilly night — they're a pleasant departure from beef and chicken and, surprisingly, just as easy to cook. Ask a butcher to french a rack of lamb and cut it into chops for you, the presentation is very impressive.
Lamb and couscous go together as naturally as chicken and noodles. Or chicken and dumplings. Or beef and potatoes. Substitute your favorite veggies for the tomato and spinach and explore the wide-open world of couscous as an easy dinner side dish.
Ingredients
3

racks

lamb, frenched and cut into 1 1/2 thick chops

olive oil, for brushing the grill and drizziling tomatoes

1

cup

couscous, prepared according to packet instructions

1/2

pound

ripe heirloom cherry or grape tomatoes, halved

4

tablespoons

extra-virgin olive oil, divided

3

garlic cloves, diced

5

cups

spinach leaves

1/4

cup

crumbled goat cheese
Directions
Season the lamb chops with salt and pepper.

Brush the grill rack with oil and preheat to high. Place the lamb chops on the grill, cover, and cook until charred and to desired doneness, about 4 minutes per side for medium-rare.
Transfer the chops to a plate, cover to keep warm, and set aside.

Preheat the oven to 400°F.

Place the tomatoes, cut side up, on a baking sheet, drizzle with 2 tablespoons of the oil, and season to taste with salt and pepper.

Roast the tomatoes in the oven until they begin to collapse but are still slightly firm, about 8 minutes.

Meanwhile roast, heat the remaining 2 tablespoons olive oil in a medium skillet over medium-high heat. Add the garlic and cook, stirring, until fragrant, about 1 minute.

Add the spinach and cook, stirring, until wilted, about 2 minutes.

Add the roasted tomatoes and spinach to the couscous and toss gently. Season to taste with salt and pepper.

To serve, spoon the spinach and tomato couscous salad on each plate and sprinkle with some of the cheese. Place 3 to 4 lamb chops on each plate and season to taste with pepper. Serve immediately.
Make it easy:
To save a few steps, you can add the uncooked tomatoes and spinach to the cooked couscous instead of cooking them first. Drizzle with a little bit of olive oil, season to taste with salt and pepper, and serve with the lamb chops.