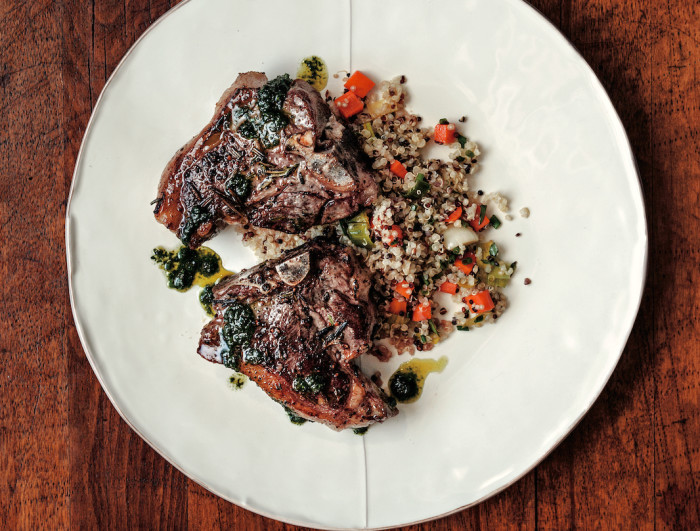 When it comes to the very best of kosher food and wine, look no further than renowned winemaker and cookbook author Jeff Morgan. Morgan's new book, The Covenant Kitchen, features recipes he's collected from his travels to Italy, Provence, North Africa, Asia, California and Israel. This is definitely the book in which you'll find your new favorite lamb chops. 
We love lamb, and we love the ease with which this dish is made. It offers a welcome variation on the classic theme of meat and potatoes. Both quinoa and chimichurri have South American roots. The small, grain-like seeds of quinoa have become popular not only for their slightly crunchy texture, but also for their high nutritional value. You can find quinoa in most well-stocked supermarkets, but rice can also be substituted. Green chimichurri sauce is said to have originated in Argentina. It adds a wonderfully fresh-tasting edge to the lamb.
This is a recipe that calls for red wine in your glass, but you might prefer a chilled, dry rosé on a warm summer evening. Rosé and lamb make a marvelous match; just ask anyone who's lived in southern France. Among red wines, we can't think of a well-made varietal that wouldn't do well here. But truth be told, when it comes to lamb chops, we are partial to earthy Syrah or densely structured Cabernet Sauvignon.
Ingredients
Chimichurri Sauce
2

cups

firmly packed fresh cilantro, coarsely chopped

3/4

cup

extra virgin olive oil

2

tablespoons

fresh lime juice

1

clove

garlic, minced

1

teaspoon

ground cumin

1/8

teaspoon

cayenne or chili powder

1/4

teaspoon

salt
Quinoa Salad
2

cups

chicken stock

1

cup

quinoa (white, red or multicolored)

2

tablespoons plus 1/4 cup

extra virgin olive oil

1

medium

leek, well washed and diced

1

large

carrot, diced

2

tablespoons

fresh tarragon, minced

3

tablespoons

fresh chives, minced

2

tablespoons

fresh lemon juice

Salt

and freshly ground pepper
Lamb Chops
8

lamb chops (about 2 1/2 pounds), trimmed of excess fat

1

clove

garlic, peeled and halved

Salt

and freshly ground pepper

1

tablespoon

extra virgin olive oil

1

tablespoon

dried rosemary
Directions
For the chimichurri sauce:
In a blender, combine the cilantro and olive oil and puree to a smooth sauce.
Add the lime juice, garlic, cumin, cayenne and salt.
Pulse to incorporate thoroughly.
Transfer the sauce to a small serv­ing bowl, cover, and set aside.
Refrigerate for up to 2 days if you plan to store the sauce for more than a few hours before using.
For the quinoa salad:
In a medium pot, bring the chicken stock to a boil over high heat and stir in the quinoa.
Cover, reduce the heat to low, and simmer until all the stock is absorbed, about 15 minutes.
Remove the pot from the heat.
While the quinoa is cooking, in a medium skillet, heat 2 tablespoons of the olive oil over medium-high heat.
Add the leek and carrot and sauté until tender, 10 to 12 minutes.
In a large bowl, gently mix the quinoa with the leek and carrot.
Add the tar­ragon and chives and mix well.
Drizzle with the remaining 1/4 cup olive oil and add the lemon juice.
Stir gently to mix thoroughly.
Adjust the seasoning with salt and pepper to taste.
Serve warm or at room temperature.
For the lamb chops:
Preheat the grill or the broiler.
Rub the meat with the cut sides of the garlic.
Lightly salt and pepper the chops, then rub them with the olive oil.
Coat the chops with the rosemary.
Grill or broil the chops for about 7 minutes per side for medium-rare.
Let the meat sit for 5 to 10 minutes prior to serving.
For assembly:
To serve, place a mound of quinoa salad on each plate.
Lean 2 chops at an angle against the quinoa.
Drizzle the chimichurri sauce onto the chops to taste.
Find more lamb chops on Food Republic: