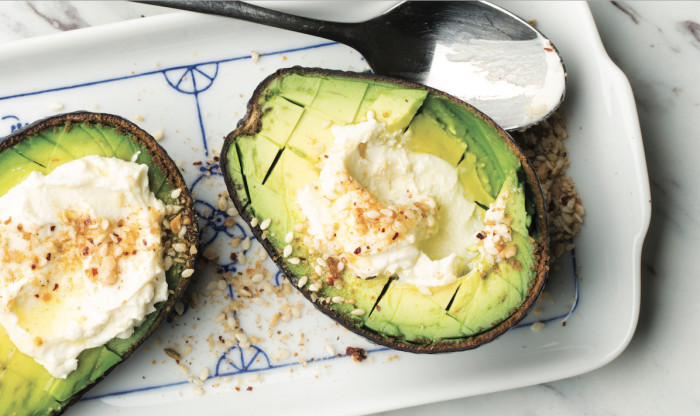 Portland-based food writer and cookbook author Lara Ferroni turns her focus on the humble but mighty avocado in her new collection of recipes. Pick up a couple of "gator eggs" and a copy of An Avocado a Day to switch up your creamy green game and infuse this wondrous ingredient into things you never imagined. Sometimes, however, a gussied-up half is as much as you need. This labneh-stuffed avocado is for those times.
This combination of avocado, labneh, and dukkah also makes a great Mediterranean-inspired dip served with pita chips. Just mash the labneh and oil into the avocado and then sprinkle with the dukkah to serve.
Ingredients
1

avocado

2

tablespoons

labneh

About 2

teaspoons

avocado oil or extra-virgin olive oil

1

teaspoon

Dukkah
Labneh (makes about 1 cup)
1

cup

unsweetened, full-fat Greek yogurt

1/4

cup

avocado oil or extra-virgin olive oil

1/4

teaspoon

kosher salt

Pinch

freshly ground black pepper

1

clove

garlic, minced (optional)
Dukkah (makes about 1/3 cup)
1/4

cup

roasted hazelnuts, skins removed

2

tablespoons

sesame seeds

1

tablespoon

coriander seeds

1

tablespoon

cumin seeds

1

teaspoon

kosher salt

1/2

teaspoon

whole peppercorns
Directions
For the dukkah
In the bowl of a food processor or spice grinder, put the hazelnuts and pulse once or twice until coarsely broken.

Add the sesame seeds, coriander seeds, cumin seeds, salt, and peppercorns, and pulse to make a coarse powder. Store in an airtight container at room temperature for up to a month.
For the labneh
In a medium bowl, mix together 
the yogurt, oil, salt, and pepper, and add the garlic. Double-line a fine-mesh strainer with cheesecloth, leaving extra cheesecloth hanging over the sides of the strainer, and place the strainer over a medium bowl. Pour the yogurt mixture on top of the cheesecloth. Pick up the cheesecloth edges, and bundle them together to cover the top of the yogurt. Set aside at room temperature for at least 24, and up to 48, hours, checking occasionally to ensure that the bottom of the strainer is not hanging in any strained liquid (dump out the bowl if it is).

Remove the labneh from the cheesecloth, place it in an airtight container, and refrigerate for up to a week.
For the avocado
Slice your avocado in half lengthwise, and gently remove the pit. Slice the flesh of the avocado into cubes, leaving it in 
the peel.

Place about 1 tablespoon of the labneh in the center of each avocado half, and then drizzle them with the oil.

Sprinkle the labneh with the dukkah, and serve immediately.