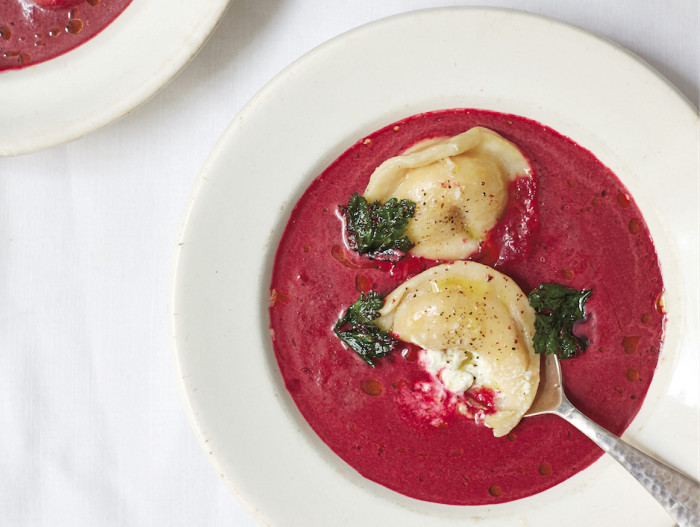 Modern Israeli cuisine is having a major moment in the fine dining sphere. Highlighting extra-flavorful vegetable preparations and simply prepared meats, it's one of the most popular ways to eat healthfully. Pick up a copy of The Palomar Cookbook, a collection of recipes from the award-winning London restaurant. This labneh kreplach tortellini is a beautiful representation of how Jewish cultures can meld to produce a truly unique dish. 
Sometimes Middle Eastern flavors and Ashkenazi flavors are a match made in heaven. Ashkenazi borscht is often quite a meaty soup, but I wanted to give it some magic for all you vegetable lovers. Here it gets a rose petal and cumin twist, and instead of the fermented beet juice customarily used, I've added some pomegranate molasses, and the usual sour cream to serve is replaced with my zesty labneh kreplach with Za'atar Spice Mix.
Ingredients
Kreplach
1 1/4

cups

labneh

1

tablespoon

Za'atar Spice Mix

1

teaspoon

grated lemon zest

salt, to taste
Borscht
4

large beets, skin on, washed and patted dry, then rubbed with 2 tablespoons olive oil and baked in the oven

2

tablespoons

olive oil

1

onion, sliced

1

tablespoon

dried rose petals

1 1/2

tablespoons

untoasted cumin seeds

1

tablespoon

untoasted coriander seeds

7

cups

vegetable stock

Salt and pepper, to taste

2

tablespoons

pomegranate molasses

parsley leaves, to garnish
Labneh (makes 2 1/4 cups)
2 1/2

cups

Greek yogurt

2 1/2

cups

natural low-fat yogurt
Za'atar Spice Mix
4

tablespoons

sumac

4

tablespoons

dried thyme

2

tablespoons

dried oregano or za'atar

1

teaspoon

Maldon salt flakes

1

tablespoon

toasted sesame seeds
Kreplach Dough (makes 25-30 dumplings)
1

cup

water

1

tablespoon

olive oil

1/2

tablespoon

salt

2 1/4

cups

all-purpose flour, plus extra for dusting

3

tablespoons

egg yolks (about 3-4, depending on the egg size)
Directions
For the spice mix
Blitz all the ingredients except the sesame seeds in a coffee or spice grinder, or grind with a pestle and mortar, then stir in the toasted sesame seeds.
For the labneh
Place a double-layered 16-inch square of muslin over a sieve, spoon the yogurts into the middle, then bring the sides together and tie so that you have a nice bundle.

Make some space in the fridge and hang your bundle overnight with a small bowl underneath to collect the liquids. Your other option is to hang it outside somewhere (my mama used to hang it over the kitchen sink). Personally I prefer the fridge option, as I like to ensure that the cheese is perfectly chilled. Check it after 5-6 hours — you're looking for it to have stopped dripping.

The labneh can be kept in the fridge in a sterilized airtight container for up to 5 days. To serve, spoon into a bowl, make a nice well in the middle, season with the Za'atar Spice Mix and drizzle with olive oil.
For the kreplach
To make the dough, bring the water, oil and salt to the boil in a large saucepan over a high heat — since we don't want the water to evaporate. Choose a bigger saucepan than you need, as you will be mixing the dough in it.

Add half the flour all at once and stir until the mixture starts to clump together into a dough.

Remove the pan from the heat, transfer the dough to the bowl of an electric mixer fitted with a dough hook and knead on a low speed for a minute to cool it down slightly. If making by hand, transfer the dough to a mixing bowl and knead the dough in the same way, wearing heat-resistant gloves, as the dough is very hot at this stage.

Add the rest of the flour and then the egg yolks, and continue kneading for about 2–3 minutes until all the ingredients are well combined. If using an electric mixer, you can take the dough out and knead it a little with your hands, which will help it to form into a nice ball of dough.

Wrap the dough in plastic wrap and leave to rest in the fridge for at least a few hours, preferably overnight.

To make the kreplach, flour your work surface and roll out the dough to a thickness of ⅛ inch. Check from time to time that the dough is not sticking to the surface, dusting with more flour as needed. If using a pasta machine, roll it out to setting number 3 or 4 (the settings vary with each machine), making sure that you keep dusting the dough with flour to prevent it sticking to the machine.

Use a cutter or an upturned glass to cut the dough into 3½-inch rounds.

To make the kreplach filling, mix all the kreplach ingredients except the dough in a bowl, then transfer to a piping bag — this will make it easier to fill the kreplach evenly, shaping the dumplings tortellini style.

For the borscht, while your beets are baking, heat a large pan over a medium heat, add the olive oil, onion, rose petals and spices and sauté gently for about 25–30 minutes until caramelized. Add the stock or water and bring to a boil, then reduce the heat and simmer for 15 minutes.

Once your beets are cooked, remove them from the oven and leave to cool to room temperature. Then put on some gloves to save staining your hands, peel the foil off — the skin should come off easily with it — and cut into fairly big chunks, about 2 inches in size.

Add the beets to the broth and bring to a boil, then simmer for 10 minutes. Season to taste with salt and a generous amount of pepper and stir in the pomegranate molasses. Transfer to a blender or food processor and blitz for 7–10 minutes until smooth. Pass through a sieve and return to the pan for final heating and seasoning.

To finish, there are 2 ways you can go here, and both work excellently:

Option 1 Simmer the kreplach in the soup for 5–7 minutes (they will take on a rich purple color), then serve.

Option 2 Blanch the kreplach in a large saucepan of salted boiling water for 3–4 minutes, and while you do that, heat up the soup. Then drain the kreplach and add to the soup when you are ready to serve. This option keeps the flavors a bit more distinct.

I like to garnish this dish with parsley leaves, deep-fried for 10 seconds, drained on paper towels, then seasoned with salt, but feel free to try anything from toasted chopped nuts (pine nuts, walnuts and hazelnuts are brilliant for this one); chopped fresh herbs, or even some nice cheese (Pecorino or Parmesan always work for me).