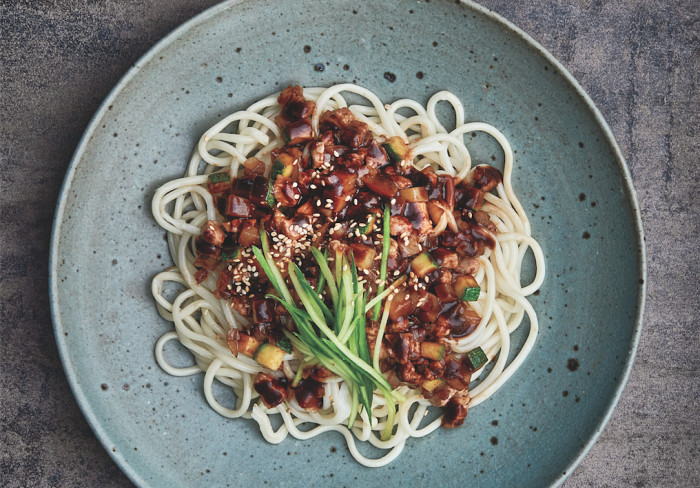 Cooking Channel host Judy Joo's new cookbook, named for her popular show, is a fresh, spicy collection of Korean recipes you can 100 percent make at home. Craving bulgogi? Can't shake your kimchi craving? Hit the Asian market and get cooking!

Both Korean and Chinese restaurants have a version of this Korean-Chinese dish, with the Korean version being saucier and the Chinese version being drier. Consider yourself warned: The black bean sauce is very messy, and even the most elegant diner will be hard-pressed to stay clean. For even cooking and a nice presentation, cut all the vegetables into half-inch dice. Note: Do not substitute Chinese black bean sauce here, as it is completely different.
Ingredients
2

tablespoons

potato starch

3

tablespoons

vegetable oil

10

ounces

skinless pork belly, cut into 1/4-inch cubes

1 1/2

cups

diced onions

3

cloves

garlic, grated or minced

1

teaspoon

grated, peeled fresh ginger

1 1/2

cups

diced peeled potatoes

1

cup

diced zucchini

1/2

cup

diced daikon radish

2/3

cup

black bean paste (chunjang)

1

teaspoon

brown sugar

1

teaspoon

kosher salt or sea salt

freshly ground black pepper

17

ounces

fresh Chinese-style wheat noodles (jjajangmyun)

Large handful of

seeded and julienned cucumber, for serving

toasted sesame oil, for serving

roasted sesame seeds, for serving
Directions
For the noodles
In a small bowl, combine the potato starch and 1/4 cup water and set aside. In a large nonstick skillet, heat the vegetable oil over medium-high heat. Add the pork and cook, stirring often, until it is browned on all sides and some of its fat has rendered out, 6 to 7 minutes.

Add the onions, garlic, and ginger and cook, stirring occasionally, until the onions have softened, about 5 minutes. Add the potatoes, zucchini, and radish and cook, stirring occasionally, until the radish and potato start to turn translucent, 5 to 6 minutes.

Stir in the black bean paste, brown sugar, salt, and pepper to taste. Add 3 cups water and mix well. Simmer gently for 3 to 4 minutes. Stir the potato starch mixture, add it to the skillet, and mix well. Simmer, stirring frequently, until the vegetables are cooked through and the sauce has thickened, 10 to 12 minutes more.

Meanwhile, cook the noodles according to the package instructions (usually 5 to 7 minutes), drain, rinse well, and drain again. Divide the noodles among four to six large bowls. Spoon the vegetable mixture on top of the noodles and garnish with the cucumber, sesame oil, and sesame seeds.