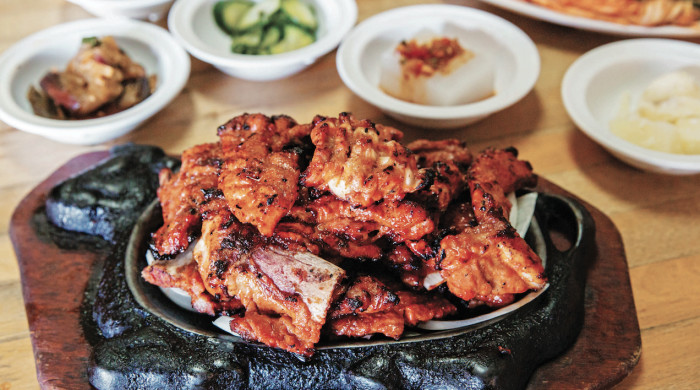 Korean-food aficionado and former Food Republic editor Matt Rodbard has partnered with NYC chef Deuki Hong to release the best Korean cookbook you'll find this side of the Hangang (that's a river in Seoul). Dive into America's famed Koreatowns with these two experts and find yourself in the kitchen with a hot wok, a lot of sesame oil and plenty of kimchi. 
Growing up as huge fans of American-style barbecue, Matt and Deuki have rarely found a pork spare rib they didn't want to take home to mother. But unlike the typical pitmaster style — where smoke is applied in concert with indirect heat — Korean-style ribs are all about the marinade, soaking the meaty ribs in a gorgeous fruit-based sauce. This marinade, which Deuki has been making for backyard barbecues for years, needs to work its magic for at least 4 hours, but ideally, plan ahead and just let it sit in the fridge overnight. Trust us when we say there is no better party favor than bringing over a couple freezer bags stuffed with gochujang-and-soy-marinated ribs. Throw them on the grill. and the scent of Koreatown will perfume your gathering.
Ingredients
1/2

Asian pear, peeled and cored

1

Gala or Fuji apple, peeled and cored

1/2

white onion, roughly chopped

1

cup

gochujang

1

tablespoon

black pepper

2

tablespoons

mirin

1/4

cup

soy sauce

1/4

cup

Korean rice or corn syrup

4

garlic cloves, minced

1/4

cup

finely ground gochugaru

2

tablespoons

sugar

2

full racks baby back ribs (5 to 7 pounds total), silver skin removed

sesame seeds, for garnish
Directions
For the kalbi
Combine all ingredients except ribs and sesame seeds in a food processor or blender and process until smooth. It's best to prepare this marinade a day ahead and allow it to refrigerate, overnight, to allow the flavors to mingle.

Slice through the rib racks, separating the individual ribs. Combine them with the marinade in a large zip-top bag or bowl and massage for 30 seconds, until the ribs are fully coated. Allow them to marinate in the refrigerator for a minimum of 4 hours and up to 24 hours.

TO GRILL: Heat a charcoal or gas grill on medium; placing your hand 6 inches from the grate, you should be able to withstand the heat for just about 5 seconds. Remove the meat from the marinade, shaking off any excess. Grill the ribs until well-browned and cooked through, about 15 to 20 minutes, flipping frequently.

TO ROAST: Alternatively, preheat your oven to 350°F. Pat the ribs dry and place on a baking tray set on the top rack. Roast for 45 minutes, until the meat is tender and cooked through.

Remove the meat from grill or oven and allow the meat to rest for 5 minutes. Garnish with sesame seeds.