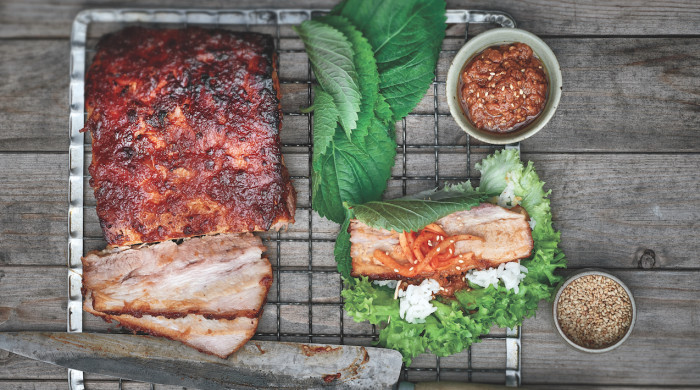 Cooking Channel host Judy Joo's new cookbook, named for her popular show, is a fresh, spicy collection of Korean recipes you can 100 percent make at home. Craving bulgogi? Can't shake your kimchi craving? Hit the Asian market and get cooking!

Sharing is a common theme underlying all Korean food. Bo ssam embodies this convivial sentiment — everyone sharing from the same plate, yet creating a small bespoke parcel for their own consumption. The lettuce leaves and pickles cut the fat nicely and bring a welcome freshness to the dish. If your pork belly comes with the ribs on, cut them off and slather with some doenjang-honey-ginger-gochujang paste (make extra). Roast until cooked through and caramelized and you'll have the tastiest ribs ever.
Ingredients
4

tablespoons

doenjang (Korean soybean paste)

1 (3- to 3 1/2-pound)

boneless, skin-on pork belly

1

onion, cut into eighths

8

cloves

garlic, crushed

7

scallions, coarsely chopped

6

thick slices

unpeeled fresh ginger

2

tablespoons

honey

1 1/2

tablespoons

grated peeled fresh ginger

1

teaspoon

gochujang (korean chili paste)
For serving
Red or green lettuce leaves

Perilla leaves (ggaennip), also known as sesame leaves (optional)

Steamed white rice
Spicy Lettuce Wrap Sauce (makes about 1 1/2 cups)
1/2

cup plus 1 tablepsoon

doenjang (Korean soybean paste)

1/4

cup

gochujang (korean chili paste)

1/4

cup

mirin

2

tablespoons

roasted sesame seeds

1

tablespoon

toasted sesame oil

2

cloves

garlic, grated or minced

2

scallions, thinly sliced on an angle
Spicy pickled radish salad (makes about 1 1/2 cups)
6

ounces

Korean white radish (mu) or daikon, peeled and julienned

1 1/2

tablespoons

Korean apple vinegar (sagwa-shikcho) or rice vinegar

1 1/2

tablespoons

sugar

1 1/2

teaspoons

gochugaru (Korean chili flakes)

1

small clove

garlic, grated or minced

1

teaspoon

kosher salt or sea salt
Directions
For the radish salad
In a medium bowl, stir together all the ingredients until the radish is coated. Cover and refrigerate for about 1 hour before serving.
For the wrap sauce
In a small bowl, whisk together all the ingredients until smooth. Cover and store in the refrigerator if not using immediately.
For the pork belly and lettuce wraps
In a large, wide, heavy-bottomed saucepan, whisk together 2 tablespoons of the soybean paste and 1 cup water until smooth. Add the pork belly, skin side up, the onion, garlic, scallions, sliced ginger, and enough water to cover the pork.

Bring to a boil over high heat and then reduce the heat to maintain a simmer until the pork is cooked through and very soft, about 2 hours. Transfer the pork belly to a baking sheet lined with aluminum foil and let cool. Discard the cooking liquid. When the pork is cool enough to handle, remove the skin (but not the fat) and discard.

Preheat the oven to 350°F.

Meanwhile, in a small bowl, whisk together the remaining 2 tablespoons soybean paste, honey, grated ginger, and chili paste until smooth and then smear the paste all over the top (skin side) of the pork belly. Roast the pork until the top is nicely caramelized, about 30 minutes. You can also broil the pork briefly for a little more char, if you like.

Let the pork rest in a warm place for about 15 minutes. Transfer to a cutting board and thinly slice into two-bite pieces. Serve the pork on a platter with the lettuce, perilla leaves (if using), rice, sauce, and pickled radish on the side. To assemble, put a lettuce leaf in one hand and top with a perilla leaf (if using), a spoonful of rice, a smear of sauce, a piece of pork, and some pickled radish. Wrap the lettuce around the ingredients and take a bite. You'll love it.