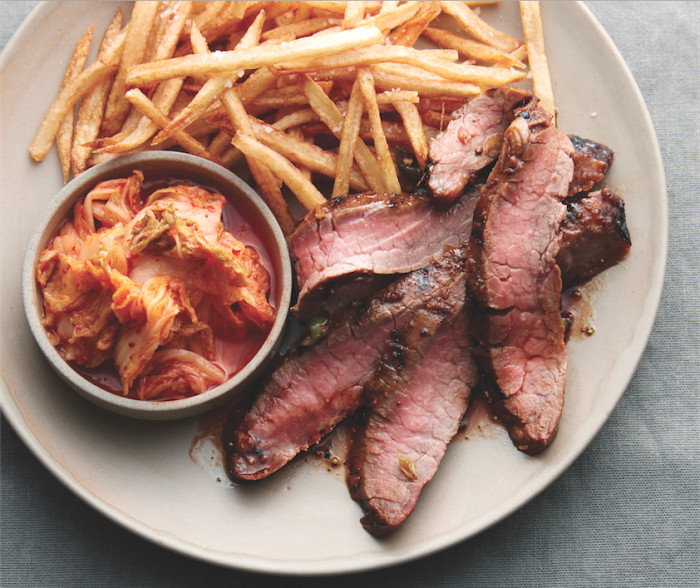 London has been gaining momentum as a global culinary destination for years and isn't bowing out anytime soon. Take a trip around the city with distinguished food writer and London native Aleksandra Crapanzano, as she hunts down some of the best dishes in town and shares the recipes. Gone are the days of overcooked beef and soggy chips — check out this Korean steak frites recipe and never go back!
This recipe is fabulous — sweet-hot umami! You really don't need the fries or the kimchi. All you need is a napkin and a cold beer.
It's a stroke of luck that I happened to hit Dock Kitchen the week Stevie had Korean steak frites on the menu, as the restaurant has an ever-shifting menu and moves seamlessly from one cuisine to another. The food might be Lebanese one week, Persian the next, and Indian, Mexican, Malaysian, or Italian in subsequent weeks. What unifies the experience is Stevie's natural affinity for bold flavors and very fresh ingredients — that and his talent, honed at Moro, the River Cafe, and Petersham Nurseries. He seems to reach for little known spices and grains with an easy familiarity, making him one of the most admired young chefs in London. Dock Kitchen, however, couldn't be more relaxed. A bit off the beaten path, northeast of Notting Hill, it has a large outdoor terrace overlooking an urban landscape. The last time my husband and I ate there, it was midsummer and not yet dark when we arrived for dinner. As the sun set, the restaurant began to glow with that beautiful light that comes after a good London rain. And, a moment later, one of the most astonishing rainbows we'd ever seen appeared. Diners and waitstaff alike gathered on the terrace, cocktails in hand, as if at a party. When we wandered back to our table, it was to feast on this fantastic steak. I'd say we found the pot of gold.
It's hard to pinpoint exactly what makes this steak frites so delicious, but the answer is most definitely in the sweet heat of the marinade. The star anise, ginger, and sugar make the fiery potency of the gochuchang, a fermented Korean red chile paste, palatable, while the doenjang, an assertive Korean miso paste, vies for attention. Don't be alarmed by the smell of doenjang. Think of it the way you might a smelly ripe cheese — not exactly subtle, but well worth the momentary sensory shock. Slightly thicker than Japanese miso, it too can be added to soups and will last a good year in the fridge. Serve this steak with ice-cold beer. The thin shoestring fries take a bit of prep for something that will no doubt be consumed within minutes of landing on the table, but know that they will be consumed with that primal pleasure great fries elicit.
Ingredients
4

cloves

garlic, coarsely chopped

1

2-inch knob

ginger, peeled and coarsely chopped

2

star anise pods

1/4

cup

soy sauce

1/4

cup

mirin

1

tablespoon

sugar

1

tablespoon

gochujang

1

tablespoon

doenjang

1

bunch

scallions, the white and pale green parts, sliced

2

pounds

hanger steak or flank steak

Maldon sea salt flakes

4

large potatoes, preferably russets, peeled and julienned

vegetable oil, for frying

kimchi, for serving
Directions
For the steak frites
Bash the garlic, ginger, and star anise in a mortar and pestle until it's a coarse paste. Transfer the paste to a large bowl and stir in the soy sauce, mirin, sugar, gochujang, and doenjang followed by the scallions. Add the steak and turn to coat with your hands so the meat is covered in the marinade. Cover with plastic wrap and refrigerate for at least 6 hours and up to overnight.

Preheat a gas or charcoal grill until extremely hot. Shake the excess marinade off the steak, then lightly season with salt. Grill for a couple of minutes on each side, until it is done to your preference. Stevie serves his rare. Let rest while you cook the fries.

Add oil to either a deep fryer or a saucepan with high sides and heat it to 350˚F.

Working in batches, very carefully lower the fries into the hot oil and cook about 3 minutes, until golden and crisp. Transfer to a paper towel–lined plate and immediately season lightly with salt.

Cut the steak into strips and serve with the fries and a spoonful or two of kimchi on the side.