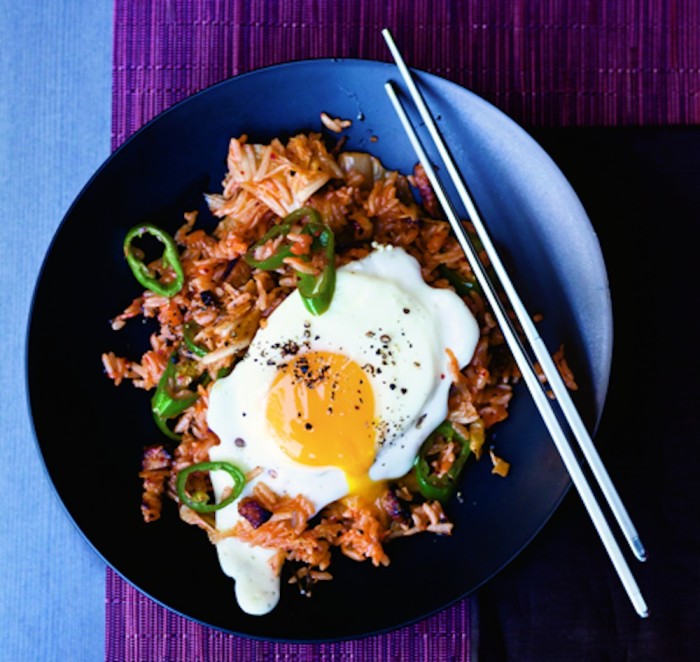 There are two things that I always want when I'm at a Korean pub: One is Korean fried chicken and the other is kimchi fried rice. It is the ultimate bar food and is great with a cold beer or a bottle of chilled soju. The spicy flavor of this quintessential fried rice melds perfectly with the sweetness of the twice-fried pork belly and the creamy texture of the fried egg yolk. It's the best thing to make with surplus rice and kimchi. If you don't have pork belly, I suggest using bacon, hot dogs or even Spam.
Ingredients
1/4

pound

pork belly, skin off, cut lengthwise into 1/4-inch slices

1/4

cup

soy sauce

1/4

cup

mirin

sea salt and white pepper to taste

2

tablespoons

sesame oil, for frying

2

cups

kimchi, julienned

1/4

cup

Korean peppers (gochu), sliced into rings

4

cups

cooked Calrose rise, chilled

1/4

cup

kimchi juice, poired from a kimchee jar

1/4

cup

chopped scallions

1

tablespoon

vegetable oil

4

eggs

1

tablespoon

roasted and salted sesame seeds
Directions
In a medium mixing bowl, combine the pork belly, soy sauce and mirin. Season with salt and white pepper. Set aside.
Heat a skillet over medium-high heat. Sear the pork belly for 3 to 4 minutes on each side until the marinade caramelizes on the meat. Set the skillet aside, letting the pork continue to cook off the heat for about 10 minutes.
Slice crosswise into 1/4-inch strips and transfer to a bowl.
Heat a wok or large nonstick skillet over medium-high heat. Add the sesame oil and warm for 1 minute. Add the reserved pork belly, kimchee and Korean peppers and sauté for 3 to 4 minutes, stirring constantly.
Add the rice and break it up with the back of a wok ladle, tossing constantly to prevent it from sticking to the wok.
Add the kimchi juice and scallions, and season with salt and white pepper. Remove from the heat and set aside.
Heat another nonstick skillet over medium-low heat. Add the vegetable oil and warm for 1 minute.
Crack the eggs into the pan and cook sunny side up until done. Season with salt and white pepper.
Place a mound of fried rice on 4 separate plates and top each mound with a fried egg.
Garnish with the sesame seeds and serve immediately.