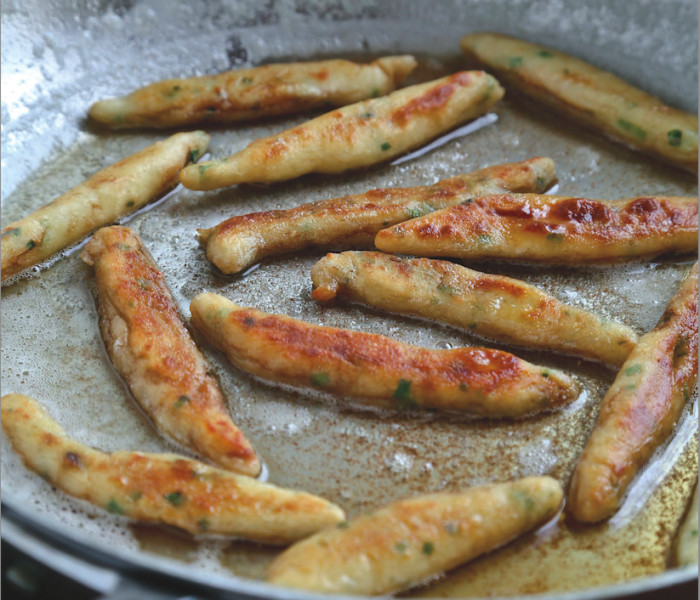 Atlanta chef Kevin Gillespie was born to cook pig — this we know. The Top Chef fan favorite and author of a couple of our favorite cookbooks (especially his latest, Pure Pork Awesomeness) is one porkmaster whose recipes you can depend on for a hearty, meaty, smoky meal. Pair chops, stroganoff or another favorite recipe with these authentic German "finger noodles."
Most people are familiar with dishes like creamy beef stroganoff served over egg noodles. I modeled this recipe for a stroganoff accompaniment on what I learned from chef Alexander Wolf at the Ritz-Carlton in Atlanta. He's a German chef from Baden-Baden, and finger noodles are specific to that region. Finger noodles are almost like the love child of spaetzle and gnocchi. You make a dough from mashed potatoes, knead it real good, then cut off chunks and roll them into little ropes the size of your finger. They're pan-fried in butter, which gives the noodles a delicious crunchy surface. What's not to love?
Ingredients
Kosher

salt

1 1/4

pounds

russet potatoes (about 2 medium potatoes)

1

egg

1

bunch

chives, finely chopped (about 1/4 cup)

1/2

cup

all-purpose flour, plus more for dusting

2

tablespoons

butter, plus more as needed
Directions
1. Bring a pot of water to a boil and salt the water. Boil the potatoes whole, with skins on, until fork-tender, 35-40 minutes. When cool enough to handle, peel the potatoes and pass through a ricer or food mill into a large bowl. You want to have 3 1/2 cups of riced potatoes.
2. In a small bowl, whisk the egg and stir in the chives. Stir the egg mixture into the potatoes, sprinkle in the flour and 1 teaspoon salt, and mix to form a dough. Turn the dough onto a floured work surface and knead for about 1 minute to develop the gluten. It will feel fairly soft.
3. Divide the dough into 4 even pieces, cut each piece into eighths, and then pinch each piece in half. Flour your hands and roll each piece into a 4-inch noodle, kind of like rolling Play-Doh. Each one will look sort of like a slug, a little fatter in the middle than on the ends. You'll get about 80 noodles. Any noodles you don't use, you can spread out on a baking sheet, freeze, and transfer to a zip-top freezer bag and store in the freezer for up to 2 months.
4. In a large, heavy sauté pan over medium heat, melt the 2 tablespoons of butter until the foam subsides and it starts to smell nutty and get golden brown. Working in batches, add the finger noodles so they are not crowded and sauté until all sides are browned. Add more butter to the pan as needed between batches. Transfer the noodles to a paper-towel-lined plate, and serve once the excess butter has drained.
More German food on Food Republic: