Kentucky Hot Brown Sandwich Recipe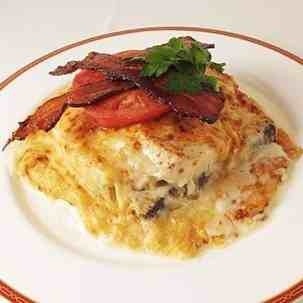 As we gear up for the Kentucky Derby this week, we will be sharing authentic snacks and tipples to celebrate the day in proper Derby style. So the Kentucky Hot Brown was the obvious choice for our sandwich of the week.
The Hot Brown is a turkey, bacon and cheese sandwich bathed in a cheesy sauce that's about as irresistible as any sandwich we've come across. (It's best eaten with a fork.) It was originally created in 1926 at the Brown Hotel in Louisville, Kentucky. Chef Fred K. Schmidt came up with the sandwich to feed late-night revelers at the hotel, which was a hotspot for live music and dancing in the 1920s. When the musicians took a break at midnight, the crowds would flock to the restaurant for sustenance to keep them going for the rest of the night.
It is still a signature dish at the hotel, but has come to represent Louisville and the Derby as well. Celeb chef and racehorse owner Bobby Flay shared his version of a Kentucky Hot Brown sandwich recipe with Food Republic. His update is to use french toast in place of plain white bread. Flay serves this at Bar Americain in NYC, and he recommends that others serve it at Derby parties everywhere.
Kentucky Hot Brown Sandwich Recipe
Servings
8
open-faced sandwiches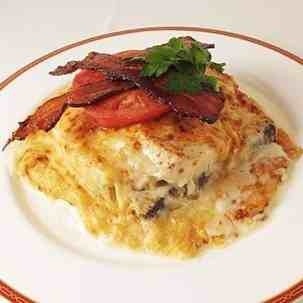 Ingredients
1 3 pound turkey breast
4 tablespoons unsalted soft butter
2 cups whole milk
2 tablespoons unsalted butter
2 tablespoons flour
2 cups sharp white cheddar cheese
1/4 cup Parmesan cheese
pinch of fresh nutmeg
4 large eggs
1/4 cup milk
8 1/2 inch thick slices good day-old white bread
4 tablespoons butter
4 tablespoons vegetable oil
The roasted turkey breast
1 1/2 cups sharp white cheddar cheese
1/2 cup Parmesan cheese
3 ripe beefsteak tomatoes
16 thick slices slab bacon
2 tablespoons chives
2 tablespoons fresh flat leaf parsley
Directions
Preheat oven to 425 degrees.
Rub entire breast with butter and season with salt and pepper.
Place in a small roasting pan and roast for 15 minutes. 
Reduce the heat to 350 degrees and continue roasting until a thermometer inserted into the center registers 155 degrees,  about 1 – 1 ½ hours.
Remove from the oven, loosely tent with foil and let rest 10 minutes before slicing. 
Put the milk in a small saucepan and bring to a simmer over low heat.
Melt the butter over medium-high heat in a medium saucepan.
Whisk in the flour and cook for 1 minute. Whisk in the hot milk, bring to a boil and cook, whisking constantly, until thickened and the flour has cooked out, about 4 to 5 minutes. 
Remove from the heat and whisk in the cheeses and cook until the cheddar has melted; season with nutmeg and salt and pepper to taste. 
Whisk together the eggs, milk, salt, and pepper in a medium baking dish. Dip each slice of bread in the mixture and let sit about 10 per side seconds, or until completely soaked through. 
Heat 1 tablespoon of butter and 1 tablespoon of oil in a large nonstick sauté pan over medium-high heat. Cook 2 slices of the bread at a time until golden brown on both sides.  Repeat with the remaining bread.
Preheat the broiler. 
Place 4 slices of the egg bread on a baking sheet, place under the broiler and heat on both sides for 20 seconds just to warm through. Repeat with the remaining bread.
Top each slice of bread with 2-3 slices of turkey and 2 slices of tomato, ladle sauce over the top and divide the cheddar cheese and parmesan over the top of each slice. Place under the broiler and cook until bubbly and the top is golden brown. Remove from the oven, top each slice with 2 slices of bacon and sprinkle each slice with chives and parsley.