Kefta, Tomato And Egg Tagine Recipe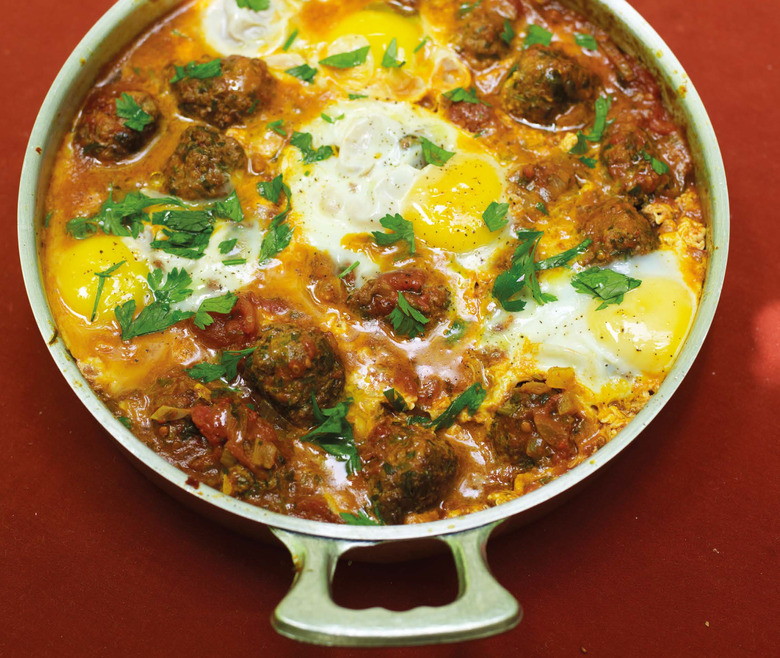 Photo: David Loftus
We love breaking out of a brunch rut with an exotic dish from a far-off land. It's not like they don't have brunch dishes in Morocco, they just don't necessarily serve them with mimosas. But you can.
This dish is made with mini-meatballs called kefta, which stay juicy cooked in a dish with a cumin and cinnamon-spiced tomato sauce surrounded by baked eggs. Serve hot with a loaf of crusty bread, there will be a lot of dipping involved.
Kefta, Tomato And Egg Tagine Recipe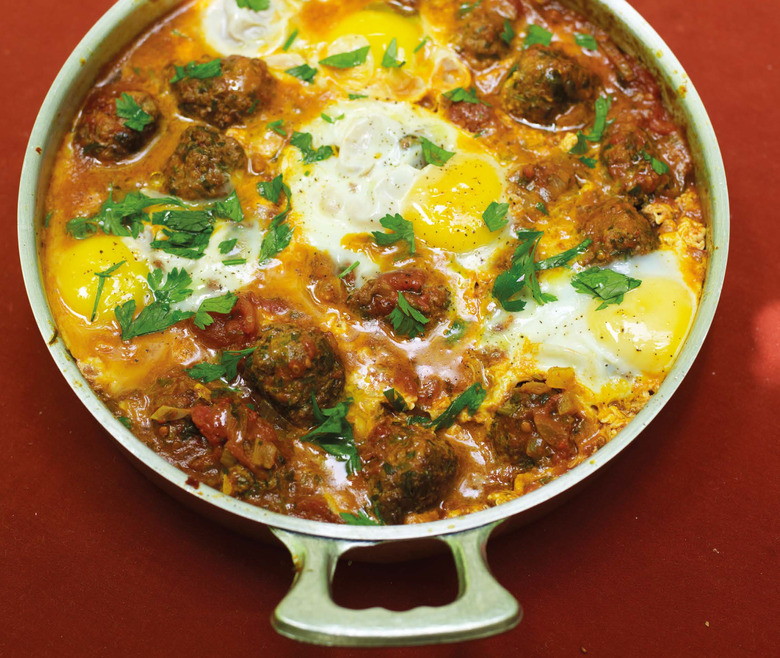 Ingredients
1 pound minced beef or lamb
1 small red onion
1/2 teaspoon ground cumin
1/2 teaspoon paprika
1/2 teaspoon ground coriander
1/2 teaspoon ground ginger
1 tablespoon fresh cilantro
sea salt
freshly ground black pepper
2 tablespoons extra-virgin olive oil
4 eggs
1 large onion
3 cloves garlic
1 small bunch flat leaf parsley
2 pounds tomatoes
1/2 teaspoon ground cumin
1/2 teaspoon ground cinnamon
sea salt
freshly ground black pepper
cold water
Directions
For the kefta, combine the minced beef or lamb, red onion, cumin, paprika, ground coriander, ground ginger and fresh coriander in a large bowl.
Season generously with salt and pepper, then mix well and shape into 1-inch balls.
Heat the olive oil in a large frying pan over a medium heat and saute the kefta for about 5–7 minutes, browning on all sides. Transfer the kefta to a plate.
To make the tomato sauce, add the onion, garlic and parsley to the frying pan over  medium heat and saute for 5 minutes until softened.
Add the tomatoes, cumin, and cinnamon and season generously with salt and pepper. Add a little water, stir and cook for 5 minutes.
Return the kefta to the frying pan with the sauce and cook for 30 minutes, or until the sauce has reduced and thickened.
Make four little indentations in the top of the sauce, then break eggs carefully into them. Continue to cook for about 3–5 minutes or until eggs have set.
Serve immediately with some parsley sprinkled over the top.