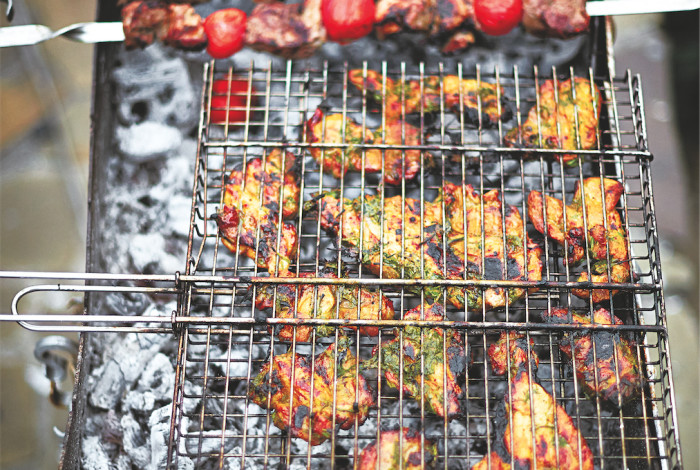 Ready to cook Eastern European? Pick up a copy of Mamushka, Ukraine-born chef Olia Hercules's ode to cuisine from Kiev to Kazakhstan, and every stop along the way. It's not all potatoes and beets, although the potatoes and beets are fantastic. The marinated grilled chicken is excellent, too. 
This is my dad's creation. He actually used strawberry jam instead of honey last summer, and nobody clocked where the caramelized amazingness was coming from. I am going for a less wacky honey option here. This recipe is good for using up soft herb stalks that you don't need — they are full of flavor. Throw washed coriander roots in there, too, if you get your herbs from a local grocer rather than a supermarket.
Ingredients
1

tablespoon

sunflower oil

1/4

cup

parsley stalks and leaves, roughly chopped

1

cup

kefir or natural yoghurt

6

tablespoons

honey

2

teaspoons

peri peri

sea salt flakes

freshly ground black pepper

2

pounds

boneless chicken thighs
Directions
For the chicken
To make the marinade, place all the ingredients, except the meat, into a food processor and blitz.

Place the mixture into a large container and check the seasoning before you drop the chicken in. When you are happy with the sweet, salty, spice balance, add the chicken. Rub the marinade all over the chicken and leave to marinate for a couple of hours or preferably overnight.

Preheat a barbecue. Take the chicken out of the marinade and throw the chicken on the hottest part of the barbecue. Cook for 10 minutes on each side, check that the juices run clear, then devour.