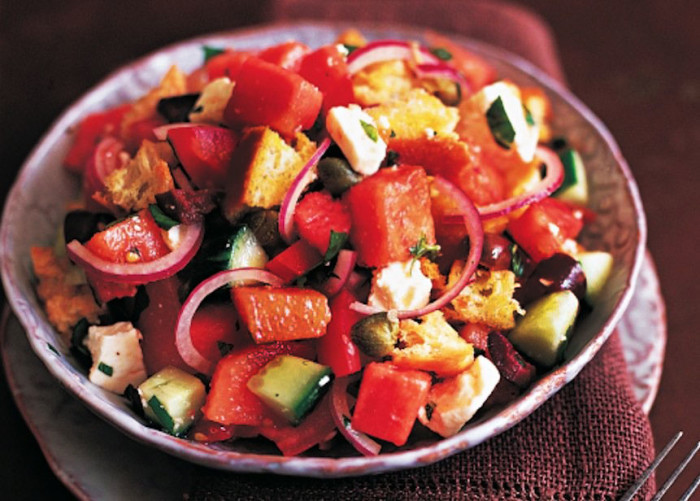 We're in the middle of a watermelon glut! Use up your excess in this delicious watermelon recipe from Maria Elia's The Modern Vegetarian. It's her take on panzanella — Italian bread salad — that would pair perfectly with grilled meat or fish. 
As you've probably realized by now, I am a big fan of watermelon! This is a sensational salad recipe and a great way to use up any leftover melon. As with all panzanella salads, it's important to let the flavors infuse before serving. Toasting the bread a little will help to keep it slightly crispier.
Ingredients
Salad
10

slices

ciabatta

2

tablespoons

olive oil

1

small red onion, finely sliced

2

cups

diced seedless watermelon

2

cups

diced ripe plum tomatoes

1

cup

diced cucumber

2

tablespoons

capers, rinsed and drained

7

ounces

halloumi cheese, diced (or half halloumi and half crumbled feta cheese)

2/3

cup

chopped Kalamata olives

a small bunch of basil, roughly chopped

Salt and pepper
Dressing
1/4

cup

red wine vinegar, preferably Cabernet Sauvignon

2/3

cup

extra virgin olive oil

1

clove

garlic, crushed

pinch of sugar

sea salt and pepper
Directions
Preheat the oven to 400°F.
To make the salad, tear the ciabatta into croûton-sized pieces, drizzle with olive oil, place in a roasting pan, and cook for about 5 minutes, until golden. Let cool.
Toss the remaining salad ingredients in a large bowl, add the ciabatta and mix together well. Season with salt and pepper.
To make the dressing, whisk all of the ingredients together and pour over salad. Allow the flavors to marinate for about 1 hour before serving.
More summer salad recipes on Food Republic: