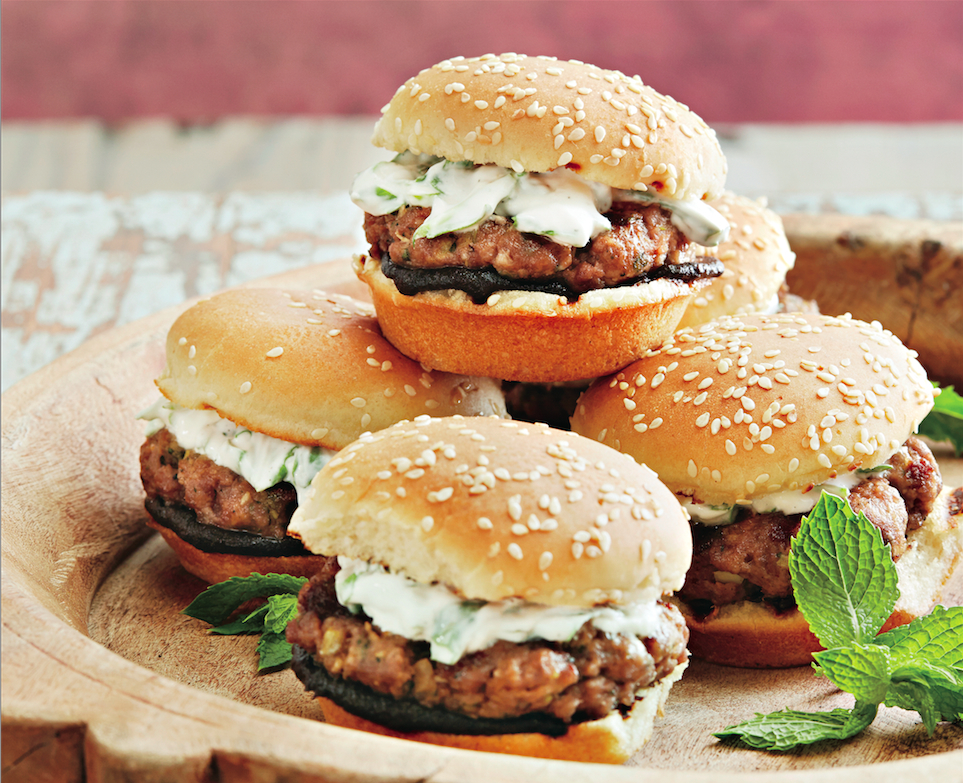 Who's everyone's favorite Next Food Network Star? Aarti, of course! And best of all: she's actually awesome. Make her delicious everyday recipes from her new cookbook, Aarti Paarti, streaked with Indian and Middle Eastern influence, and enjoy her stories while you're at it. Kebab sliders? Finally!
Some of these recipes come together so easily. A half-thought becomes a flash of inspiration in the shake of a pepper mill. Others are much more difficult. Arduous. ANNOYING. This is one of those. I'd promised myself to keep things simple and just stick to my instincts, but instead, I second-guessed myself into a corner. Umpteen permutations of this kebab slider ran through my head. The first batch was so bad that it literally, no exaggeration, made me gag. Oh my. Now what? I found myself in a puddle on my tiny little back porch, my head dropped below my hunched shoulders in utter defeat. As I often do when I feel hopeless, I began to pray for just one idea, just one piece of inspiration. Nothing. After yet another deep sigh, I went back to my computer and looked around for more ideas.
Suddenly a thought took my mind captive: "What do you, Aarti, want to eat?" it asked. "Forget about imagining what readers, critics, fellow colleagues might think about it. What do YOU want to eat?"
Well, I had a hunch about what I wanted but… wasn't it too complicated? Too time-consuming? Wouldn't people say it was too much trouble? That I was too much trouble? See, this is how personal food is to me—you like it, you like me. You don't like it? You don't like me. Silly, I know. But it's the kind of thing that's hard to shake.
"What do you want to eat?" the question insisted. Alright, fine. I'll try it, I thought.
The minutes flew by as I purred over every step in the process, sighing over the date-tamarind chutney, exclaiming at the juxtaposition of the cool, creamy yogurt and the fresh pepperiness of the arugula. I was truly enjoying the experience, whispering a thank-you to the heavens at every turn for the pure joy of making this little burger.
And finally, lips smacking at the stacked beauty before me, I took a bite. I closed my eyes and chewed slowly. Oh yes. This was good. Sure, it took a few extra steps to make, but damn the torpedos! This is what I like to eat. I'm learning to accept that's good enough.
Ingredients
Kebabs
1

pound

ground beef

1/2

cup

chickpea flour

1/4

cup

fresh mint leaves, minced (from 5-6 sprigs)

1/4

cup

scallion whites, minced (save the greens for raita)

1

tablespoon

garlic, minced (about 2 large cloves)

1 1/2

teaspoons

kosher salt

1/4

teaspoon

ground cardamom (optional)

freshly ground black pepper

nonstick cooking spray or sunflower oil
Raita
1

cup

plain Greek yogurt

1

cup

loosely packed baby arugula, ripped into bite-size pieces

leaves from

2 sprigs of mint, sliced into thin strips

scallion greens (reserved from above), sliced thinly on the bias

juice of 1/2 a lime (1-2 tablespoons)

Kosher salt and freshly ground black pepper
Assembly
nonstick cooking spray or sunflower oil

8

mini

Hamburger buns

tamarind chutney, store-bought
Directions
Line a baking sheet with parchment paper or wax paper.
In a large bowl, combine the beef, chickpea flour, mint, scallions, garlic, salt, cardamom and pepper to taste.
Spray a little cooking spray on your hands (this will keep the meat from sticking to you!). Knead the kebab ingredients together with your hands until well combined.
Divide the mixture into 8 equal portions; roll each portion into a ball, then flatten them into patties about 2 1/2 inches in diameter and 1/4 inch thick.
Using your index and middle finger, make a little dimple in the center of each kebab.
Set them on the lined baking sheet, cover with plastic wrap and allow to rest while you make the raita.
For the raita:
In a medium bowl, whisk the yogurt to loosen it up.
Stir in the arugula, mint, scallion greens and lime juice.
Season with salt and pepper.
Chill until serving time.
For assembly:
Grab your grill pan or a heavy-bottomed frying pan and heat it over medium-high heat until gently smoking.
Spray the grill pan with nonstick cooking spray (or, if using a frying pan, add a thin film of sunflower oil).
Place the kebabs on the pan and cook for 3-4 minutes per side, until a good crust forms on the outside, and a thermometer inserted into the middle of the kebabs registers 160°F.
Using a spatula, transfer the kebabs to a platter and allow to rest for 5 minutes.
Meanwhile, toast the buns on the grill pan, if you like.
Slather one side of each bun with tamarind chutney. Top with a kebab. Add a dollop of raita and cover with the other half of the bun.
Serve immediately!
Find more slider recipes on Food Republic: