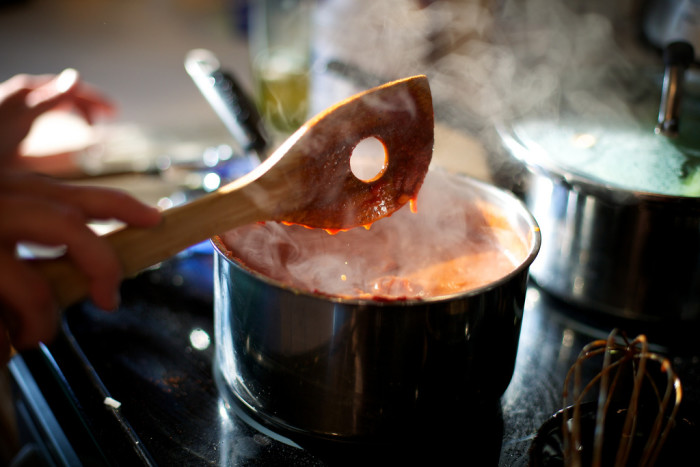 After a week of brewing up condiment-based sauces — not that we don't love ketchup and mustard with all our hearts — I thought I'd take classic American barbecue sauce recipe back to its pre-squeeze bottle roots: the actual tomato. Kansas City-style barbecue sauce isn't swirled together in a little bowl at the last minute, it's slow-cooked to bring out the flavors of the onions and tomatoes. Exceptionally tasty brushed on a rack of ribs during the last few minutes of cooking, this is a sauce that's impressive to make at home and, without a doubt, worth the extra effort.
More barbecue sauces from Food Republic:
Ingredients
3

tablespoons

canola oil

1

medium

onion, very finely chopped

1

28-ounce can

crushed tomatoes

1/2

cup

cider vinegar

1/3

cup

brown sugar

2

teaspoons

chili powder
Directions
Heat canola oil in a heavy-bottomed saucepan over medium-high heat and saute the onions for 7-10 minutes until completely soft and golden-brown.
Add remaining ingredients, bring to a boil, then reduce to a simmer and cook, uncovered, for 45 minutes.
Remove from heat, allow to cool completely, then transfer to a blender and blend until smooth.
Transfer to a container with a tight-fitting lid and store in the refrigerator for up to a week.