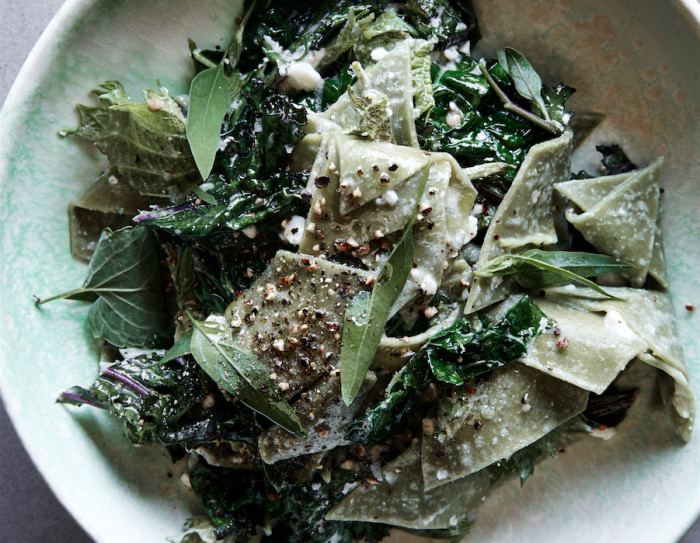 Pick up a copy of Scraps, Wilt & Weeds and you'll never look at vegetable tops, stalks, leaves and other sub-prime bits again. Following in the tradition of world-renowned Danish restaurant Noma, chef Mads Refslund and food writer Tama Matsuoka Wong take an intimate look inside the true potential of underutilized vegetable parts. Choose a recipe, like this kale pulp pasta, and rekindle your love of fresh produce.
Kale is part of the same family of large brassica-related plants as cabbage, broccoli, and cauliflower. While cauliflower is known as "stalk cabbage," kale is known as "leaf cabbage." Indeed, the leaves of the kale plant have long been used as a hardy cold-weather vegetable in winter dishes when nothing else was available. Today there is something of a renaissance of kale, with many leafy varieties available, such as baby kale, curly kale, and lacinato or dinosaur kale, all of which hold up well in cold weather, in the refrigerator, and in the freezer. In the center of some mature kale leaves runs a rib, which is often dismissed as tough and stringy. But these ribs are perfectly fine to eat; they simply need to be cooked longer give them time to soften.
Ingredients
3

cups

all-purpose flour, plus additional for dusting

1/4

cup

Kale Powder

1

teaspoon

kosher salt

3

whole large eggs, plus 3 yolks, beaten

1

tablespoon

olive oil

semolina flour, for dusting

Fresh herbs, crumbled feta cheese, nuts and freshly cracked black pepper, for serving
Kale Powder (Makes about 1 cup)
1/2

pound

kale pulp (about a 1/2 gallon bag), left over from home juicing or from a local juice bar
Torn Kale Sauce
3

tablespoons

sunflower or other neutral oil

2

packed cups

lacinato kale leaves (the soft part of the leaf torn away from and removing the middle rib)

2

cloves

garlic, minced

1

cup

creme fraiche

1/4

cup

Parmesan Rind Broth or vegetable broth

2

tablespoons

freshly squeezed lemon juice

1

teaspoon

kosher salt

1

lightly packed cup

fresh herbs, I used wild herbs like lambsquarters and shiso, roughly chopped

1

tablespoon

chopped walnuts or pecans

1

cup

crumbled feta cheese
Directions
For the powder
Use a dehydrator, or if you don't have one, preheat the oven to the lowest temperature, preferably 110°F.

Spread the pulp out in a thin layer on a flat baking sheet or screen. Dehydrate at 150°F for 4 hours, or overnight in the oven at 110°F, until completely dry and crispy.

Store in an airtight container without direct exposure to light. When ready to use, grind in a spice or coffee grinder into a fine powder.
For the sauce
In a large saucepan, heat the oil over medium-high heat. Add the kale leaves and garlic and sauté for 1 minute, until the kale is wilted. Stir in the crème fraîche, broth, lemon juice, and salt. Finish by adding a flavorful mixing of herbs, nuts, and cheese over the top of the dish.
For the pasta
In a medium bowl, combine the flour, kale powder, and salt. On a lightly floured surface, make a well out of the flour mixture and pour the eggs and oil into the center. Gradually incorporate the sides of the well into the eggs, working in more flour until the dough is moist but no longer wet. Knead the dough by hand for about 20 minutes, until firm to the touch, adding flour if the dough is too sticky and drops of water if too dry. (Or use a food processor or standing mixer with a dough hook and knead for 5 to 10 minutes.) Wrap the dough in plastic and chill in the refrigerator for at least 30 minutes.

Dust 2 baking sheets liberally with semolina flour.

Cut the dough into quarters and press flat.

Roll each quarter (keeping the remaining quarters of dough wrapped) several (about 3) times through a pasta rolling machine, starting at the thickest setting, and adjusting to progressively thinner settings, until 1⁄ 8 inch thick (on most pasta machines, either the last or second-to-last setting is best).

Cut long strips of pasta about ¾ inch wide. You may leave them long or cut into diagonal or other shorter lengths. Gently toss the cut pasta in the semolina flour so they stay separated and coated.

Repeat with the remaining dough quarters.

Bring a large pot of salted water to a rolling boil. Add the pasta and cook for 90 seconds, until still chewy. Drain.

In a large bowl, toss the pasta with the kale sauce.

Taste for seasoning. Finish with herbs, feta, nuts, and a few turns of freshly cracked black pepper.