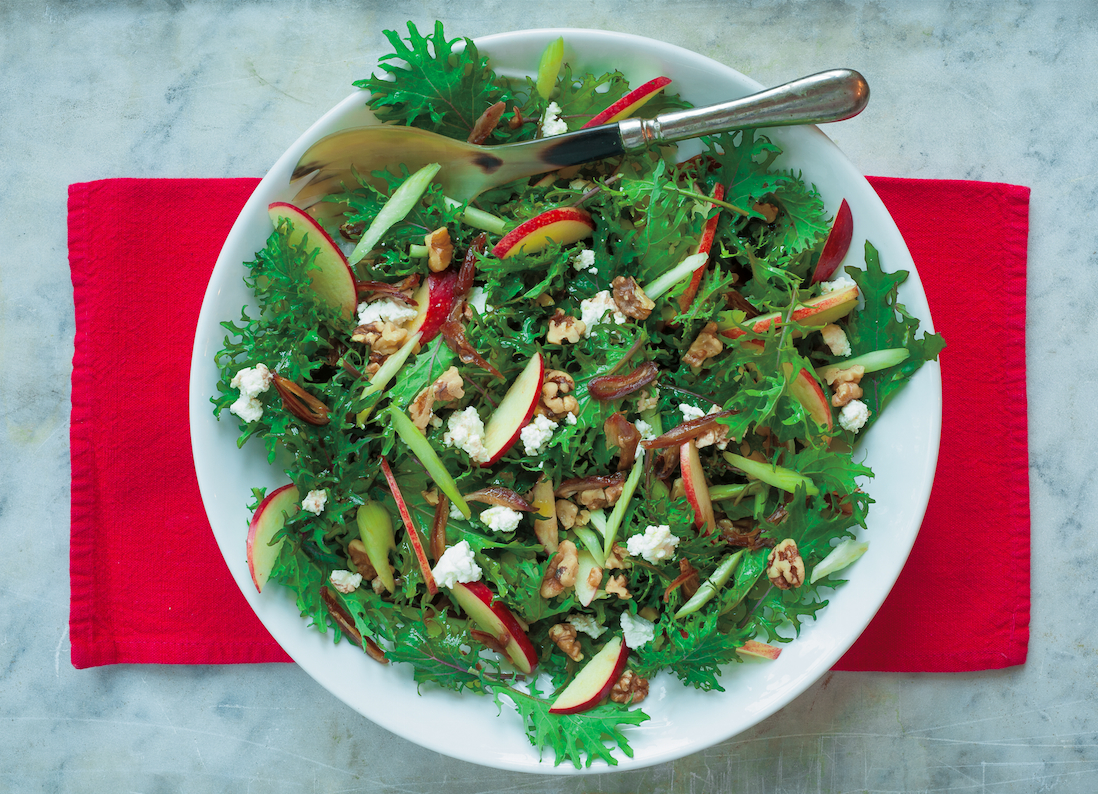 Cathy Walthers is the author of several healthy eating cookbooks, including Raising the Salad Bar. Her latest, Kale, Glorious Kale (those names!) serves as a tribute to the popular farmers market staple. While braised kale might be the most-common move, salad is a pretty close second. This recipe struck us for its simplicity, and maple-forward balsamic vinaigrette. Here, Walthers gives us her take:
This salad works best with the tender baby kale, now available at many farmers markets and in supermarkets labeled as "baby kale" — usually in the clear plastic boxes. Use juicy orange slices instead of apples in the winter for a variation, or omit the apples when making in the spring or summer.
Ingredients
4

cups

baby kale, stemmed, washed and dried

8

pitted dried dates (try to find soft, not dried-out dates)

2

stalks

celery

1

crisp red apple (organic if possible, as it won't be peeled)

1

wedge

lemon

1/2

cup

walnuts, toasted and chopped

1/2

cup

Feta cheese, crumbled
Balsamic Vinaigrette
4

teaspoons

balsamic vinegar

1

teaspoon

pure maple syrup or other sweetener

3

tablespoons

olive oil

Salt and freshly ground black pepper
Directions
Place the baby kale in a wide serving bowl or platter.
Cut the dates, lengthwise, into very thin strips, and place in a small separate bowl.
Peel the celery and cut in half lengthwise.
With your knife at a diagonal angle, cut very thin, 1 to 2-inch pieces of celery. Add to the dates.
Slice the sides off the apple and cut those pieces into very thin slices.
Squeeze lemon juice over the apple slices, to keep them from browning.
Make the dressing: In a small bowl, whisk together the vinegar, maple syrup and olive oil.
Season with two pinches of salt and a few grinds of pepper.
Just before serving, pour most of the dressing over the salad and toss to combine; pour the rest over the celery and dates.
Top with the date mixture, apple slices, walnuts and feta cheese.
Cook's Note: Some feta cheese has little flavor, surprisingly. But the French sheep's milk feta is usually flavorful, as is the Greek feta that is a combination of sheep's and goat's milk.
Find more kale salads on Food Republic: