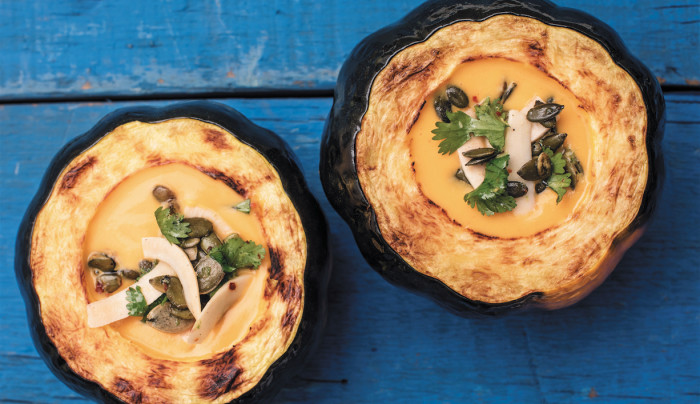 MasterChef mainstay Graham Elliot has launched his first cookbook, packed with tips, tricks and inventive recipes that will have you cooking like a master in no time. With offerings customizable to the home cook's tastes, from simple vegetarian sides to impressive entrées and desserts, you just can't lose. 
Every bite of this soup tastes like autumn. Kabocha squash is so satisfying because of its rich squash-i-ness—and I like that it's not as well known as butternut and acorn squashes. Plus, it's fun to say. You can use another fall squash for the soup, but whatever you use, puree only half and then mix the chunkier half with the smooth half. The pepita garnish is a little time-consuming but extremely tasty. Make it when the in-laws are on their way over and you want to impress. But if you're eating the soup in your sweatpants, just toast some pepitas instead!
What's yuzu? Yuzu juice is sold bottled in most Japanese markets, many specialty markets, and online. It's the juice of a Japanese fruit that is rarely found outside of its island nation. The juice is sweetly sour and a little flowery, and while it's tough to describe to the uninitiated, many say it tastes like a mixture of lemons, grapefruit, and tangerines. If you can't find it, substitute fresh lemon or lime juice, but try for the yuzu. You won't be sorry!
Ingredients
Toasted pepita-coconut-lime garnish
1/4

cup

pepitas (pumpkin seeds)

1 1/2

teaspoons

canola oil

1/4

cup

shredded unsweetened coconut

1/4

cup

diced raw kabocha squash

1

teaspoon

yuzu juice

salt

1

lime
Soup
1

tablespoon

canola oil

2

lemongrass stalks, trimmed, gently bruised and sliced (see note)

1

small onion, sliced

2

tablespoons

chopped fresh ginger

3

garlic cloves, chopped

3

red kabocha squash, peeled, seeded and coarsely chopped

1

gallon

vegetable broth, preferably homemade

1

tablespoon

fresh lime juice

1

tablespoon

salt, plus more as needed
Directions
For the soup
For the pepita-coconut-lime garnish, preheat the oven to 325°F.

Toss the pepitas with the oil and spread them on a rimmed baking sheet. Toast in the oven for about 6 minutes, stirring once or twice to encourage even browning. Transfer to a cool plate to stop the cooking. Keep the oven on.

Spread the coconut on a rimmed baking sheet and toast in the oven for about 10 minutes, or until browned around the edges. Transfer to a cool plate.

In a small bowl, toss the squash with the yuzu juice and season with salt.

Grate the zest from the lime or peel and chop it. Peel the pith from the lime and slice the lime into thin rounds.

For the soup, in a stockpot, heat the oil over medium-high heat. When hot, add the lemongrass, onion, and ginger and cook, stirring, for about 1 minute, or until they soften slightly. Add the garlic and continue to stir for another minute or so until softened. Take care that the garlic does not burn.

Add the squash and the vegetable broth. The broth should cover the squash by about ½ inch—if not, add a little water. Let the broth come to a gentle boil and then reduce the heat and simmer for about 20 minutes, or until the squash is tender when pierced with a fork.

Working in batches and using a slotted spoon, transfer the squash and other vegetables to a blender in small, manageable amounts. Puree until smooth and add liquid from the pot to adjust the consistency.

As each batch of soup is pureed, transfer it to a clean pot. Add the lime juice and salt and stir to mix. Taste and adjust the seasoning, if necessary. Serve garnished with the toasted pepitas, coconut, squash, lime zest, and lime rounds.