Jumbo Lump Crab Hash With Poached Eggs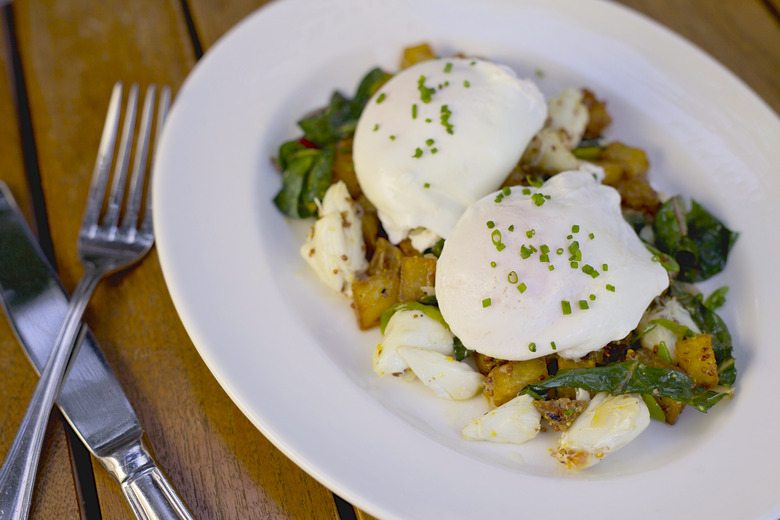 Like a Benedict, but way better.
Miami's own JBF-winning Michael Schwartz is like a flavor Jedi Master: his dishes always achieve that delicate balance of salt, fat, acid and heat. This jumbo lump crab hash with poached eggs is a standout recipe from the acclaimed chef and restaurateur's repertoire. It yields a savory brunch standout like an eggs benedict without the hassle of fussing with a hollandaise sauce. One bite of the velvety potato hash spiked with sweet crab and poached eggs and you'll feel like your day is off to a spectacular start.
Updated 1/2023
Jumbo Lump Crab Hash With Poached Eggs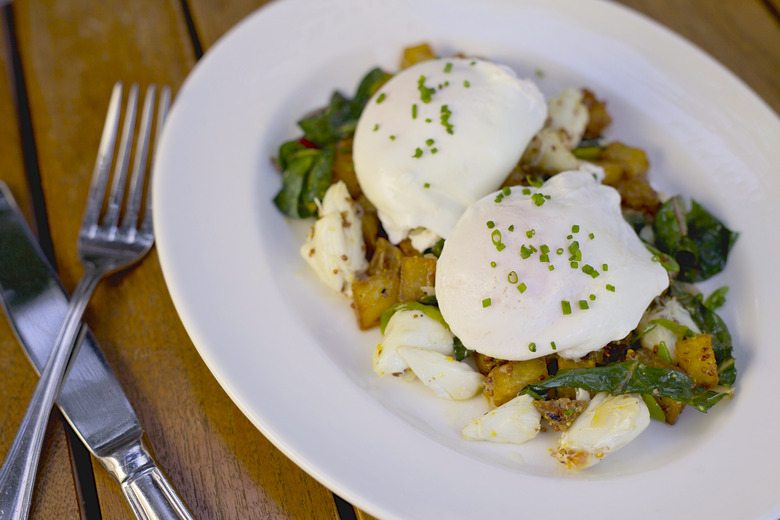 Ingredients
2 yukon gold potatoes
1 tablespoon plus one teaspoon kosher salt
3 tablespoons canola oil
2 tablespoons unsalted butter
4 scallions
1 teaspoon freshly ground black pepper
2 garlic cloves
1 bunch mustard greens
1 pound jumbo lump crab meat
1 teaspoon whole grain mustard
1 tablespoon white vinegar
8 large eggs
1 tablespoon chives
Directions
Put the potatoes in a large pot, cover with cold water, and add 1 tablespoon salt.
Bring to a boil over medium heat and par-cook for 5 minutes; the potatoes should hold their shape for sautéing later. Drain and set aside.
Preheat a large skillet over medium-high heat. Add 2 tablespoons of the oil and 1 tablespoon of the butter. When the butter is foamy, add the scallion and season with remaining salt and pepper. Cook, stirring, until the scallions soften and start to get some color, about 2 minutes.
Add the garlic and potatoes, and crank up the heat to high. The potatoes will absorb the oil, so add the remaining tablespoon of butter and the oil.
Add mustard greens and toss, sautéing until bright green, about 2 minutes. Remove from the heat and gently fold in the crab and mustard, stirring until combined and being careful not to break up the crab. Set aside and keep warm while the eggs poach.
Fill a wide pot with 2 inches of water and add the vinegar. Bring to a simmer over medium heat. It's Carefully crack 1 egg into a small cup and gently pour the egg into the water. Add a second egg and poach for roughly 2 minutes, or until just cooked but the yolks are still soft.
With a slotted spoon, transfer the eggs to a plate, and blot the bottoms of the eggs dry with paper towels.
Repeat with the remaining eggs.
Spread hash onto 4 plates and top with 2 eggs each, finishing with the chives.