José Andrés' Rossejat With Shrimp Recipe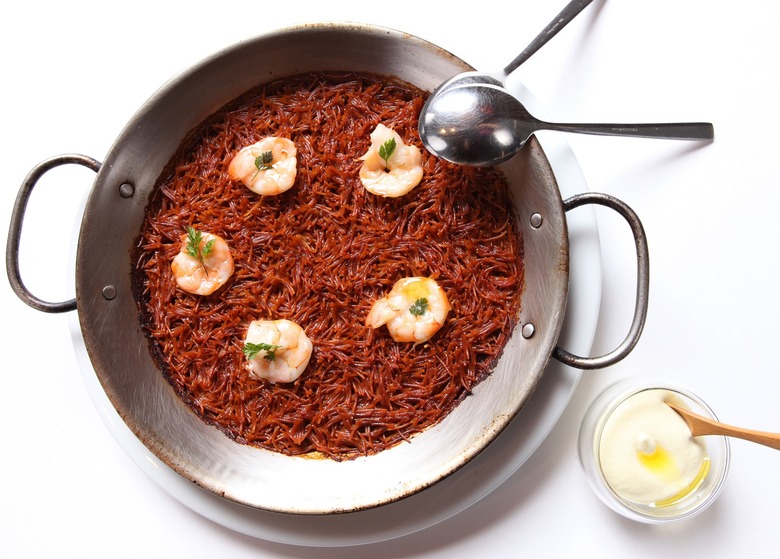 It's Fantasy Travel Week on Food Republic, so we're running recipes from the restaurants at the world's most elite and elegant hotels. Up next, a Catalan shrimp dish by José Andrés served at the SLS Hotel at Beverly Hills and SLS South Beach.
"The Rossejat is a very traditional Catalan dish, but at the same time it has a fascinating connection with Italy," says José Andrés. "When I first started working in America, I was so happy to see that Americans really embraced the Rossejat. They loved it and I knew that Spanish food would only become more and more popular."
Andrés suggests keeping the dish in a warm oven for five minutes after cooking so that the pasta has a chance to rise and absorb the flavors, and he always mixes in a custom-made Catalan "aioli" redolent of garlic before eating.
José Andrés' Rossejat With Shrimp Recipe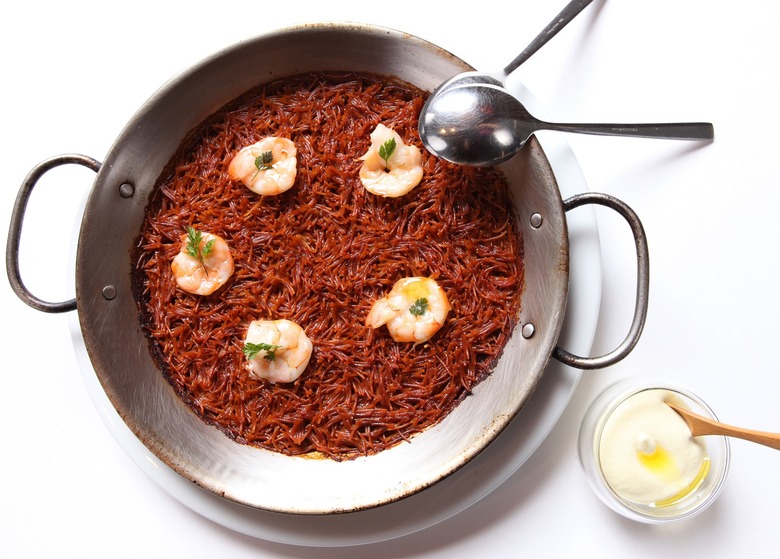 Ingredients
4 pounds whole shrimp
3/4 cup plus 1 tablespoon extra virgin olive oil
6 garlic cloves
2 large carrots
2 large sweet onions
1 (35-ounce) can peeled whole tomatoes
1 1/2 tablespoons sweet pimentón de la Vera (smoked Spanish paprika)
1/2 cup brandy
12 cups water
2 tablespoons unsalted butter
salt and freshly ground pepper
1 1/2 pounds fideos or angel hair pasta
4 garlic cloves
pinch of sea salt
1/2 teaspoon fresh lemon juice
1 1/2 cups Spanish extra virgin olive oil
Directions
Using a mortar and pestle, mash the garlic and salt together until you have a smooth paste. Turn the mortar while you mash, scraping down the garlic from the sides with the pestle.
Add the lemon juice, then add the olive oil, drop by drop, as you continue to crush the paste with the pestle. Keep turning the pestle with a slow, continuous circular motion around the mortar as you drip the oil in slowly and steadily, making sure the paste absorbs the olive oil.
Keep adding the oil until the sauce has the consistency of a very thick mayonnaise. If your aioli becomes too dense, add 1/2 teaspoon of water to thin it out. This process takes time — around 20 minutes of slow, circular motions around the mortar — to create a dense, rich sauce.
Bring a large, heavy pot of water to a boil. Add the shrimp and cook for 5 minutes. Transfer the shrimp to 2 large rimmed baking sheets. Drain the pot, and keep stock for later use. When the shrimp are cool enough to handle, remove shells and tails. Cover and refrigerate.
Heat 1/4 cup plus 2 tablespoons of olive oil in the large pot. Add shrimp and cook over high heat, stirring often, until beginning to brown, about 7 minutes. Add the chopped garlic, carrots and onions and cook over high heat, stirring occasionally, until the onions are softened, about 8 minutes.
Add the tomatoes and cook until any liquid has evaporated, about 5 minutes. Add the pimentón and cook, stirring, until fragrant, about 3 minutes. Add the brandy and cook until almost evaporated, about 3 minutes.
Add the water and bring to a boil. Simmer over moderate heat for 30 minutes, skimming a few times. Strain the shrimp into a large saucepan. Bring the stock to a simmer, cover and keep hot.
Preheat the oven to 400°F. Wash out the large pot and return it to the stove. Place shrimp on baking sheet. In a small bowl, combine the melted butter with 1 tablespoon of the olive oil; brush over the shrimp and season with salt and pepper. Cover with foil and bake for about 12 minutes, until just heated through.
Meanwhile, in the large pot, heat the remaining 1/4 cup plus 2 tablespoons of olive oil until shimmering. Add the fideos and cook over moderately high heat, stirring constantly, until browned, about 5 minutes.
Stir in half of the shrimp stock, cover and cook for 3 minutes. Add half of the remaining stock, cover and cook until almost absorbed, about 3 minutes.
Add the remaining stock and cook, stirring, until the fideos are al dente, about 2 minutes longer. Season with salt and pepper.
Spoon the fideos into shallow bowls, top with the shrimp and serve with allioli.
Spanish-Style Roast Chicken Recipe
Wild Mushroom, Watercress And Blue Cheese Tart Recipe
Pasta With Chorizo And Mussels Recipe