John Dory Oyster Bar's Lobster Roll Recipe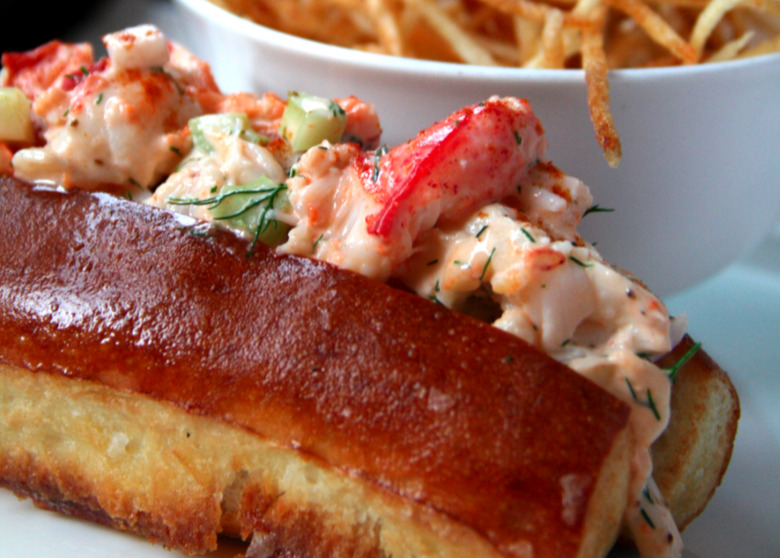 Happy Lobster Roll Week! To celebrate this sweet, briny jewel of the summer sandwich menu, we're running five straight days of recipes, interviews, chefs' expert tips and pairings. If you thought you were craving a buttery bun stuffed with fresh lobster meat before this official celebration, it's about to get critical. This one comes straight from Chef April Bloomfield.
The John Dory Oyster Bar's lobster roll is April Bloomfield and chef de cuisine Josh Even's take on the classic sandwich. It's made with fresh Maine lobster meat warmed in lobster roe butter and tossed with celery seed mayo, dill, celery, red onion and white wine vinegar piled on a buttery, toasted roll from Orwasher's Bakery, made especially for the restaurant.
John Dory Oyster Bar's Lobster Roll Recipe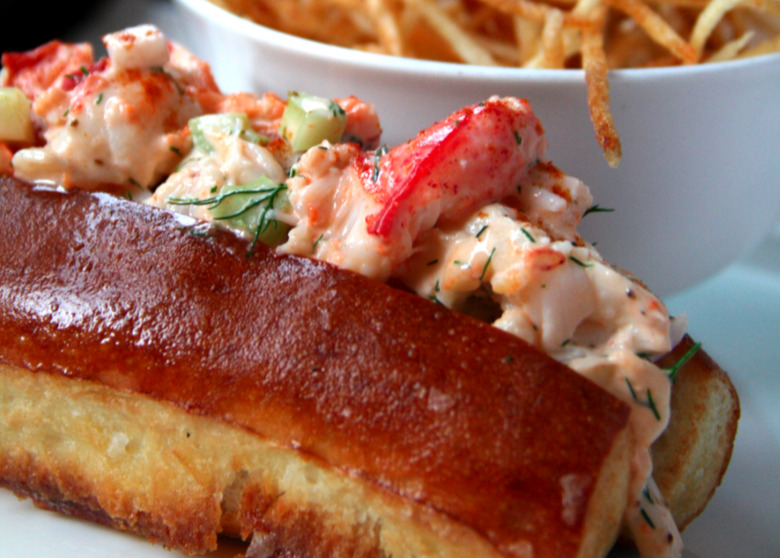 Ingredients
4 (1 1/4-pound) hard-shell Maine lobsters
1/4 pound unsalted butter
1 ounce green lobster roe
3 egg yolks
1/4 cup white wine vinegar
2-3 cups sunflower oil (vegetable oil will also work)
1 tablespoon celery seeds
kosher salt
6 hot dog buns
1/4 cup red onion
1/2 cup celery
2 tablespoons dill
1/4 pound lobster roe butter or unsalted butter
sea salt
cayenne pepper
Directions
You may either steam or boil the lobsters.  At 1 1/4 pound each, the lobsters should take 8 minutes to cook. If you choose to boil the lobsters, use a pot large enough to comfortably fit all of the lobsters, or cook them in batches. The water should be salty, like the sea.
Once cooked, chill the lobsters immediately in ice water. Leave them in the ice water only long enough to stop the cooking process.
Remove them from the ice water and place in the fridge.
When the lobsters have chilled all the way through, pick all of the meat from the shell and cut into rustic chunks, approximately 1-inch square. Make sure to get the deliciously sweet meat out of the knuckles! It's worth the hassle.
Blend it all in a blender and then whisk it in a bowl over ice until it firms up.
In a food processor, combine the egg yolks, vinegar and celery seeds and blend until it looks airy and bubbly.
With the food processor still spinning, slowly stream in the oil, going nice and slowly until you have a nice thick and creamy mayonnaise.
With a rubber spatula, scoop the mayonnaise into a bowl over ice and whisk in salt to taste. Set aside in the refrigerator.
Preheat the oven to 400 degrees.
In a mixing bowl large enough to fit all of the lobster meat, add 1/2 cup of the celery seed mayonnaise, the celery, red onion and dill. Mix well.
Brush the top and the two sides of each hot dog bun with some of the soft butter and sprinkle with some of the sea salt.
Place the buns in the oven for 5 minutes, or until the fleshy edges goes golden brown and a bit crispy. Remove from the oven and brush with a bit more of the butter and keep in a warm place while you heat the lobster meat.
Melt the remaining butter in a small saucepan and add the lobster. Gently warm the meat in the butter and add a touch of sea salt, if desired.
Once the lobster is warm all the way through, add it to the mayonnaise mixture with some of the butter. Fold everything together and taste. Add sea salt, if necessary.
Carefully pile the lobster meat into the buns, making sure to give each roll a good mix of all the different types of meat – knuckle, tail and claw.
Sprinkle each lobster roll with just a bit of cayenne and serve with potato chips.
Lure Fishbar's Lobster Roll Recipe
Midnight Food Porn: Sam Talbot's Butter-Poached Lobster Roll Recipe
MC Perkins Cove Lobster Roll Recipe