Jerusalem Kugel Recipe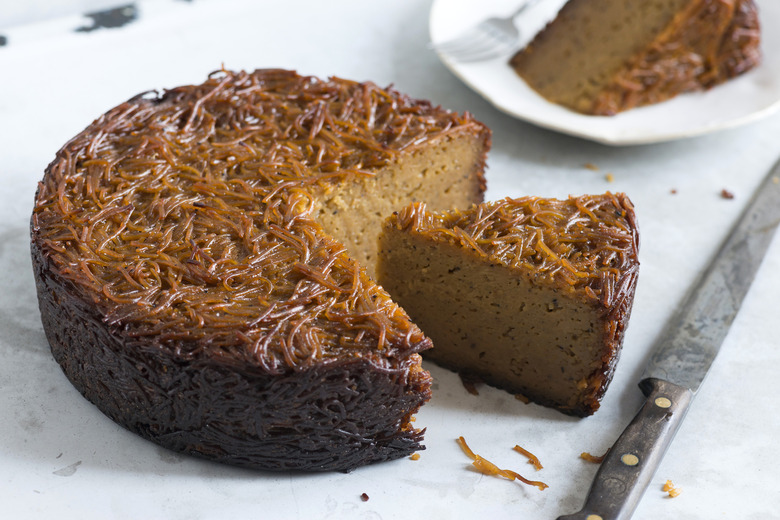 This kugel packs a wallop of heat thanks to a pile of black pepper.
We may receive a commission on purchases made from links.
This is the first recipe in Crispianity: a column devoted to all foods crispy and crunchy, two of the most underappreciated attributes of a great dish. Author Adeena Sussman is a food writer and recipe developer, pairing here with her friend, photographer Evan Sung. Sussman's most recent cookbook, co-authored with Lee Brian Schrager, is Fried and True: More Than 50 Recipes for America's Best Fried Chicken and Sides.
I've been obsessed with Jerusalem Kugel, or Kugel Yerushalmi as it's known in Hebrew, ever since I spent a gap year between high school and college in Israel, where takeout-food proprietors lay out a staggering spread of food to sell for Sabbath meals. Unlike the kugels most of us are familiar with from Rosh Hashanah meals or Yom Kippur breakfasts, this Jerusalem Kugel packs a wallop of heat thanks to a pile of black pepper. The surprising level of spice — especially for an Eastern European dish — creeps up on the palate, serving as an organizing principle for a mellow sweetness that comes from a simple caramel you make at home.
I wanted to add more texture to the crust, since a textural edge almost always enhances a soft interior. Beginning to cook the kugel on the stovetop by frying in a bit of oil helps develop a chewy-crunchy edge that further develops once the kugel, inverted after baking, cools in your kitchen.
Jerusalem Kugel Recipe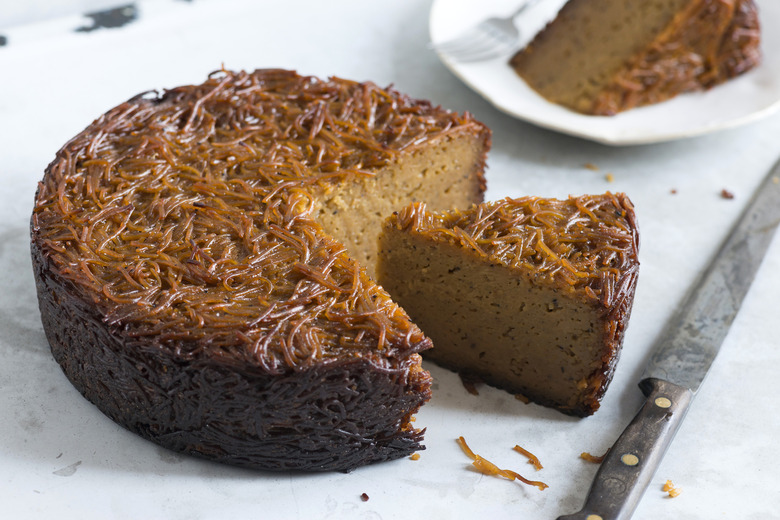 Ingredients
2 (12-ounce) packages thin egg noodles
2/3 cup plus 5 tablespoons vegetable oil
4 eggs
3 cups sugar
2 tablespoons freshly ground black pepper
1 tablespoon kosher salt
Directions
In a large pot of salted boiling water, cook the noodles according to package directions; drain well, toss with 1 tablespoon vegetable oil to prevent sticking, return to the pot, and reserve.
In a medium saucepan combine the 2/3 cup oil with the sugar and cook over medium-low heat, swirling occasionally, making sure to watch for any signs of burning.
This will not be like a regular caramel; parts will turn very dark brown, and it is likely that around the edges the sugar will take a while to dissolve. Most likely, the sugar and the oil will never fully unify. It will look sort of like an amorphous wave of very dark brown soft-ball-stage candy, separated from a translucent oil slick. But that's OK. The darker the darker the caramel, the darker the kugel.
Go ahead and dump the caramel into the noodles and stir, noticing how parts of the caramel harden immediately.
Do not freak out; simply turn the flame onto medium-low and warm the noodles, stirring, until the caramel dissolves, about 10-12 minutes.
Remove from heat and cool to room temperature.
Preheat the oven to 375°F.
Stir in the eggs, pepper and salt. In a 5 or 6-quart stockpot, heat the remaining 4 tablespoons oil until very hot but not smoking.
Add the egg-noodle mixture; do not stir, and let it cook on the stovetop, noting how the edges begin to darken, for 7-8 minutes.
Transfer to the oven and bake until the top is slightly hardened, for about 1 hour.
Cool for 30 minutes, invert onto a serving platter, and either serve immediately or allow to cool completely. If you wait, the outer shell of the kugel will be chewy-crunchy. 
Potato Kugel Recipe
Basic Charoset Recipe
Basic Matzo Ball Recipe