Make This Japanese Savory Egg Custard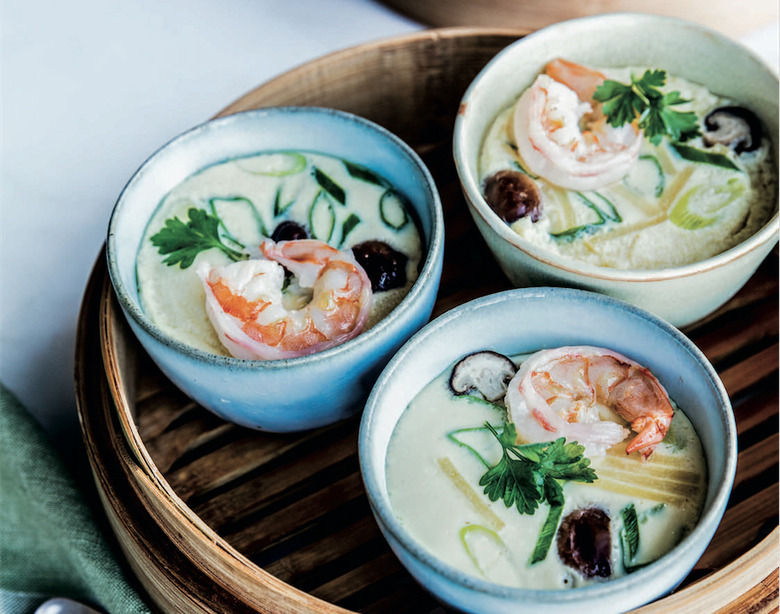 We may receive a commission on purchases made from links.
Next time you're craving Japanese food, from sushi to noodles to curry and beyond, stay home and make it yourself! Recipe developer and cookbook author Amy Kaneko's new book, Let's Cook Japanese Food, is a collection of recipes that take you through the steps required to make authentic meals at home. Japanese savory egg custard, called chawanmushi, is a must-learn!
This is a classic starter: part soup and part custard, a savory pudding with small bites of chicken, shiitake and other little surprises. My daughter Nami is the expert chawanmushi maker in our house. The additions are accents, thought of as treasures in the custardy base.
Make This Japanese Savory Egg Custard
Pick up "Let's Cook Japanese Food," a collection of recipes for authentic meals. Japanese savory egg custard, chawanmushi, is a must-learn!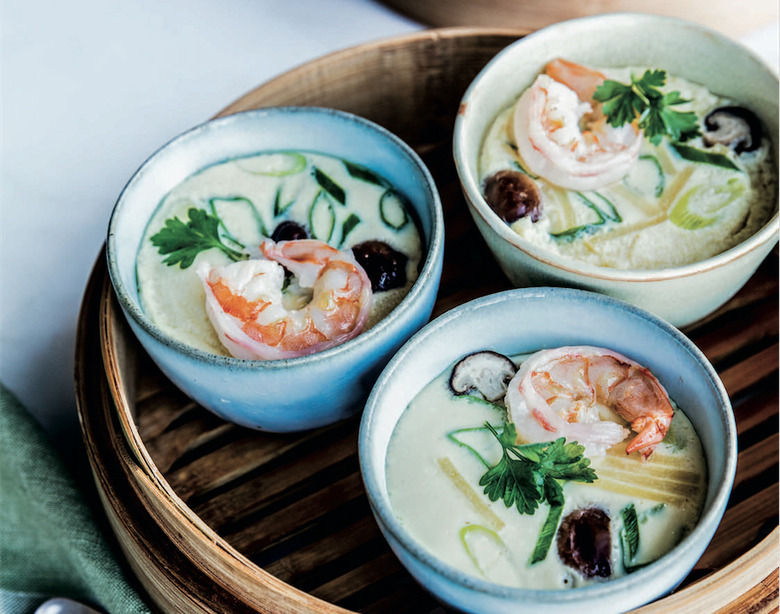 Ingredients
1 teaspoon canola or other neutral oil
1 teaspoon sake
1/2 boneless, skinless chicken thigh
2 eggs
1 cup dashi or chicken broth
Pinch salt
1/2 teaspoon soy sauce
1 teaspoon mirin
1 1/2 tablespoons slivered bamboo shoots (optional)
2 small fresh shiitake mushrooms
1 green onion
4 cooked, peeled and deveined shrimp
4 snow peas
4 sprigs fresh parsley or cilantro for garnish (optional)
Directions
Fill a large pot with 3 inches of water and bring to a boil.
Meanwhile, in a frying pan over medium heat, warm the oil with the sake, add the chicken, and cook until the chicken is just cooked through, about 4 minutes. Set aside.
In a large bowl, whisk the eggs, dashi, and salt. For a silky custard, strain the egg mixture into another bowl through a sieve. Using the back of a spoon, press the liquid through the sieve to extract as much egg as possible. Stir in the soy sauce and mirin and set aside.
Evenly divide the chicken, bamboo shoots (if using), mushrooms, green onion, shrimp, and snow peas among 4 small ramekins or heat-safe cups. Fill each ramekin three-fourths full with the egg mixture. Cover each ramekin very tightly with aluminum foil. Gently place them into the pot of boiling water so the water reaches about halfway up the sides of the ramekins without letting water get into the custards. Reduce the heat and barely simmer, covered, until a wooden skewer or chopstick inserted into the center of a custard comes out clean and the custards appear set, 10-15 minutes.
Carefully remove the ramekins from the water. To serve hot, uncover and garnish each custard with a parsley sprig, if desired. To serve cold, let cool and refrigerate until chilled through before garnishing with parsley, if desired.