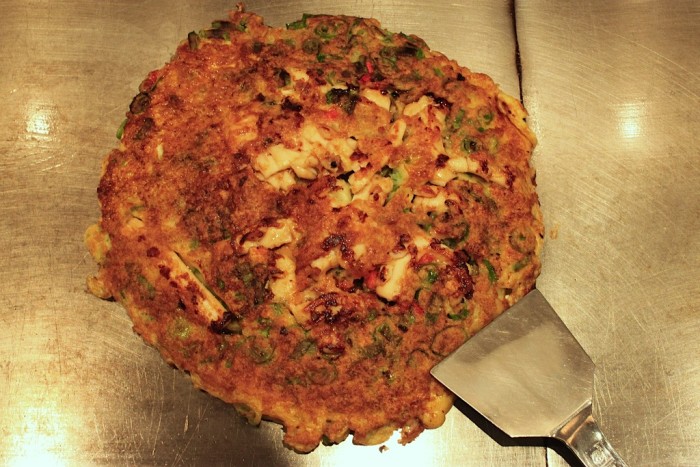 These Japanese pancakes are usually made in a large round resembling a pizza and cut into wedges. This recipe scales down this tasty treat to small pancakes for pickup food at a party. Traditional Okonomiyaki contain the somewhat gelatinous pureed mountain yam that helps hold the pancake together. Since it may be difficult to find, this recipe uses tapioca flour instead with good results.
Ingredients
1/3

cup

vegan mayonnaise

1/2

teaspoon

Sriracha sauce

3/4

cup

all-purpose flour

1/4

cup

tapioca flour

2

cups

napa cabbage, finely shredded, blotted dry

2

green onions, minced

2

tablespoons

nori flakes or finely slivered nori

1

tablespoon

nutritional yeast

1

tablespoon

tamari soy sauce

1/4

teaspoon

liquid smoke

2/3

cup

vegetable broth

neutral vegetable oil, for frying
Directions
1. In a small bowl, combine the mayonnaise and sriracha, stirring to blend well. Set aside.
2. In a large bowl, combine both flours, the cabbage, green onions, and nori. Stir in the yeast, tamari, liquid smoke, and broth, and mix well to combine.
3. In a large skillet, heat a thin layer of oil over medium heat. Spoon about 1½ tablespoons of the pancake mixture into the hot skillet, pressing with a metal spatula to flatten. Repeat with additional mixture, making as many pancakes as will fit in the skillet without crowding. Cook until golden brown on both sides, 6 to 7 minutes per side.
4. Transfer to a platter and keep warm while you make the rest of the pancakes. To serve, top each pancake with a small amount of the sriracha mayonnaise. If not using right away, bring the pancakes to room tempera­ture, then cover and refrigerate for up to 2 days.