Asian Fusion: Japanese Duck à l'Orange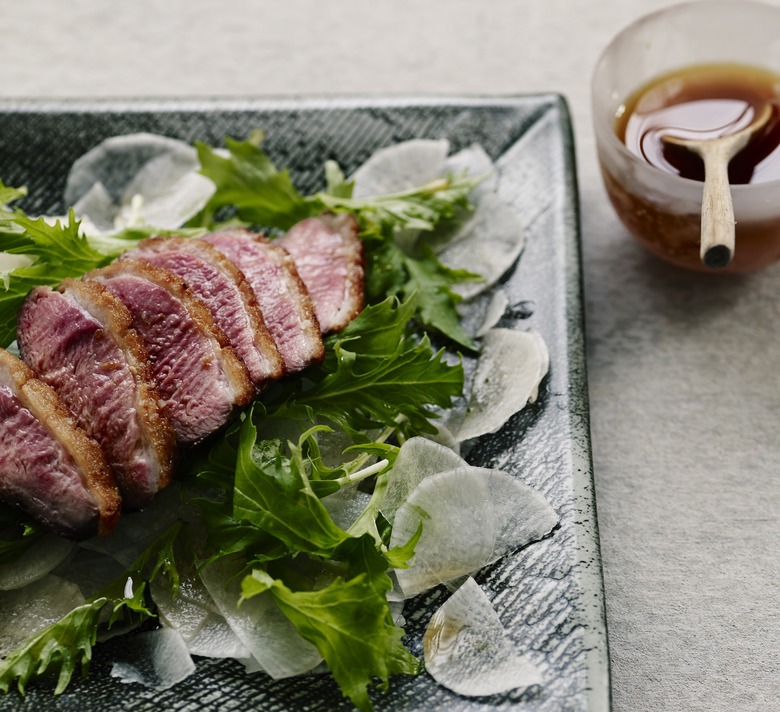 We may receive a commission on purchases made from links.
If you're going to cook Japanese at home, you're going to need some pointers! Join culinary instructor and cookbook author Kimiko Barber and build up a respectable repertoire of fantastic, classic Japanese dishes. This surprisingly simple Japanese duck à l'orange will quickly become a go-to recipe for an upscale dinner. 
The famous French dish has been adapted with the addition of classic Japanese ingredients, yuzu juice, and refreshing giant white radish.
Asian Fusion: Japanese Duck à l'Orange
Build up a respectable repertoire of fantastic Japanese dishes. This Japanese duck à l'orange will quickly become a go-to recipe for an upscale dinner.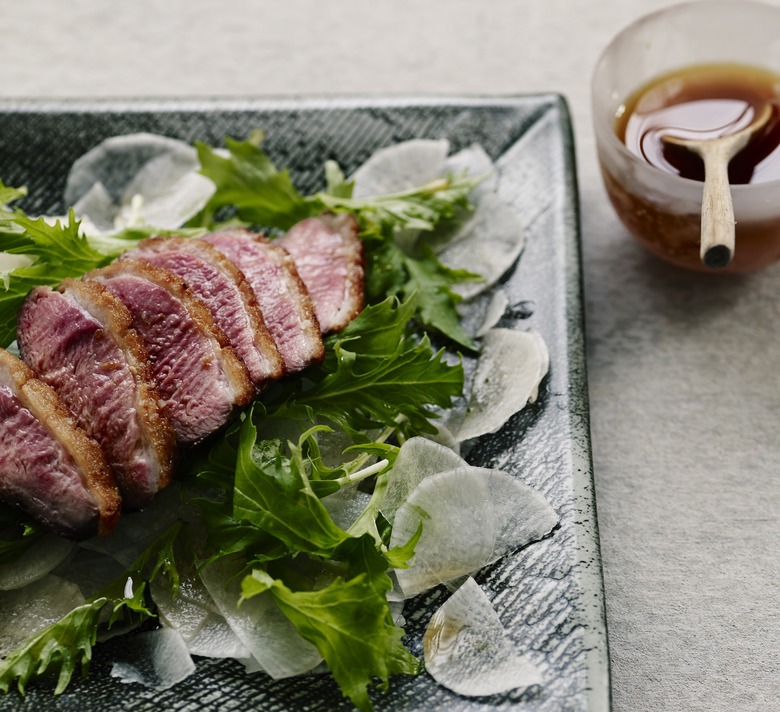 Ingredients
14 ounces daikon
3 1/2 ounces mizuna, mustard greens or arugula
4 5 to 5 1/2-ounce duck breasts
4 teaspoons salt
vegetable oil
4 tablespoons sake
2 tablespoons clear honey
2 tablespoons light soy sauce
2 tablespoons yuzu or lime or satsuma juice
Directions
Peel the radish and cut it in half lengthwise, then slice very thinly into half-moons with a Japanese mandoline (or use a very steady hand and a sharp knife). Soak in cold water for 10 minutes, then drain. Put the radish, along with the mizuna, in the fridge to chill.
For the dressing, put the sake in a small saucepan over high heat to burn off the alcohol, then mix with the remaining dressing ingredients, and set aside to cool.
Trim off any excess fat from the duck breasts, then with a very sharp knife, lightly score through the skin, taking care not to cut into the flesh. Rub the salt into the skin.
Heat a large heavy-bottomed skillet over medium heat, and brush with a scant amount of oil. Place the duck in the pan, skin-side down, and cook for 6 to 8 minutes to render the fat while spooning the fat over the flesh. Then turn over to cook the other side for 3 to 5 minutes.
Remove the duck from the pan, then pour boiling water over to wash off the fat and pat dry. Put the duck on a wire rack, skin-side up, and cover loosely with a piece of foil. Leave to rest for about 5 minutes. Do not wrap the duck tightly, otherwise the crispy skin will go limp.
Take the radish and mizuna from the fridge, and divide between four individual serving plates.
Place the duck, skin side down, on a cutting board and cut each breast into 1⁄8 to 1/4-inch thick slices. Arrange the slices on the top of the vegetables, drizzle the citrus dressing over, and serve.