Jalapeño-Stuffed Roast Chicken With Skin Chips Recipe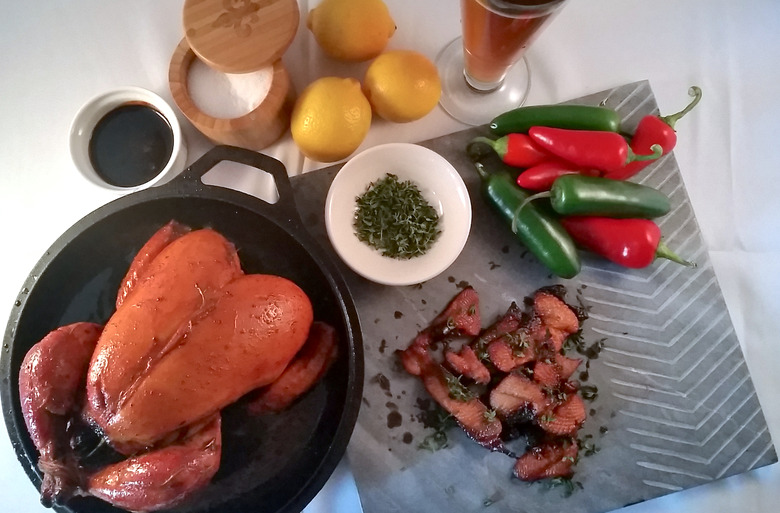 Roast chicken could be boring. Counter that stigma with this recipe. (Photo: Paul Harrison.
There was a time in my life when I roasted a chicken basically every Sunday night, almost the same way every time: salt, pepper, butter, thyme (à la Thomas Keller). That way I could use leftovers later in the week for anything. But let's be honest, no matter how good something basic is, it's possible to get tired of it.
This recipe came about when I realized that the skin on the chicken I had bought had a large tear in it. After curiously poking at it and making the tear much bigger, I decided to try something totally different; I removed the skin in its entirety, cut it into large pieces and roasted them separately. While this makes for amazingly delicious crispy little snacks, it left a little something to be desired with the actual chicken. So the next time I tried it, I attacked the bird with flavor. I brined both the skin and the bird in an herbacious, fiery brine that permeates the meat (and skin). Then I glazed the bird with a sticky-sweet honey glaze that's also spicy. And in case you were unaware, spicy + sweet + spicy = DELICIOUS.
Jalapeño-Stuffed Roast Chicken With Skin Chips Recipe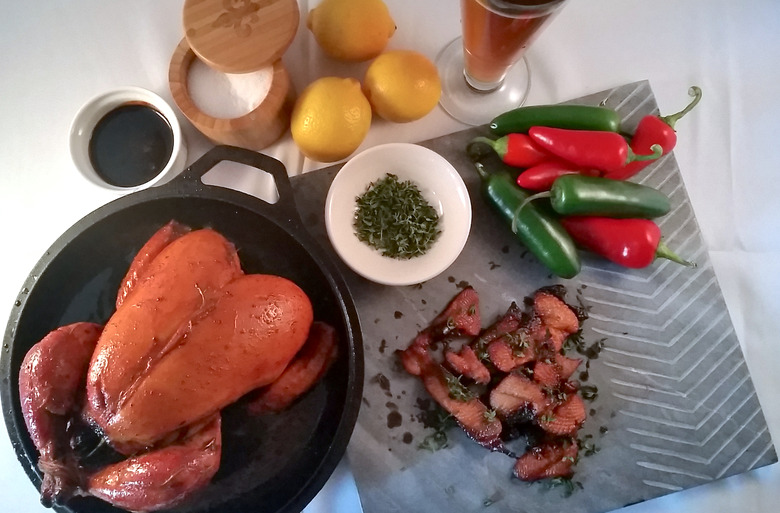 Ingredients
1 whole chicken
10 fresh jalapeños
2 sprigs rosemary
2 sprigs oregano
6 sprigs thyme
1 gallon water
1/2 cup salt
1 cup honey
1 small handful thyme sprigs
1 small handful fresh oregano
2 large sprigs rosemary
8 jalapeños halved lengthwise
1 lemon
2 tablespoons red chili flakes
1 1/2 tablespoons Cayenne powder
2 tablespoons whole black peppercorns
1/2 cup bourbon
1/2 cup lemon juice
1/3 cup apple cider vinegar
2 tablespoons worcestershire sauce
1 cup honey
1 teaspoon smoked paprika
2 teaspoons salt
1 teaspoon freshly ground black pepper
Directions
Put all the brine ingredients into a large pot and bring to a boil. Let boil for about 15 minutes, turn off the heat and let the brine cool down to room temperature.
Place the chicken and skin into the brining bag or bucket, then pour the brine in and place in the refrigerator. Let sit overnight, or for at least 12 hours and up to 24, flipping once halfway through.
Preheat the oven to 400 degrees. Take the bird and skin out, give them a rinse in cold water to get all the peppercorns and herbs, etc. off, then pat both as dry as possible.
Cut the skin into large pieces, about 2 to 3 times the size of a skin chip you might want to eat (it'll shrink quite a bit), and place on a baking sheet.
Stuff the cavity of the chicken with jalapeños and herbs.
Truss the chicken and place in a roasting pan or cast-iron skillet, breast-side up.
Roast at 400 degrees. Keep an eye on the skin, which only takes about 45 minutes to cook down and crisp up. 
Combine the glaze ingredients in a small pot. Bring to a boil, turn it down to low and let simmer for 20-30 minutes, or until it sticks in an opaque layer to a spoon. If it gets too cold to dip a basting brush in there, heat it up a little bit. Also, if it reduces too much and gets too thick, add a little water until it's syrupy again.
The chicken will cook for about 90 minutes, but there's a basting/glazing schedule to follow: 40-minute mark: baste 55-minute mark: baste 65-minute mark: baste, then glaze 80-minute mark: glaze 90 minutes till finished: glaze
Remove the chicken from the oven and let rest for 15-20 minutes, then dive right in. That meat will be literally falling off the bird (and right into your mouth).
Spanish-Style Roast Chicken
Roast Chicken With Garlic Sauce
Roasted Chicken With Lemon Butter