Jalapeño Pork Slab With Bacon Jam Recipe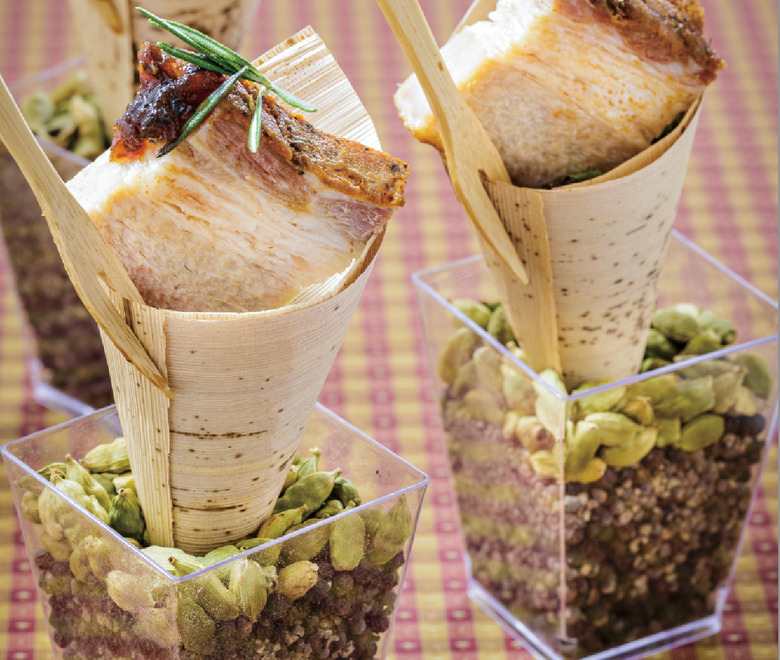 Spicy. Pork. Belly. Need we say more? (Photo: Tony Calarco.
We may receive a commission on purchases made from links.
If you're going to make party food, make sure you cram a lot of party in there. That's why we're armed with Chopped champion, chef Eric LeVine's new book, Small Bites Big Flavor, for the entertaining season ahead. It's full of innovative things on sticks, small plates and other reasons to justify another cocktail or two.
Chile-infused pork belly is flawlessly balanced by sweet and smoky bacon jam. This intense flavor combination will make your taste buds dance.
Jalapeño Pork Slab With Bacon Jam Recipe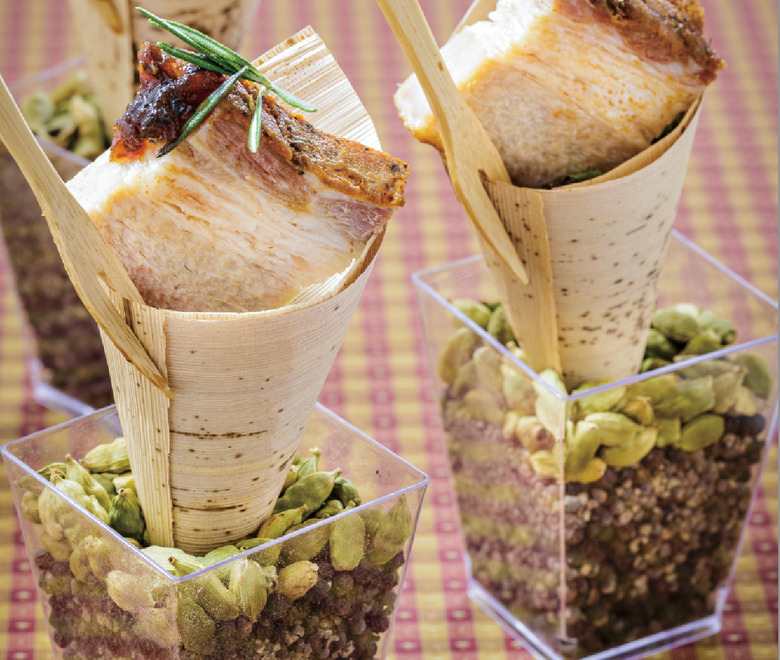 Ingredients
3 jalapeño peppers
2 teaspoons chili powder
1/2 teaspoon brown sugar
1 teaspoon olive oil
2 pound slab pork belly
rosemary
2 teaspoons olive oil
6 large brussels sprouts
salt and pepper to taste
2 red onions
1 cup honey
1 cup small-chopped bacon
1 teaspoon red pepper flakes
Directions
Combine jalapeños, chili powder, brown sugar, and oil to form a rub. Rub onto pork slab. Prepare a grill.
Grill pork over medium heat on both sides until cooked through, about 5–7 minutes each side (internal temperature of 155°F). Keep on medium heat or the pork won't char. Let rest for 3–4 minutes before slicing into 1/4-inch pieces.
Core brussels sprouts and separate into leaves. Heat a sauté pan over high heat.
Add oil, brussels sprout leaves and salt and pepper to taste. Sauté until leaves are light brown and crisp.
Combine all ingredients in a saucepan. Cook over low heat 15–20 minutes, stirring constantly.
In the bottom of a small cup or cone, place 1/2 teaspoon bacon jam, followed by 2 pieces of pork and small portion of brussels sprouts. Top with a little more jam from tip of teaspoon and garnish with rosemary, pea shoots or any greens.
​Glazed Pork Tenderloin In Chinese Plum Sauce Recipe
Pork With Peaches And Mustard Recipe
Spiced Pork Belly With Fennel And Tomato Salad Recipe